« previous post | next post »
One of the sturdiest linguistic canards is that George Bernard Shaw facetiously proposed spelling fish as ghoti, with gh pronounced as in laugh, o as in women, and ti as in nation. This respelling, the story goes, was intended by Shaw to highlight the absurdity of English orthography. But ghoti appears nowhere in Shaw's writings, according to devoted Shavians who have thoroughly scoured his works. The earliest attribution of ghoti to Shaw that I've found is from 1946, and the attributor is Mario Pei, not always the most reliable source when it comes to language-related information. By that point, ghoti had been circulating in the popular press for nearly a decade. Previously, the earliest known appearance of ghoti was from a 1937 newspaper article discovered by the redoubtable Fred Shapiro. That still allows for the slight possibility that Shaw was the originator, if unnamed. But now Matthew Gordon of the University of Missouri-Columbia has antedated ghoti — all the way back to 1874. And the 1874 article is quoting a source from 1855, a year before Shaw was born.

As is often the case, the news of this momentous antedating was announced on the American Dialect Society mailing list. Thanks to Chadwyck-Healey's British Periodicals database, Gordon turned up an article from the October 1874 issue of St. James's Magazine by S. R. Townshend Mayer, entitled "Leigh Hunt and Charles Ollier". The article focuses on the relationship of Hunt, a noted writer, and Ollier, his publisher, as reflected in a series of unpublished letters. On p. 406 of the article, an 1855 letter from Ollier to Hunt is quoted:



(Charles Ollier's son William, by the way, was born in 1824, according to an online genealogy, making him 31 at the time the letter was written, so this wasn't simply a child's diversion.)
Mayer's article is unclear about when the letter containing ghoti appeared, so I went searching for online sources on correspondence between Hunt and Ollier. As it happens, librarians at the University of Iowa have recently initiated the Leigh Hunt Digital Collection, putting a large collection of Hunt's correspondence online. There are letters from Ollier in the collection, but not the crucial ghoti letter. I got in touch with Nana Holtsnider, the project manager, and she helpfully located the relevant letter among the copies and transcripts of correspondence collected by the late Hunt scholar David R. Cheney. The ghoti letter is dated December 11, 1855. According to Cheney's citation, the five-page letter was held at the British Museum Department of Manuscripts (Add. MS. 38, lll, fols. 184-186), so it should now be tucked away in the British Library. (Anyone want to go dig it up? Catalogue record is here.)
An antedating of more than 80 years is certainly startling, but it actually makes sense that ghoti made its earliest appearance in the mid-nineteenth century, when English orthographic reform was gaining popularity. A decade before Ollier's letter, in 1845, the spelling reformer Alexander J. Ellis published A Plea for Phonotypy and Phonography, which contained some ghoti-esque respellings that are even more elaborate in their absurdity, starting with schiesourrhce for scissors: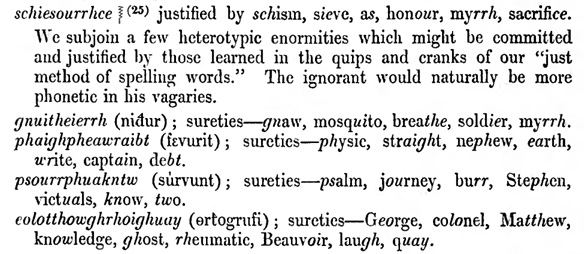 Ellis apparently errs in his "amusingly extravagant" spelling of scissors, since the final consonant should be /z/ instead of /s/ (as represented by the –ce in sacrifice). [Update: See D. Wilson's comment below.] But his point is clear, and his examples could very well have inspired the simpler ghoti. Finally, if you're wondering what the squiggly line is following schiesourrhce, the footnote explains that it's a "note of laughter." A proto-emoticon! Ellis was clearly ahead of his time in many ways.
---