« previous post | next post »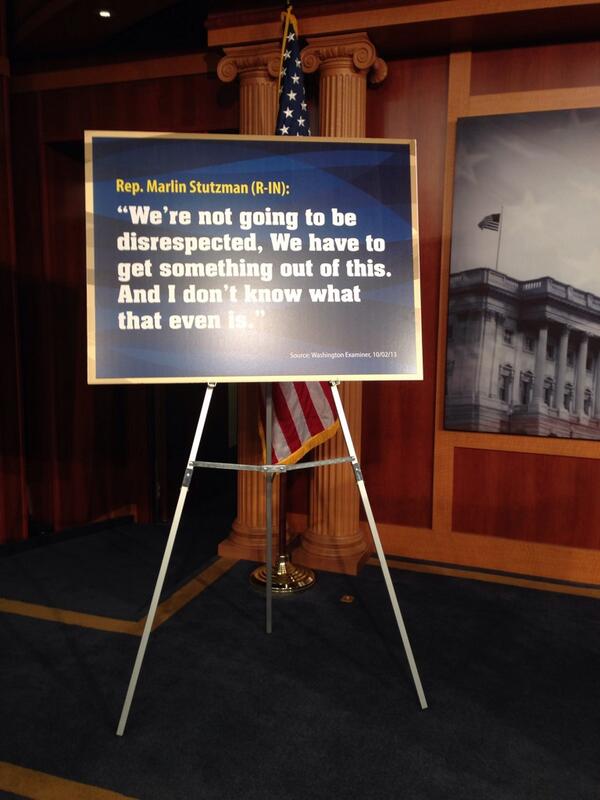 A recent statement to the Washington Examiner about the U.S. government shutdown, by Representative Marlin Stutzman, R-Ind., has been widely reported:
"We're not going to be disrespected. We have to get something out of this. And I don't know what that even is."
Senate Democrats featured the quote on a display outside their press conference. This is an indication of how Rep. Stuzman's words were generally received, and helps explain why he quickly released a statement walking the quote back:
"Yesterday, I carelessly misrepresented the ongoing budget debate and Speaker Boehner's work on behalf of the American people. Despite my remarks it's clear that the American people want both parties to come to the table to reopen the government, tackle this nation's debt crisis, and stop ObamaCare's pain."
Since this is Language Log rather than Incompetent Political Extortion Log, our interest is purely in drawing attention to Rep. Stutzman's use of even in its neo-Shakespearean sense, glossed by the OED as "as an intensive or emphatic particle", which might be "[p]refixed to a subject, object, or predicate, or to the expression of a qualifying circumstance, to emphasize its identity". Previous LL discussion of this development:
"What does 'even' even mean?", 2/8/2011
"Can they even prove that?", 5/24/2011
"Even again", 10/21/2011
Adam Rosenthal, one of several people who wrote to draw my attention to Rep. Stuzman's statement, observed in his email that
Looking back at your post, there's something apt about that [KJV] bible quote in the present context:
Gen. 34:29 And all their wealth […] tooke they captiue, and spoiled euen all that was in the house.
---