« previous post | next post »
Xiang Li took a photo of this sign while she was in Chengdu, Sichuan recently: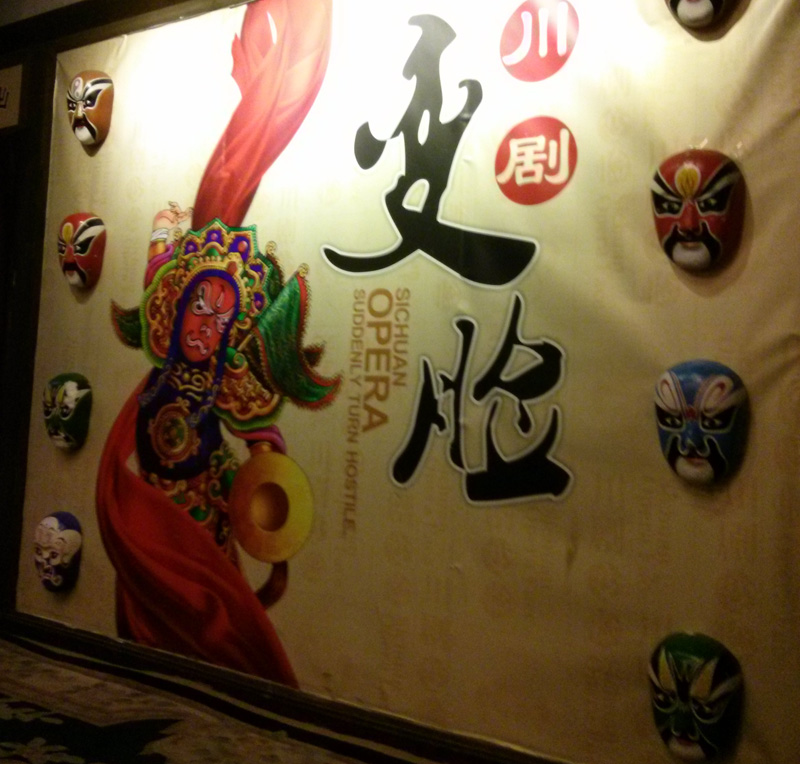 "Suddenly turn hostile" looks as though it could be one of those very loose, fanciful translations of a drama or film title that one frequently encounters in China. In fact, it is an attempt to render the two large characters that dominate the center of the panel, just to the right of the vertical English:
biànliǎn 变脸 (lit., "turn / change face")
This is rendered as follows:
Google Translate: "suddenly turn hostile" (the probable source of the wording on the panel)
Baidu Fanyi: "suddenly turn hostile; about-face; Face Off (title of a film directed by John Woo and starring Nicolas Cage and John Travolta)"
Bing Translator: "changing faces"
ZDIC: " change one's countenance; turn hostile suddenly"
There are actually two main meanings of biànliǎn 变脸, the second of which is not covered at all by these online translation tools:
1. change countenance > suddenly get angry / turn hostile
2. a technique employed by performers in Sichuan opera
The second definition refers to the quick changing of masks by an actor. This sub-genre of Sichuan opera is described in these two articles.
Here it is in action, done by Michael Stroud, aka Majinga the Magician from the Magique Bazaar at the Palace of Fine Arts, San Francisco, 2012.
[Hat tip to Xiang Li; thanks to Cheng Fangyi]
---