« previous post | next post »
Eager as always to score high-school snark points, Maureen Dowd wrote today about Sarah Palin ("Sarah's Pompom Palaver", 10/5/2008):
Then she uttered yet another sentence that defies diagramming: "It is from Alaska that we send those out to make sure that an eye is being kept on this very powerful nation, Russia, because they are right there."
"Defies diagramming"? Sorry, that sentence may not embody the most cogent foreign-policy argument ever made, and it's so awkward that it might have come from a non-native speaker —  but it seems syntactically straightforward to me.
I'm no syntactician, but I believe that this labelled bracketing gives a skeletal analysis that gets the basic divisions right:
[S [S It [VP is [PP from Alaska]
[S that we [VP send those out [VP to make sure
[S that an eye [VP is being kept
[PP on [NP [NP this very powerful nation] [NP Russia ] ] ] ] ] ] ] ] ] ]
[S because they are right there ] ]
And fed into http://ironcreek.net/phpsyntaxtree/ it yields a picture that is much easier to understand: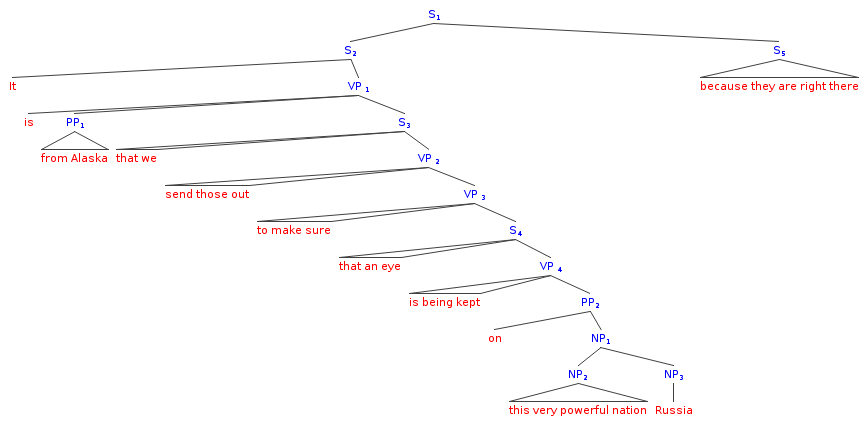 (Click on the image for a larger version.)
I don't have time to do a more complete or careful job, so more complete and more accurate diagrams are welcome — but MoDo should have picked one of Palin's more syntactically defiant sentences, e.g.
One thing that Americans do at this time, also, though, is let's commit ourselves just every day American people, Joe Six Pack, hockey moms across the nation, I think we need to band together and say never again.
Or one of the contributions from Joe Biden that seem to be equally pointillistic in syntactic terms, at least as transcribed by CNN:
We don't call a redistribution in my neighborhood Scranton, Claymont, Wilmington, the places I grew up, to give the fair to say that not giving Exxon Mobil another $4 billion tax cut this year as John calls for and giving it to middle class people to be able to pay to get their kids to college, we don't call that redistribution.
It seems that Gov. Palin's linguistic issues have become part of the standard narrative about her, so that people are going to make fun of her language even when others around her are more incoherent than she is.
---