« previous post | next post »
From Gloria Bien: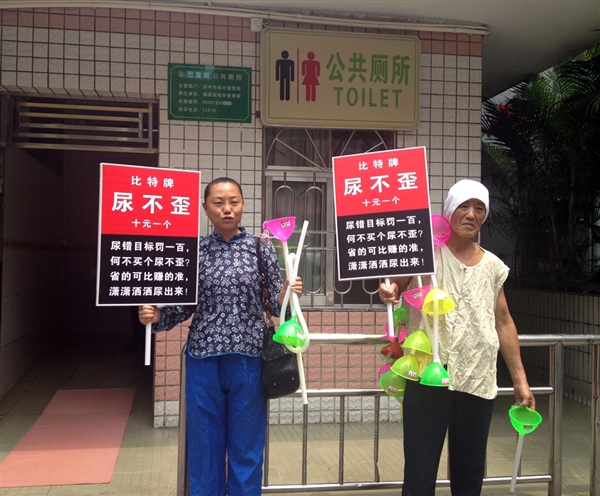 This comes from an NBC News Behind the Wall article entitled "Having trouble with your aim? Chinese contraption helps you 'Pee Straight'". The video it links to is overly long, but runs better when accessed separately here — the little ditty comes out much clearer.
About half the way through a guy demonstrates how to use the "Pee Straight", but he's not very good at it.
What's interesting for Language Log readers is the grammatical construction on which the name of the device is based, viz., resultative complement:
niào bù wāi 尿不歪
(lit., "urinate not crooked", i.e., "pee [with the result that you pee] straight")
Since the translation of the rest of the sign provided by NBC News does not convey the sentiment of the original very well, I provide this one for the benefit of Language Log readers who do not know Chinese:
When you pee, if you miss the mark they'll fine you a hundred,
Why not buy a "Pee Straight" instead?
You'll definitely save more than we earn,
And pee smartly to boot!
Translation notes:
The third line is a killer to get right: shěng de kěbǐ zhuàn de zhǔn 省的可比赚的准. Many of my Chinese friends and students say they can't make sense of it.
In the last line, note that the adverbial phrase xiāoxiāo sǎsǎ 潇潇洒洒 ("chicly; smartly; freely; unrestrainedly; elegantly and unconventionally") is interesting in that all four characters of which it is constituted have water radicals.
Another in our long series of urination posts (here's one of the recent ones, with references to earlier installments).
By the way, this is not a real "invention" but for show to satirize the new regulation concerning public restrooms in Shenzhen. Here is a link to a news item about it.
---