« previous post | next post »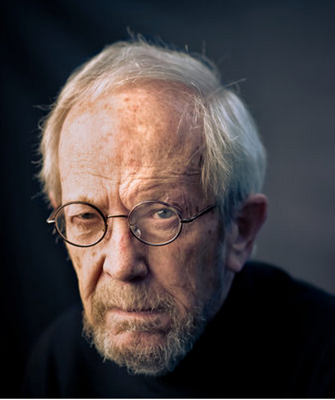 Marilyn Stasio, "Elmore Leonard, Who Refined the Crime Thriller, Dies at 87", NYT 8/20/2013:
Elmore Leonard, the prolific crime novelist whose louche characters, deadpan dialogue and immaculate prose style in novels like "Get Shorty," "Freaky Deaky" and "Glitz" established him as a modern master of American genre writing, died on Tuesday at his home in Bloomfield Village, Mich. He was 87. […]
To his admiring peers, Mr. Leonard did not merely validate the popular crime thriller; he stripped the form of its worn-out affectations, reinventing it for a new generation and elevating it to a higher literary shelf.
Reviewing "Riding the Rap" for The New York Times Book Review in 1995, Martin Amis cited Mr. Leonard's "gifts — of ear and eye, of timing and phrasing — that even the most indolent and snobbish masters of the mainstream must vigorously covet."

Over the years, we've discussed Elmore Leonard at least as often as any other writer — here are some of the posts:
"Avoiding rape and adverbs", 2/25/2004
"Self-exposure at the NY Times", 7/2/2004
"'On' time", 8/4/2005
"Love, adverbially" 3/13/2006
"Parataxis in Pirahã", 5/19/2006
"The laconic hero: Now 54.9% talk", 9/13/2007
"Elmore's adverbs", 9/14/2007
"The 'sports subjunctive': neither sports-related nor subjunctive", 2/27/2012
"Gonna, gone, onna, a — on?", 8/10/2012
The NYT obit includes this quote:
Mr. Leonard, who started out by writing westerns, had his first story published in Argosy magazine in 1951, and 60 years later he was still turning out a book a year because, he said, "It's fun."
I think I've read all of his published works, and it's been fun on this end as well. I'll miss him.
---