« previous post | next post »
It's clear that text-to-speech programs have gotten better and better over the past 60 years, technical details aside. The best current systems rarely make phrasing or letter-to-sound mistakes, and generally produce speech that sounds pretty natural on a phrase-by-phrase basis. (Though there's a lot of variation in quality, with some shockingly bad systems in common use.)
But even the best current systems still act like they don't get George Carlin's point about "Rhetoric as music". Their problem is not that they can't produce verbal "music", but that they don't (even try to) understand the rhetorical structure of the text.  The biggest pain point is thus what linguists these days call "information structure", related also to what the Prague School linguistics called "communicative dynamism".
Before we get to the fancy stuff, let's illustrate some old-fashioned problems that still surprisingly plague systems in common use. If I deploy the default way to "Have your Mac speak text that's on the screen", I get "Samantha", who makes many elementary text-analysis mistakes as well as sounding unnaturally choppy.
For example, the system's performance of start of this Wikipedia page divides phrases very badly, and mispronounces the world "multicoloured":
A rainbow is an optical phenomenon that can occur under certain meteorological conditions. It is caused by refraction, internal reflection and dispersion of light in water droplets resulting in a continuous spectrum of light appearing in the sky. The rainbow takes the form of a multicoloured circular arc. Rainbows caused by sunlight always appear in the section of sky directly opposite the Sun.
Google Cloud's synthesis console, using the voice en-US-neural2-A, does a much better job on the same passage — though it still sounds a bit robotic to me, a string of decontextualized sentences with too many of the words given equal and excessive weight:
(I'm sure that Apple's developers have systems of comparable quality — I'm just surprised that what they deploy as the default in macOS 13.6 is so bad…)
It's easy to find examples where the Google Cloud system's information-structure blindness creates more strikingly unnatural speech. For example, here's a short passage from Iris Crawford's 2012 novel A catered St. Patrick's Day: a mystery with recipes (retrieved from the COCA corpus):
In the first place, Brandon had sounded really tense. In the second place, he never turned off his phone. And in the third place, Brandon was never one to ask her for help if there was any other possibility.
And it's instructive to compare and contrast how a human being deals with analogous issues. Here's a sentence spoken by Richard Knox (from "Your Stories Of Being Sick Inside The U.S. Health Care System", NPR Morning Edition 5/21/2012):
And now she regrets even taking her father to the hospital in the first place.
The Google Cloud version of course has the same robotic lack of de-accentuation on "place", as well as the excessive and tiresome prosodic modulation of other words:
The spectrograms and F0 tracks show us a visual version of what we hear. First Knox: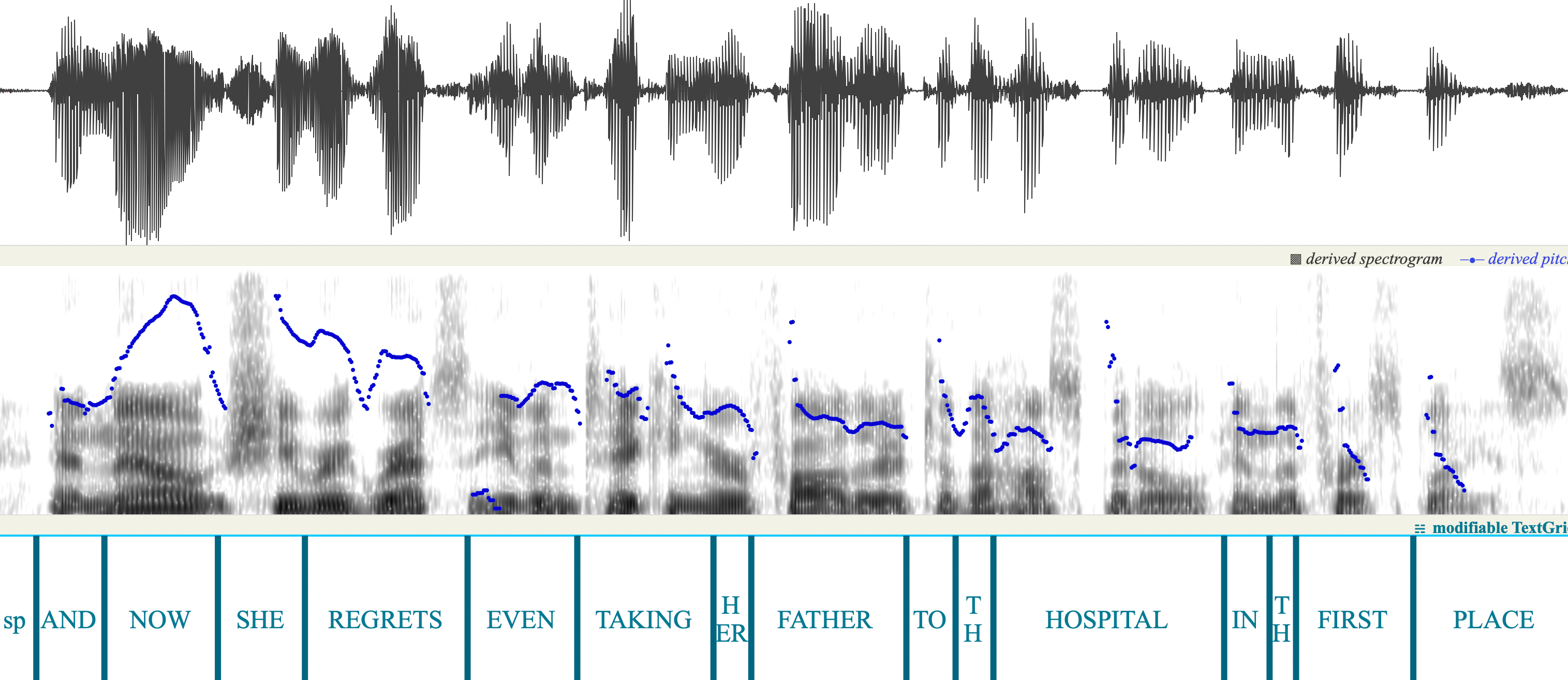 And then Google: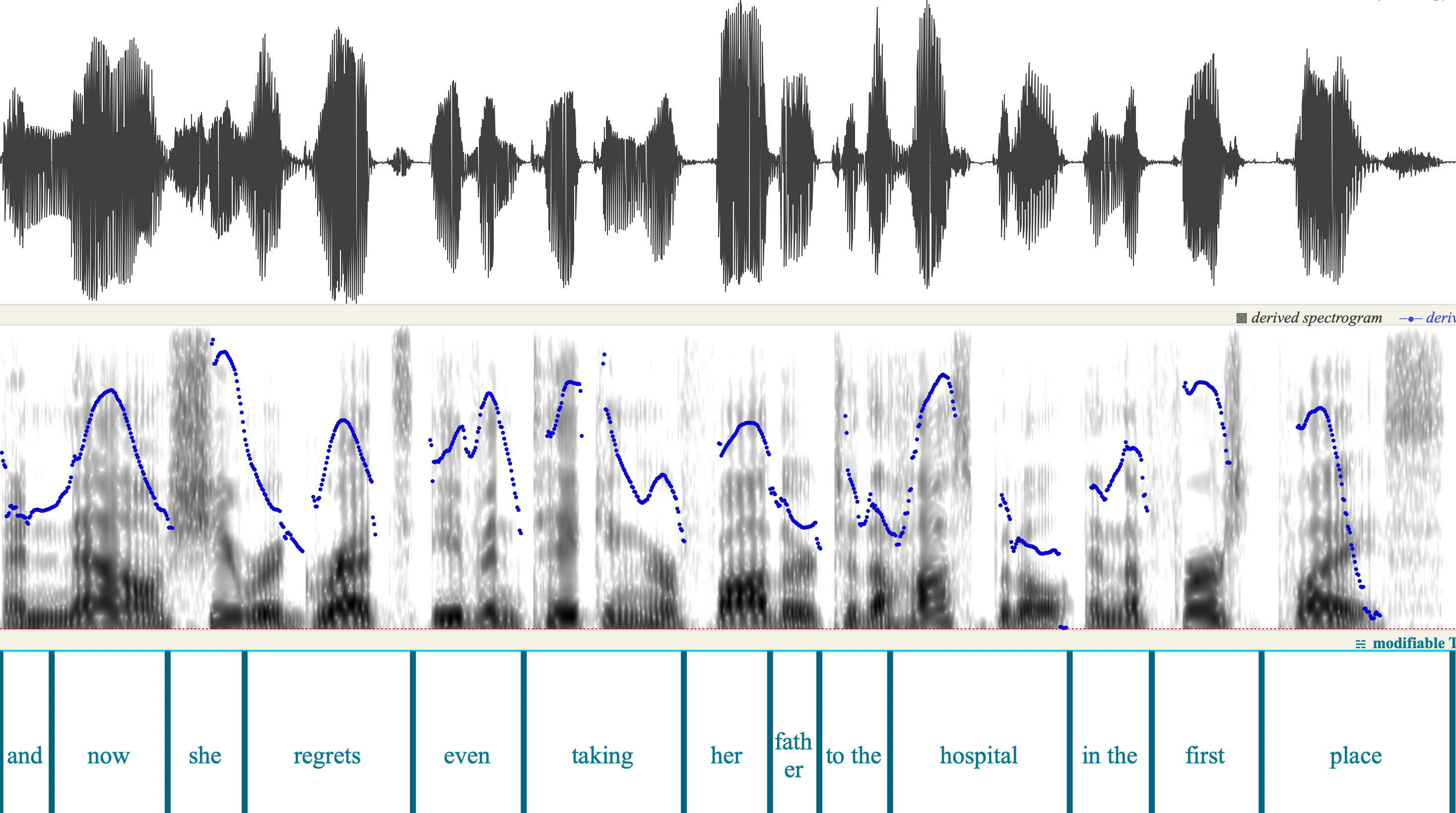 I believe that such failures of prosodic rhetoric are connected to failures of discourse analysis. Or more properly, connected to the lack of any real attempt at discourse analysis, much less understanding. Of course, others believe that ever-larger "deep" models of surface letter-string co-occurrences will eventually solve everything. The specific error highlighted in this post could easily be fixed by triggering on strings like "in the Nth place" — though that won't get us very far into the universe of explicitly and implicitly contrastive phrases, the effects of anaphoric reference, etc., etc. …
[Note that I've ignored excellent text-to-speech systems from Amazon, IBM, Microsoft, and others — this post aims to focus attention on a currently unsolved problem, not to present a comparative evaluation.]
---