« previous post | next post »
The most recent Trump indictment reproduces this exchange of text messages (p. 11) :
Trump Employee 2:
We can definitely make it work if we move his
papers into the lake room?
Trump Employee 1:
There is still a little room in the shower where his
other stuff is. Is it only his papers he cares about?
Theres some other stuff in there that are not papers.
Could that go to storage? Or does he want everything
in there on property
Trump Employee 2:
Yes – anything that's not the beautiful mind paper
boxes can definitely go to storage. Want to take a
look at the space and start moving tomorrow AM?
It took me longer than it should have to process the  phrase "the beautiful mind paper boxes".
Boxes full of beautiful mind-paper???
What's "mind paper", or rather why was it a familiar term to Donald Trump's employees? And what did they think was beautiful about this particular selection of "mind paper"?
A few hundred milliseconds later, I realized that Employee 2 was probably referencing the 1998 biography of John Nash, or more likely the 2001 film based on it.
But what about these boxes of presidential papers made Trump's employees associate them with a movie about a schizophrenic mathematician?
After reviewing the movie's plot, I reckon it must be the part where Nash is recruited by a (hallucinated) Defense Department official "with a classified assignment: to look for hidden patterns in magazines and newspapers to thwart a Soviet plot […] delivering his results to a secret mailbox". When his mental illness is diagnosed, his wife "takes out the unopened documents he delivered to the secret mailbox". I don't remember such a scene in the movie, so probably Employee 2 is referring to the later "office wall" scene:
So Donald Trump's employees saw his accumulation of classified documents as analogous to John Nash's psychotic symptoms, meaning that they think the former president is insane — or at least that they routinely joke about the idea?
The "beautiful mind" phrase has been widely quoted in the press,  and also on twitter, though I haven't yet seen this interpretation made explicit, beyond some hints like this one:
Reading the indictment, and seeing his employees (trusted enough to handle "his papers") refer to his "beautiful mind paper boxes," tells you their opinion of his mental state pretty clearly. pic.twitter.com/bjDk0Wf2B8

— Chris Dunn (@RevDreads) June 10, 2023
Returning to my initial garden-pathing on the phrase, let me nerd out a bit by noting that the number of binary trees on a string of n symbols is the (n-1)th Catalan number. So if we assume that the syntactic association of  initial "the" is unambiguous, we have the four words "beautiful mind paper boxes", and Catalan(3) = 5, corresponding to the structures
((ab)c)d     (a(bc))d     (ab)(cd)     a((bc)d)     a(b(cd))
And depending whether we're talking about boxes of ((beautiful mind) paper), or (paper boxes) [reminiscent of] (beautiful mind), we have something like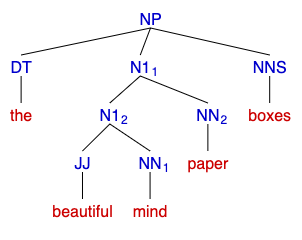 or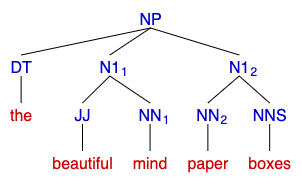 I'll vote for the first one, but given the wide variation that English allows for the interpretation of (N N) compounds, their potential meanings are extensively overlapping.
---