« previous post | next post »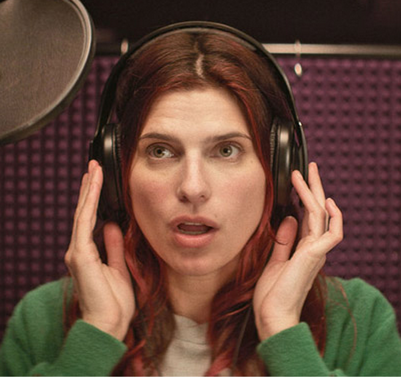 For the past few weeks, Lake Bell has been working hard to promote her new  movie In a World… NPR set the stage this way ("'In A World …' Is A Comedy About, You Guessed It, Voice-Over Artists", NPR All Things Considered 7/26/2013):
Lake Bell has acted in the movies It's Complicated, What Happens in Vegas and No Strings Attached. She's been on television, on HBO's How to Make It in America and the TV series Boston Legal. And she is now starring in a movie she has written and directed. It's called In a World … — as in that instantly recognizable phrase that kicks off so many movie trailers.
In a World … is a comedy about doing voice-overs for those trailers, and Bell's character, Carol, is to movie trailers roughly what Rocky was to boxing. Underneath the comedy, it's a moving story about female empowerment — though Bell tells NPR's Robert Siegel that she doesn't like to be preached to. "I "I always hope that, you know, if I do have a message, that perhaps it is with a good sense of humor and not too soap-boxy. Just a little suds on you, to get the message across."

There's been plenty of media uptake: "In 'A World', All Voice-Overs Are Not Created Equal", Fresh Air 8/8/2013; an interview with John Oliver on The Daily Show, 8/7/2013; A.O. Scott, "All those Voices: Can You Hear Her Now?", New York Times 8/8/2013; Amanda Dobbins, "Lake Bell On In a World… and Tattoos", New York Magazine 8/11/2013; "Lake Bell Poses Nude & Covered In Tattoos for New York Magazine", Huffington Post 8/12/2013; Leah Brillson, "Lake Bell Explains Why A Woman's Voice Is Her Most Powerful Tool", Refinery20, 8/12/2013; Tess Lynch, "Lake Bell vs. 'Sexy Baby Voice'", Grantland 8/13/2013; Daniel Cowen, "'In Other Worlds…' — Heeb Reviews Lake Bell's Directorial Debut: In A World", Heeb 8/13/2013; Mark Caro, "With 'In a World …,' Lake Bell puts her film where her mouth is", Chicago Tribune 8/13/2013;  "Interview: Actress Lake Bell Writes, Directs 'In a World…'", HollywoodChicago.com 8/14/2013; Norman Wilner, "Lake Bell: Versatile artist pipes up in eccentric voice-industry send-up In A World…", Now Toronto 8/16/2013; Ken Eisner, "Lake Bell spins In a World… her way", straight.com 8/14/2013; and many, many more.
Bell's movie is about a young woman trying to break into the male-dominated world of voice-over acting. As she puts it in her interview on NPR's All Things Considered:
I was always interested in the idea that the omniscient voice was always considered male. This sound that's telling you what to buy, what to think, how to feel about what bank to have, or what kind of car, or what movie to see. So I thought it would be an interesting protagonist to have a female vocal coach who would sort of aspire to take on this world.
But her interviews all stress the idea that women themselves are to blame for their exclusion, or at least are strongly complicit in it.  Thus in her interview with Katherine Monk ("Interview In a World… film director Lake Bell with video", Canada.com 8/14/2013) she says:
There is one statement in this film and I am vocal about it: There is a vocal plague going on that I call the sexy baby plague, where very smart women have taken on this affectation that evokes submission and sexual titillation to the male species," she says.
"This voice says 'I'm not that smart,' and 'don't feel threatened' and 'don't worry, I don't want to take charge,' which is a problem for me because it's telling women to take on this bimbo persona in order to please a man.
Or in the ATC interview:
OK, small soap-box moment. I have been personally ruptured and unsettled by the trend, the vocal trend that I call sexy baby vocal virus talking. So it's this is – not only is it pitch, so really high up, but it's also a dialect. It's like a speech pattern that includes uptalking and fry, so it's this amalgamation of really unsavory sounds that many young women have adopted. It's a pandemic, in my opinion.
Asked what it sounds like, she responded:
It would sound like this, and, like, we would just have this way of speaking. And it's not necessarily that I'm, like, stupid. It's just that what I'm saying makes me sound less than. And so, for me, I find that – like I can't have people around me that speak that way, and mainly because I am a woman, and I grew up thinking a female voice and sound should sound sophisticated and sexy and a la Lauren Bacall or Anne Bancroft or Faye Dunaway, you know? Not a 12-year-old little girl that is submissive to the male species.
Ms. Bell is a talented mimic: in addition to pitch and voice quality, she uses vowel retraction, for instance in her pronunciation of "this" as something like [ðæəs]: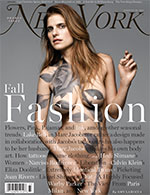 But she mixed her message a bit — though increasing her media coverage — by posing nude on the cover of the August 19 issue of New York Magazine. While she certainly doesn't present herself  there as a 12-year-old girl, some people might think that the magazine cover puts other "bimbo" stereotypes within reach. At least, nude magazine covers were not part of  the way that Don LaFontaine and  Carl Kassell built their case for "omniscient voice" status.
In any case, Bell's "sexy baby vocal virus" idea has gone viral, collecting many thousands of  diverse and mostly positive comments, many of them from women. Thus here are the first few comments on her ATC interview:
I work at a private university. I am an old woman surrounded by squeaky-toy voices. Thank you for making me laugh about it.
Yeah…I call it 'Ball of butter in the back of the throat syndrome.."
That squeaky-toy voice drives me nuts. We have a few younger ladies in our workplace who started out sounding like that, but quickly learned that it wasn't professional, and started sounding more like adults.
FINALLY … A woman calls out this awful baby talk, 1982 Valley Speak trend of young women. Agreed 100 percent Lake Bell.
The scary part is that there are more than a few of these godawful squeaky girl voices on NPR. The "woman" (can't tell by here voice) who co-hosts "Science Friday" is, to me, un-listenable.
I was hysterically laughing while listening to Lake Bell. Every time I hear a grown woman with that squeaky baby girly voice that ends in "like a question" even thought it's not a question, I cringe and roll my eyes! I'll bet Lake can imitate Vicky Pollard from Little Britain!
I thought I was the only one taken aback by the current epidemic of 20-something women increasingly sounding like a blase Mickey Mouse -or Mice. My boyfriend and I call them "Yaaah Girls" – as in "I had a whole Greek Yogurt before yoga and it totally bloated me in class" – "Yaaaaah." […] In a world where I wish I could punish these girls with impunity, someone give me Lake Bell's kickboxing skills from What Happens In Vegas and very fast legs…
The "sexy baby vocal virus" trend is ridiculous on the surface but also speaks to the thoroughly depressing way that young women view themselves and are viewed by others.
As a linguist, I'm always happy to see so many people so interested in how other people talk. But there are a few things about this epidemic of anti-female-vocal-virus discussion that bother me.
First, the annoying (to them) features that commenters bring up are all over the place, and it's not clear that the discussion is about an identifiable speech style, as opposed to a long list of things about various female-associated vocal features that people don't like.
Second, at least two of the features that Lake Bell mentions or imitates — vocal fry and retracted (backed and lowered) vowels — actually represent women's attempt to sound more like men (or at least to sound larger), with lower-pitched vowels and lower frequency vocal-tract resonances. (At least, this is true to the extent that such effects are gender-linked and not just general phenomena that become part of a gender stereotype.)
Third, I'd be willing to make a small wager that at least some of the features that annoy Bell are actually commoner in female-to-female speech than in female-to-male speech. Many of the commenters' examples of annoying speech come from young women talking among themselves.
Fourth, I haven't seen any evidence that there's anything really new here. Consider this passage from a 1985 interview with Carol Channing ("How Carol Channing became Carol Channing", in James Kirkwood, Diary of a Mad Playwright):
"My mother was just like this. I was never going to be pretty, I was too tall, I was. . . . Look, somebody nominated me for secretary of the student body in school — I was eight years old, okay — and the procedure was, I had to get up onstage in the school auditorium and make my campaign speech. Well, I didn't know what to say. I couldn't say I was smarter than they were, I couldn't say I was better in any way […]
"Because, if a mother gets a Mary Martin or a Carol Channing, she's got this mushroom coming up under her and it's very frightening and disconcerting, because she doesn't know what to do. She can't rescue you, because you're not a cripple, so she makes you a cripple. 'Goddamnit, you're going to be a cripple!' And, woman to woman, they beat you up.
"So suddenly you're onstage and you find out the whole thing's a lie, it's not true, and on top of which, although I'm not the cutest girl in class, never was, and very tall, and . . . I could act like Marjorie Gould, and did Marjorie Gould for them and –" now Carol's voice switched to sexy babytalk — "and I did Marjorie Gould for them, and I swished my ass around that stage like Marjorie Gould never thought of doing, and it was so exciting and so sexy, and I did it better than Marjorie Gould! Well, naturally I got elected."
Since Carol Channing was born in 1921, this episode would have happened in 1929, 50 years before Lake Bell was born. It's certainly possible that the techniques that Carol Channing learned in 1929 have recently spread like an epidemic among young American women, but frankly, I'm skeptical that the prevalence of the "sexy baby voice" syndrome has changed much in the past decade, or even the past century.
For more, you should read Jessica Grose, "Why Is Lake Bell Dissing Women's Voices?", Slate 11/9/2013, which ends with this sensible remark:
I agree with Bell that making yourself sound younger or dumbing yourself down on purpose won't be great for your career. But, what she's advocating is that women should have low voices to sound smart, or even sexy. Since she obviously cares about advancing women, maybe she should stop instructing them that they need to sound like dudes.
An earlier episode of collective annoyance at similar features in the speech of (certain) young women occurred in 2006, as discussed in these LL posts:
"The Affect: Sociolinguistic speculation at the NYO", 3/22/2006
"Further thoughts on 'The Affect'", 3/22/2006
And there was an even earlier outbreak, starting in the early 1990s, focused on "uptalk":
"This is, like, such total crap?", 5/15/2005
"Uptalk uptick", 12/15/2005
"Angry Rises", 2/11/2006
"Uptalk is not HRT", 3/28/2006
"Uptalk anxiety", 9/7/2008
"The phonetics of uptalk", 9/13/2008
"Uptalk v. UNBI again", 11/23/2008
"Elementary-school uptalk", 11/30/2008
Some other relevant posts:
"Nationality, Gender and Pitch", 11/12/2007
"Mailbag: F0 in Japanese vs. English", 11/13/2007
"How about the Germans?", 11/14/2007
"Vocal fry: 'creeping in' or 'still here'?", 12/12/2011
"More on 'vocal fry'", 12/18/2011
Update — and for more scientific background, see "Biology, sex, culture, and pitch", 8/16/2013.
---