« previous post | next post »
Rob Harrell's Big Top comic takes on word aversion: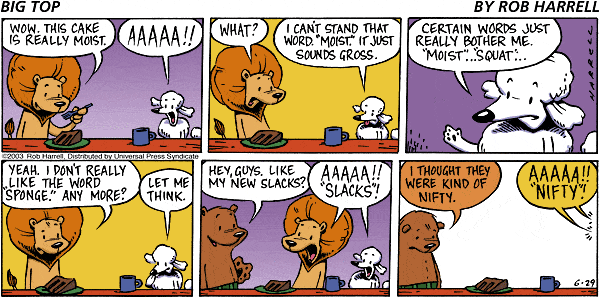 (Click on the image for a larger version.)
I was going to say that this strip echoes our coverage of the word aversion phenomenon ("Ask Language Log: The moist panties phenomenon", 8/20/2007; "Don't say 'tin' to Rebecca, you know how it upsets her", 8/20/2007; "Morning mailbag", 9/10/2007; "The long moist tail", 10/6/2007; "From cringe to offense", 10/25/2007), but apparently Mr. Harrell's take on the subject is from 2003, making it an example of what Robert Merton called anticipatory plagiarism: "Anticipatory plagiarism occurs when someone steals your original idea and publishes it a hundred years before you were born".
And in internet years, the span from 2003 to 2007 counts as at least a century, I think.
[via David Bowie via Ben Zimmer]
---