« previous post | next post »
If a desert island is uninhabited by humans, it doesn't follow that humans uninhabit it. Likewise, if half the money was unaccounted for, that doesn't mean that anyone unaccounted for it. And you can say that someone's support was unwavering, but you can't say that it unwavered.
But wait a minute, maybe you can after all.
At least, it seems that someone writing headlines at the LA Times can: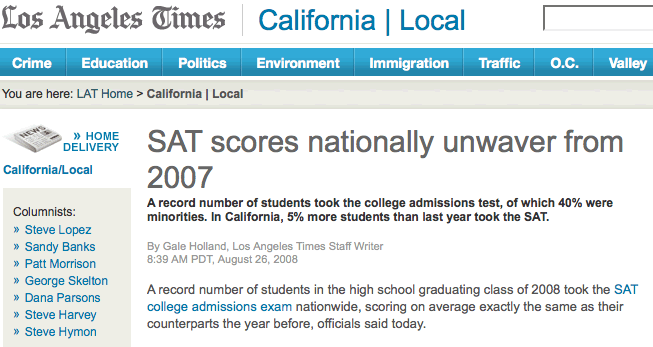 I saved a screenshot because I figured they'd correct it quickly. And they did: the headline is now "SAT scores nationally unchanged from 2007".
Examples like "uninhabited by humans" have long been used as an argument for the lexical nature of adjectival passives in English, under the term unpassive (e.g. Joel R. Hust "The syntax of the unpassive construction in English", Linguistic Analysis 3(1): 31-63, 1975).  As CGEL explains  on p. 1436:
There is a large-scale overlap between adjectives and the past participle forms of verbs, and since the verb be can take complements headed by either of these categories we find a significant resemblance, and often an ambiguity between a verbal passive and a complex-intransitive clause containing an adjectival passive as a predicative complement. Compare:
[32] i   The kitchen window was broken by the thieves. [verbal: be-passive]
[32] ii  They were very worried. [adjectival: complex-intransitive]
[32] iii They were married. [ambiguous]
(For some additional context, see "How to defend yourself from bad advice about writing", 11/1/2006.)
Forms like "unwavering" make a similar point. English expresses progressive aspect in active verbs with the auxiliary be + a following gerund-participle, as in "I was reading Language Log when the phone rang". But forms in -ing are often simply used as adjectives, as in "Bankers are less daring these days". And words of the form un+V+ing are generally adjectives, in which the prefix un- expresses negation: unassuming, uncaring, uncomplaining, unvarying.
Of course, there are some genuine verbs with the prefix un-, expressing reversal or deprivation: unwind, unpack, unmask, unearth, and so on. And these have normal gerund-participle forms, and normal uses for those forms, including the progressive.
So it's not surprising that someone might make a mistake and assign one of the un- adjectives to the wrong category. If there were a verb unwaver that was to waver as unwind is to wind, then most of the uses of "unwavering" would still make sense. For example, when Coleridge wrote
… all objects there will teach me
Unwavering love, and singleness of heart.
we would take him to mean that my love used to waver, but now it is (or soon will be) stabilizing.
And then you could say that SAT scores unwavered this year, or that Hillary Clinton's speech last night expressed unwavering support for Barack Obama.
Oh wait, you could say that anyhow.
---