« previous post | next post »
During the Arab Spring demonstrations, we saw many signs that attempted to reach a Chinese audience in Chinese: "Maybe Mubarak understands Chinese", 2/10/2011; "Chinese sign in Benghazi", 3/21/2011; "Roll out of here, Mubarak", 4/3/2011. Similar signs were spotted during the Occupy Wall Street demonstrations later the same year:  "No more corruption".
Now, in Syria, we see protesters condemning China with signs written in Arabic: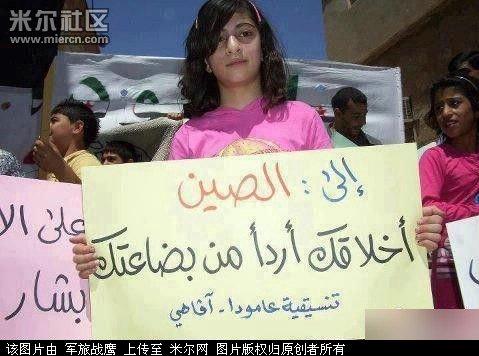 (from this website)
The immediate context of this denunciation would seem to be China's veto of the UN decision to sanction Syria.
According to Shawkat Toora, the sign says:
ilā al-Ṣīn
akhlāqu-kum arda' min biḍā'ati-kum
إلى الصين
أخلاقكم أردأ من بضاعتكم
To: China
Your character/ethics/morals are worse/viler than your wares/goods
It's signed "Tansiqiyya Āmūdā – Āpāhī". No idea what that is. A Kurdish organization maybe?
As for peculiarities, the signature is not Arab/ic, and the daggered alif on the ilā is unusual.
The word translated by Shawkat as "worse / viler" could also be translated as "meaner / nastier", and "wares / goods" could, of course, also be rendered as "products".
Joe Lowry and Roger Allen read the second line slightly differently: Akhlāqu-ka arda' min bidā`ati-ka أخلاقك أردأ من بضاعتك
Joe also provides this transcription of the signature line: تنسيقية عامودا – آڤاهي
This Joe renders as "Coordinating Committee of 'Āmūdā – Āvāhī" and notes that "Āvāhī seems to be a Kurdish youth group that is participating in the Syrian rebellion against the government."
Jamal Elias offers additional information about the sign, its signature, and probable purpose:
Amuda is a predominantly Kurdish town right on the border with Turkey. A Tansiqiyya is a community level organization, a formal part of Syrian civil structure. I don't know what Aqahi/Apahi/Aghahi is doing there. My first guess would be that it's the name of a neighborhood within Amuda, so the sign says something like "Agahi Community Council, Amuda".
As for why someone would make this sign and have a kid hold it up: I'd bet a beer (but not a keg) on this being part of the Turkish vs Chinese competition for the market in northern Syria, sponsored either by Turkish businessmen or else by their local Kurdish associates.
The Chinese translation on the website where I found the photograph is interesting:
Zhōngguó: Nǐmen de dàodé bǐ nǐmen de chǎnpǐn hái lèsè / lājī
中国:你们的道德比你们的产品还垃圾。
("China: your morals are even more rubbishy than your products.")
I am particularly intrigued by the use of lājī (PRC pron.) / lèsè (Taiwan Mandarin pron.) 垃圾 ("garbage; refuse; rubbish; waste; trash; junk") as a stative (adjectival) verb, since it normally functions as a noun (as might be expected from its meaning). This goes to show how much Chinese grammar is driven by syntactical position.
[Thanks to Devin Stewart]
---