« previous post | next post »
Francois Lang sent in this menu from YU Noodles Cafe in Rockville, MD: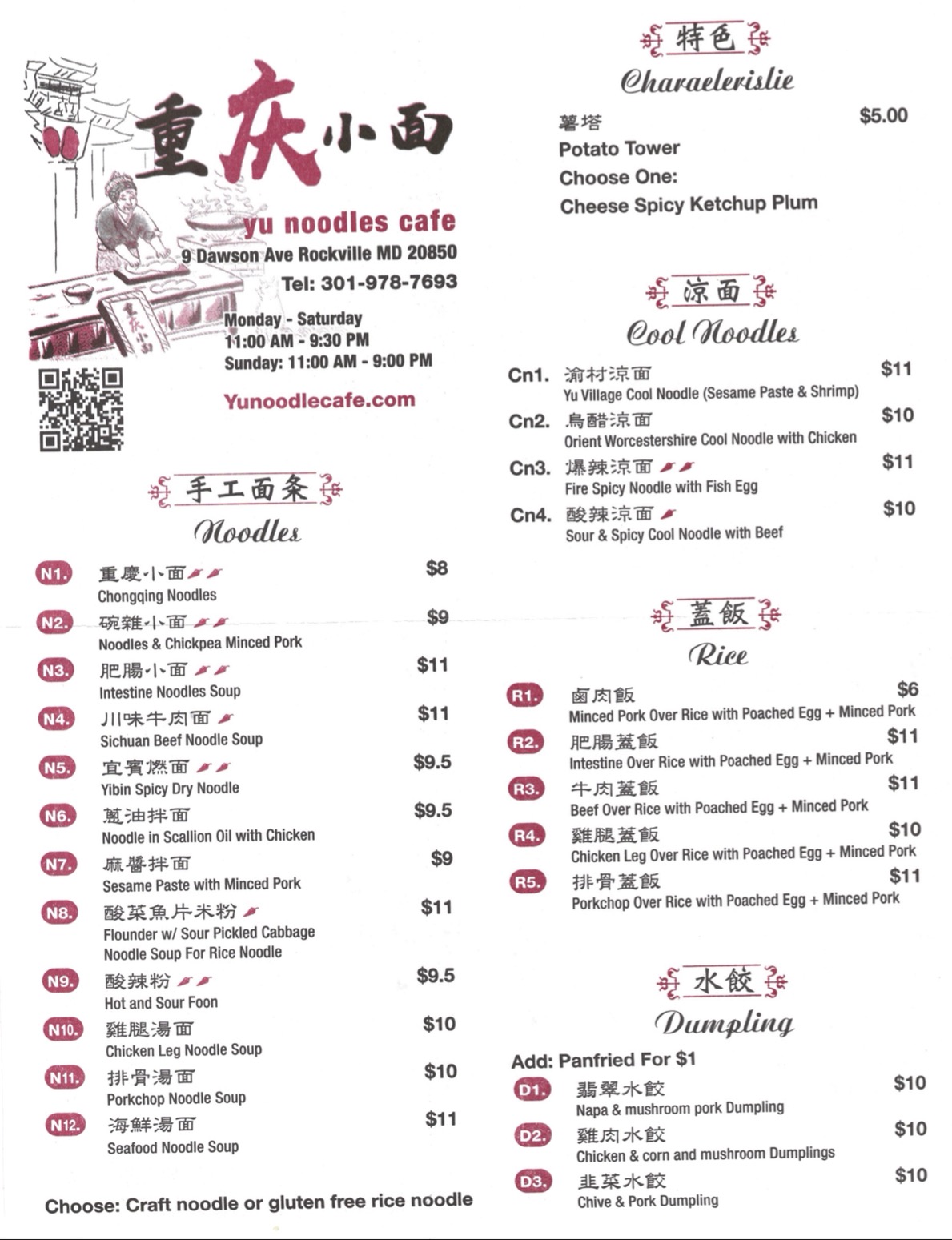 Francois said that he was particularly interested in "the puzzling pseudo-English word in the top right corner, 'Charaelerislie'…"  He wants to know what it means.
Although I was able to figure out what the owners of the cafe meant by "Charaelerislie" without looking at the corresponding Chinese text, checking the latter confirmed my suspicion:  they meant "Characteristic".
tèsè
特色
"characteristic; (distinguishing) feature" — as in "socialism / math / physics / etc. with Chinese characteristics"
Well, we still have to ask precisely what they mean by designating a section of their menu as "Characteristic", especially since they only have one item under this category, namely, "Potato Tower" (not this, but this), which comes with your choice of four different kinds of sauces:  Cheese, Spicy, Ketchup, Plum.
To be short and sweet about it, "Characteristic" here is something like "House Specialty".  We have it, nobody else does, and it's good.
The idea of "tèsè 特色" ("characteristic") is akin to "tèchǎn 特產" ("specialty; special local product").
As for the misspelling on the menu, they thought they could get away with their fancy font and cover up any errors with it.  Didn't work, did it?
As for "Cool Noodles", we usually translate "liáng miàn 凉面" as "cold noodles".
And, if you're wondering what "Foon" is in N9., it's most likely the same thing as "mǐfěn 米粉" ("rice-flour noodles") in N8.
Selected readings
---