« previous post | next post »
English is not the worst imaginable choice as a medium of international communication — Chinese would be worse, among a few others. But on the whole, it's seriously bad luck for the human species that English happened to hit the linguistic jackpot. The problem is not the English language itself, which I love dearly and would otherwise be happy to recommend to others. The problem is the way that English is written, which is really, really hard to learn, in comparison to most other languages with an alphabetic writing system.
According to Philip H.K. Seymour, Mikko Aro, and Jane M. Erskine, "Foundation literacy acquisition in European orthographies", British Journal of Psychology, 94:143-174, 2003, this is because children learning to read and write English face a double problem: complex syllables and opaque letter-to-sound correspondences.  (They don't discuss how much of this problem is shared by adult learners, who are typically trying to master the English writing sytem at the same time as learning the spoken language, but it's logical that some of the children's difficulty would carry over over to adults.) Their abstract:
Several previous studies have suggested that basic decoding skills may develop less effectively in English than in some other European orthographies. The origins of this effect in the early (foundation) phase of reading acquisition are investigated through assessments of letter knowledge, familiar word reading, and simple nonword reading in English and 12 other orthographies. The results confirm that children from a majority of European countries become accurate and  fluent in foundation level reading before the end of the first school year. There are some exceptions, notably in French, Portuguese, Danish, and, particularly, in English. The effects appear not to be attributable to differences in age of starting or letter knowledge. It is argued that fundamental linguistic differences in syllabic complexity and orthographic depth are responsible. Syllabic complexity selectively affects decoding, whereas orthographic depth affects both word reading and nonword reading. The rate of development in English is more than twice as slow as in the shallow orthographies. It is hypothesized that the deeper orthographies induce the implementation of a dual (logographic + alphabetic) foundation which takes more than twice as long to establish as the single foundation required for the learning of a shallow orthography.
Here's their conceptual ranking of European languages in terms of syllabic complexity and orthographic depth: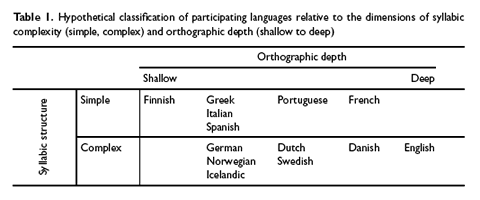 And here's a graph of some of their test results on first-grade children in various European countries: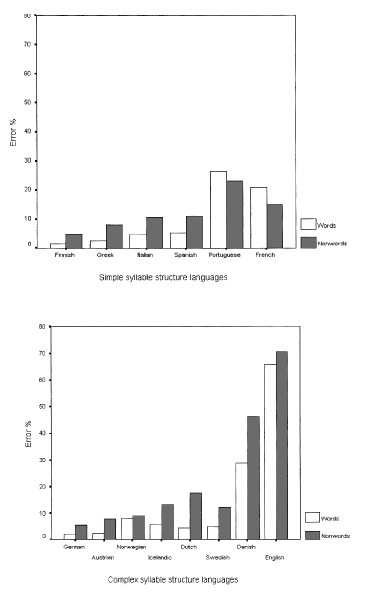 Error rates (per cent) for familiar word and simple nonword reading by simple syllable language groups and complex syllable language groups.
Because of national differences in the age of entry to primary school, the children were not all in the same age range, and the "English" children (in Scotland) were the youngest of the lot, by a year or two — though the authors argue that age is not responsible for the differences seen, on the basis of regression analysis with age as the independent variable.
It should also be noted that the subjects in each country were drawn from a small number of schools, apparently in most cases from a single school; and this may increase the importance of local differences in teaching methods. In particular, the question of how to teach reading and writing in English is a very controversial one, and the choice of method can have very large effects. In this case, the representative school for the English language was in Dundee, Scotland, and the authors do note that
Another possibility is that differences in teaching methods may be responsible. In shallow orthographies, such as German, synthetic phonic methods are commonly used (Wimmer, 1993). Some commentators argue that rates of progress could be improved by using these same methods in English. However, this contention ignores the distinction between shallow and deep orthographies. In Scottish schools there is a preference for a mixed method which combines the teaching of a vocabulary of sight words with the teaching of the letters and decoding procedures (Duncan et al., 1997). These methods are well adapted for deep orthographies in which commonly occurring words contain letter structures which are inconsistent with the principles of simple grapheme–phoneme correspondence.
My impression is that terms like "mixed method" can in fact cover a very wide variety of different approaches, in which the proportion, nature and effectiveness of the "synthetic phonic" part can vary widely.  So I'd like to see another study in which the same test instruments are used to compare the effectiveness of different teaching methods for English.
Seymour et al. argue that
In shallow orthographies, the tasks of familiar word recognition and decoding are based on a common set of principles (a consistent set of simple grapheme–phoneme correspondences) and may, effectively, be handled by a single process. In deep orthographies, the principles underlying word recognition and decoding are distinct. Beginning readers of English encounter numerous common words (house, father, nice, was, etc.) which contain complex graphemes, contextual variations and irregularities which are not consistent with their concurrent learning of grapheme–phoneme correspondences. To accommodate this discrepancy, word recognition (the logographic process) follows a distinctive developmental pathway.
I don't know this literature well enough to evaluate the single-process vs. dual-process claim. My own experience reading English in broad phonetic transcription suggests to me, unscientifically, that word recognition is a separate process from decoding even in that case. However, no one can rationally deny that the complex subregularities and outright irregularies of the English orthographic system pose significant problems for learners.
Their conclusion:
It may be that the rate of learning can be influenced at the margins, being further delayed by socioeconomic disadvantage (Duncan & Seymour, 2000), possibly accelerated by modifications to the teaching of phonics, and perhaps sensitive to the child's cognitive maturity when the teaching of reading is introduced. However, there will always be a cost associated with the implementation of a dual foundation process [i.e. one that mixes logographic and phonetic processing], and this will create irreducible differences in rates of progress between learning to read in English or other deep orthographies and learning to read in a shallow orthography.
I looked up this paper because it was mentioned in The Economist "You write potato, I write ghoughpteighbteau", 8/14/2008, and Jarek Hirny wrote to ask about the claim that children take more than twice as long to learn to read English as most other European languages. This passes the test of common sense, it seems to me, and (with the caveat that the Seymour et al. study didn't attempt a systematic study of learning rates within each country), it seems to be empirically supported as well.
The Economist's article is mostly about the idea of spelling reform, and was stimulated by the recent release of test results showing that about a third of 14-year-olds in the U.K. are not reading at what is considered to be an appropriate level:
GHOTI and tchoghs may not immediately strike readers as staples of the British diet; and even those most enamoured of written English's idiosyncrasies may wince at this tendentious rendering of "fish and chips". Yet the spelling, easily derived from other words*, highlights the shortcomings of English orthography. This has long bamboozled foreigners and natives alike, and may underlie the national test results released on August 12th which revealed that almost a third of English 14-year-olds cannot read properly.
One solution, suggested recently by Ken Smith of the Buckinghamshire New University, is to accept the most common misspellings as variants rather than correct them. Mr Smith is too tolerant, but he is right that something needs to change. Due partly to its mixed Germanic and Latin origins, English spelling is strikingly inconsistent.
Three things have exacerbated this confusion. The Great Vowel Shift in the 15th and 16th centuries altered the pronunciation of many words but left their spelling unchanged; and as Masha Bell, an independent literacy researcher, notes, the 15th-century advent of printing presses initially staffed by non-English speakers helped to magnify the muddle. Second, misguided attempts to align English spelling with (often imagined) Latin roots (debt and debitum; island and insula) led to the introduction of superfluous "silent" letters. Third, despite interest in spelling among figures as diverse as Benjamin Franklin, Prince Philip and the Mormons, English has never, unlike Spanish, Italian and French, had a central regulatory authority capable of overseeing standardisation.
There are many conceptual, cultural, and political barriers to English spelling reform, as the Economist goes on to explain.
And I don't know anything about methods for reading intruction in the U.K., beyond what Seymour et al. wrote about "mixed methods" in Scotland. But similarly depressing statistics about effective literacy rates in the U.S. seem to me to argue less for a reform of English spelling (which is unlikely to happen, whatever your opinion about it), and more for a reform of American educational methods.
[The tests of U.K. reading abilities are reported e.g. in Graeme Paton, "Sats results: School reading standards drop", 8/12/2008, which says:
Sats results reveal almost a third of 14-year-olds are unable to read to an acceptable level – three years after starting secondary school. […]
Some 62 per cent of boys can read to the appropriate level, against 76 per cent of girls, as the gender gap widened.
I haven't yet found a detailed description of what the expected levels are, or a more extensive account of the distribution of scores. I did find numerous suggestions that the managerial competence of the various public and private agencies involved is more seriously challenged than the students' literacy is.]
---