« previous post | next post »
David Denison writes:
This ludicrous headline in my Feedly feed caught my eye just now: "Learning wild to swim with confidence".
The actual story in The Guardian revealed an alternative version, usable but (to my ears) still in over-anxious thrall to the don't-split-infinitives mantra: "Learning to swim wild with confidence".
I think I'd have naturally said "Learning to wild swim with confidence", though with some hesitation in writing as to whether to hyphenate wild-swim.
Here's the obligatory screenshot, supplied by David: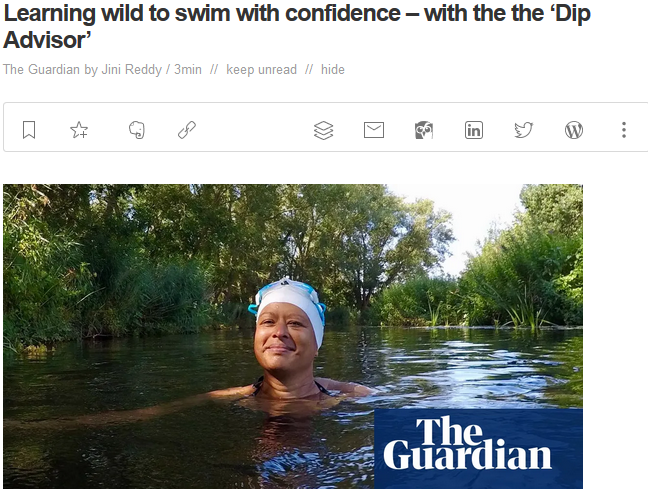 The Guardian's sub-head makes it clear that the article is indeed about "wild swimming":
With most pools still closed, wild swimming is booming this summer, but what about those too nervous to dive in?
But it's ambiguous whether the morphosyntax of "wild swimming" is
| | | |
| --- | --- | --- |
| |  or | |
or what — presumably David's hyphen is one way of signaling the second analysis. (Or at least the second constituent structure — maybe "swim" should be a noun in that case, as in apparent ADJ-initial compound verbs like "hotwire" or "slow-roll" or "fast-track".)
My guess would be that the article's author (it's credited to Jini Reddy) had the first analysis in mind — I doubt that she would have written "I've never wild swam before" (or "wild swimmed" either), though as David observes in the comments, that kind of thing is Out There.
But the writer of the headline in David's feed — and maybe the original headline for the article — started by transforming the idea of getting lessons about wild swimming into the shorter form "learning to wild swim". They then reflexively unsplit the infinitive by moving "wild" before "to". They swallowed the resulting ungrammaticality because the results of that manoeuver usually seem unnatural anyway.
Some previous "split infinitive" posts are here.
And by the way, "wild swimming" is apparently a thing, which is a little weird for those of us who never encountered any other kind of swimming until adolescence. As John Swindle notes in the comments, it's as if "wild walking" were used to mean "walking where there isn't a sidewalk or other paved path."
---