« previous post | next post »
The following photograph was taken at a Springfield, Massachusetts restaurant named "Nippon Grill and Seafood Buffet":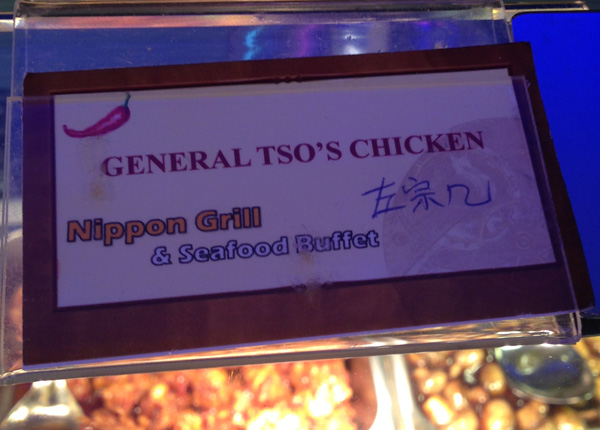 Preliminarily, we may note that the restaurant styles itself as "Nippon [not 'Nihon' or 'Japan'] Grill and Seafood Buffet", for which nomenclature see this recent Language Log post.
Although I've not been to the "Nippon Grill & Seafood Buffet", so I can't say for sure, but my guess is that — like most "Japanese" restaurants outside of Japan that I've been to in recent years — it is probably staffed, and maybe even owned, by Chinese.
Next, we need to get the name of this very common American Chinese dish straight. The Chinese version on the label is wrong on at least two major accounts, which I shall address after mentioning that the English given here, "General Tso's Chicken", is the most popular version among a dozen or so variants. I haven't seen anyone referring to it as "General Zuo's Chicken", à la Pinyin, but I'm sure that this new spelling must be popping up here and there, just as "Sichuanese" has been replacing earlier "Szechwanese".
There are two main variants of the name for this dish in Chinese:
1. Zuǒ Zōngtáng jī 左宗棠雞 (traditional characters) / 左宗棠鸡 (simplified characters) ("chicken à la Zuo Zongtang" OR "Zuo Zongtang's chicken") — Zuo Zongtang (1812-1885) was a famous statesman and military leader who, among many other outstanding accomplishments, put down the revolt of the Dungans, whom I wrote about here.
2. Zuǒ gōng jī 左公雞 (traditional characters) / 左公鸡 (simplified characters) — ("chicken à la His Honor Zuo" OR "His Honor Zuo's chicken")
This is the first time I've ever seen this dish referred to in Chinese as Zuǒ Zōng jī 左宗雞/鸡 ("Zuo Zong Chicken"). It should either be Zuǒ Zōngtáng jī 左宗棠雞/鸡 or Zuǒ gōng jī 左公雞/鸡, as explained in #1 and #2 just above.
The most intriguing error on the sign, however, is to write the word for "chicken" as 几 instead of as jī 雞/鸡.
几 has many possible meanings, but "chicken" is not one of them. Moreover, 几 is usually pronounced in the third tone as jǐ ("several; some; a few; how much; how many"), so the tone is not right for "chicken" (jī). Pronounced jī in the first tone, it can mean "a small, low table; almost; nearly; practically").
Although the chicken is a common animal, the traditional character for writing it is rather complicated, either 雞 or 鷄 (Japanese variant 鶏). It is no wonder that the simplifiers of the script reduced these forms to 鸡. That's not a very satisfactory simplification, however, because it's still not easy to write and because it lost the partial phonetic clue it had in xī 奚, replacing it with yòu 又, which is useless as a phonetic indicator.
We may refer to 几 in this instance as an ad hoc hyper-simplification of the traditional forms 雞 / 鷄, which were undoubtedly far beyond the grasp of the person who wrote this sign. Even the simplified form 鸡 seems to have eluded them.
Using 几 for 雞 / 鷄 / 鸡 in the Chinese name for General Tso's Chicken is interesting, because it "proves" once again that tones are often given short shrift (as we've seen recently here and here).
As a Chinese linguist said to me yesterday, "you could basically use a syllabary of some 400 simple characters to write EVERYTHING in Chinese. And if you can do it with a syllabary, then might as well use Pinyin."
This wouldn't be the first time that the copious Chinese characters have been reduced to a syllabary, since that is essentially what the famous nüshu 女書 ("Woman's Writing") of Jiangyong County in Hunan Province in southern China amounts to.
What the devisers of this script have done is take a severely limited set of Chinese characters that cover all the necessary syllables and stylize them in a rhomboidal form for use as a syllabary to write the sounds of their local dialect.
What 几 does is basically get across the idea that the final syllable of the dish named after Zuo Zongtang sounds like "ji" (which, in turn, sounds like "gee"). It is not clear about either the tone or the meaning of the syllable in question.
Naturally, in the countless other Sinitic topolects, jī 雞 / 鷄 / 鸡 has many other pronunciations. Here I will mention only Cantonese gai1 (sounds like "guy"), which will be familiar to those who frequent Chinatown restaurants. One might well ask how Mandarin jī and Cantonese gai1 are related and can both be legitimate pronunciations for 雞 / 鷄 / 鸡. Perhaps the simplest way to put it is that the evolution of jī from an earlier stage is part of the palatalization of the velars that started in the northeast over three centuries ago and is gradually moving southward, having reached about to the Yangtze River.
Whoever wrote 几 for 雞 / 鷄 / 鸡 on that sign at the Nippon Grill and Seafood Buffet was bearing witness to the primacy of sound over shape in writing systems. Sometimes Chinese characters are just too hard for people to write "correctly", in which case they simply write whatever they think sounds closest to what they want to say. Of course, the same thing happens in English and other languages too, which is why we have so many misspellings of "difficult" words.
[Photo taken by Joe Long and sent to me by Neil Kubler]
---