« previous post | next post »
Practically everybody has heard of the fabled Grass Mud Horse (cǎonímǎ 草泥马), which is a pun for "f*ck your mother" (cào nǐ mā 肏你妈). China Digital Times, which pioneered research on "sensitive words", including "Grass Mud Horse", has just introduced a new feature, which should prove to be a useful resource for China scholars and journalists: "Two Years of Sensitive Words: Grass-Mud Horse List".
You will observe that not one of the tones of cǎonímǎ 草泥马 ("Grass Mud Horse") matches the corresponding tone in the original cào nǐ mā 肏你妈 ("f*ck your mother"), yet no one has the slightest difficulty in comprehending that the former is meant as a pun for the latter.
The problem of the importance of tones for understanding was extensively discussed in the comments to this Language Log post. Note especially this comment, where it is pointed out that expressions like "wo cao ni ma" (original tones 3 4 3 1 ["I f*ck your mother"]) will be understood regardless of the tones that are applied to them. Indeed, from the 80s up to the present day, my colleagues and I have been extensively experimenting with toneless written Mandarin and have found that speakers with native fluency automatically add the correct tones, so long as the text is written in an orthographically proper form. By "orthographically proper", I mean that the official rules for word formation, punctuation, and so forth are followed. Of course, we want our learners of Chinese languages to get the tones "right", so for pedagogical purposes and in dictionaries, tones should definitely be marked. It's the same with primary and secondary stress in Russian, which are marked in language textbooks and dictionaries, but not in typical texts for adults.
Let us examine these four variations of "wǒ cào" (which have been circulating on Weibo [China's Twitter clone]):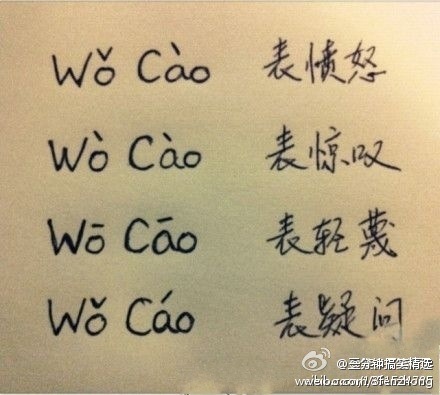 N.B.: No Chinese characters are given for the four items that are being explicated.
The glosses read as follows:
biǎo fènnù 表愤怒 ("indicates anger")
biǎo jīngtàn 表惊叹 ("indicates surprise")
biǎo qīngmiè 表轻蔑 ("indicates contempt")
biǎo yíwèn 表疑问 ("indicates doubt")
All four variants are saying "I f*ck [your mother]", but they employ a variety of tones to convey different nuances and emotions.
To complicate matters further, I should note that, because the actual character for writing the "cao" syllable of "wo cao" is considered to be incredibly vulgar (cào 肏, which consists of "enter" over "flesh", both graphically depicted), it doesn't exist in normal fonts, and even when using large fonts or writing by hand, nearly all "decent" folk avoid using cào 肏, substituting for it cāo 操 (which literally means "grasp; hold; operate; do; exercise"). Cāo 操 is thus both a graphic and euphemistic substitution for cào 肏. Nonetheless, although they are pronounced with different tones, everybody (even those who would never themselves use cào 肏, know full well that cāo 操 in the first tone is standing in for cào 肏 in the fourth tone. Thus, what used to be wǒ cào 我肏 ("I f*ck") has now become wǒ cāo 我操 ("I do [i.e., f*ck]").
The question of how intonation relates to tone also has an important bearing on the interaction between musical tune and linguistic tone. What happens when the contours of a melody are superimposed on the lyrics of a song? For example, what is the result when a rising second tone syllable meets a falling glissando? Well, the melody is going to win out over the tone, just as intonation wins out over the tones in the examples discussed above. Yet, since the linguistic tones have been distorted or completely changed, how is meaning conveyed? These are questions that deeply perplex students of Chinese music theory.
To get an idea of how powerful intonation can be, just think of the little syllable "oh" in English, which can mean any number of things depending on the way it is uttered and suprasegmental aspects of the sentences in which it occurs.
[Thanks to David Moser]
---