« previous post | next post »
This headline confused me until I read the story: Julian Chokkattu, "Email App Maker Begs Apple CEO to Get Back on the App Store", Wired 11/22/2019.
I couldn't figure out why an app maker wanted Tim Cook to "get back on the App Store", or indeed what it would even mean for Cook to be "on the App Store". But of course it's the app maker who wants to get back on the App Store, because Apple kicked them off.
This is an example of what syntacticians call control, the problem of assigning subjects to predicates.  The classical examples include things like
I persuaded Kim to leave. (Kim is the one who leaves)
I promised Kim to leave. (I'm the one who leaves)
And beg usually works like persuade, as I verified by checking a random sample of examples from the COCA corpus:
She begged him not to leave Iskren alone.
I […] begged my old friend Gregson to let me have a look round.
[S]he had begged Blayne to somehow get Gwen to invite her to one of her uncle's practices.
Stefan begged Tara to take him back.
[S]he begged probation officials to put Nicole in treatment.
… etc. …
I checked a hundred examples without finding any cases of object control — but all the same, I think that the headline is grammatical in the intended reading, even if the odds are against it.
The obligatory screenshot: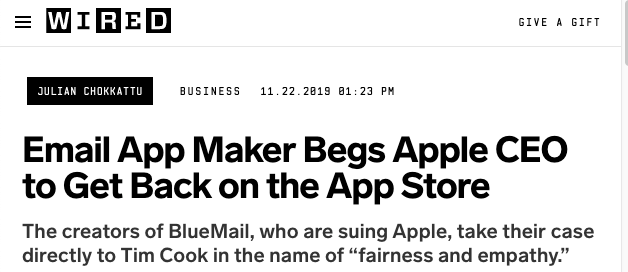 ---