« previous post | next post »
This Washington Post item confused me for a few seconds: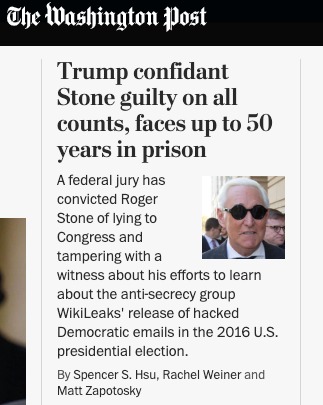 I first interpreted the headline as "Donald Trump is confident that Roger Stone is guilty on all counts, and" (whoops) "he (=Trump) faces up to 50 years in prison"?
I was sent down this particular garden path by the recent flurry of news stories about the president throwing various supporters under the metaphorical bus. But the whole -ant v. -ent mess didn't help.

Like many English speakers, I have trouble remembering whether to use 'a' or 'e' in words ending in -ant or -ent, like dependant and independent. Since both endings are unstressed, the pronunciation of their vowels in English is the same. And in some cases, the spelling depends on whether the Latin source was a first conjugation (a-stem) verb, like portans → important, or a verb of the second, third, or fourth conjugations, like pendens → independent. But as the OED explains,
In Old French, the participial forms descending from classical Latin -ant- , -āns as well as the more common -ent- , -ēns were generally levelled under -ant , which became the sole ending of the present participle.
So English words borrowed from (Old) French may have -ant regardless of their Latin origin, unless spelling mavens corrected the vowel later, whereas words borrowed from later French, or directly from Latin, follow the Latin model. The OED again:
The conflict between English and French analogies occasions frequent inconsistency and uncertainty in the present spelling of words with this suffix; cf. e.g. assistant, persistent; attendant, superintendent; dependant, -ent, independent.
English confident gets its 'e' from Latin confido, confidere "to trust, confide, rely upon, believe, be assured". But in French, the word confidant.e was taken up, from the same Latin source, early enough to undergo the levelling of -ent to -ant. And confidant, defined by Johnson as "A person trusted with private affairs, commonly with affairs of love", was borrowed into English from French relatively late, as the OED explains:
This appears, with its feminine confidante, after 1700, when confident (with stress on the first syllable) had already been in use for nearly a century in a kindred sense.
Of course I know the difference between confident and confidant — and in this case, there are two meanings and two pronunciations as well.  But in most cases, the 'e' vs. 'a' choice makes no difference in either meaning or pronunciation, and it's just one more arbitrary thing to learn about English orthography. So it's too bad that neither Noah Webster nor any later spelling reformers have dared to institute the same sort of -ent / -ant levelling as the anonymous inventors of Old French spelling did. A little increase in headline ambiguity would be a small price to pay.
Update — Eugene Volokh writes:
This reminds me of the little-known fact that, in Article VII of the Constitution, the date is rendered as "the Seventeenth Day of September in the Year of our Lord one thousand seven hundred and Eighty seven and of the Independance of the United States of America." Many modern printed versions of the Constitution erroneously render this as "Independence," though I got the National Archives to change their official transcript to properly reflect the original handwritten "Independance." See "Error in Many Versions of the United States Constitution", 5/14/2010.
---