« previous post | next post »
The attached materials came to me from the UN refugee office in Damak city, Jhapa district, in the far southeast of Nepal. There is a sound recording of a female refugee and a sample of her writing in which she employs at least two different scripts, Roman letters and another that looks like some syllabaries of South China I've seen.
I suspect that she might be from northern Myanmar (esp. Kachin state), from which a flood of refugees is now pouring due to the unrest there. In her written sample, she seems to mention Ang Sui Ki and other names and words that are more or less recognizable.
As with the post cards in unknown languages that we've posted on LL to good effect, perhaps we can invite the collective readership of LL to help us solve this one too.
The recording:
Audio clip: Adobe Flash Player (version 9 or above) is required to play this audio clip. Download the latest version here. You also need to have JavaScript enabled in your browser.
The writing sample: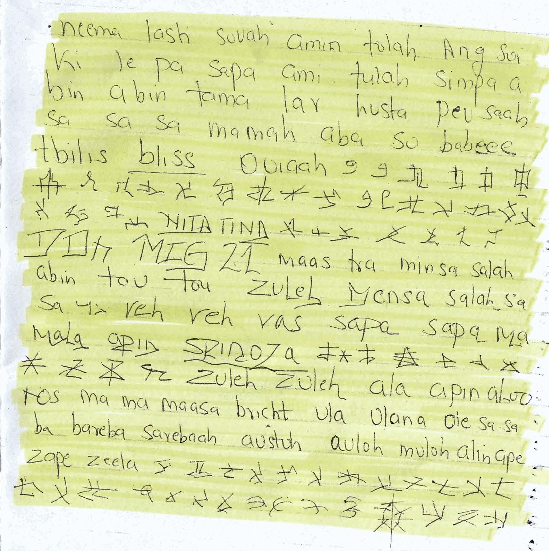 [Hat tip to Mark Hansell]
Update — another recording has been sent. There's lots of background noise, and the speech is clipped, but it may be helpful.  The .wav file is here, and you can listen interactively to an mp3 file below:
Audio clip: Adobe Flash Player (version 9 or above) is required to play this audio clip. Download the latest version here. You also need to have JavaScript enabled in your browser.
---