« previous post | next post »
Sherlocution Holmes is an entertaining UK-based Twitter presence with a bio that reads, "Consultant detective tracking down the best (and worst!) linguistics and language examples." Many of the tweets are humorous illustrations of structural or semantic ambiguity, including many examples of "crash blossoms" — those double-take headlines that are ambiguous enough to be laughably misinterpreted. Here's one popular recent tweet.
"Hospitals named after sandwiches kill five." pic.twitter.com/t5p69tHYXG

— Sherlocution Holmes (@sherlocution) October 12, 2019
It turns out that this is recycled from a tweet last June from the author Adam Macqueen:
Personally feel not enough hospitals are named after sandwiches. pic.twitter.com/CH3C1htL4I

— Adam Macqueen (@adam_macqueen) June 18, 2019
The headline appeared in the (UK) Times on June 18, though the online version of the article now features slightly different wording: "Hospital trusts named after sandwiches kill five." (The headline was also noted in the Straight Dope and Black Cat Bone forums.)
Here are tree diagrams for the two possible readings of the headline: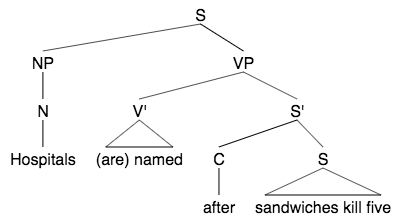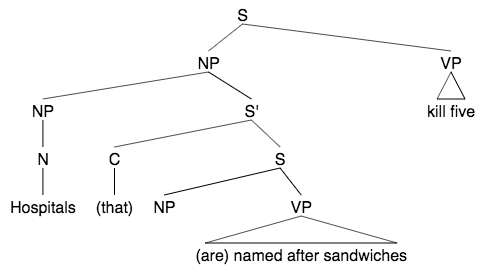 In the intended reading, "named" is the main verb (with the copula "are" deleted as is typical in headlinese), while in the misparsed version, "named" is the verb in the reduced relative clause "named after sandwiches." It's similar to the type of ambiguity found in the classic garden-path sentence, "The horse raced past the barn fell" (where "raced" can be interpreted as the main verb or as the verb in the reduced relative clause "raced past the barn").
Replies to the tweets from Macqueen and Sherlocution Holmes took the idea of "hospitals named after sandwiches" and ran with it.
After reading the headline, I was thinking 'Great Western Cheese & Onion Hospital' and 'Stevenage Smoked Salmon Hospital' but that's not what they meant.

— Phil Wadey (@parachutemind) October 12, 2019
"The BLT is on bypass, we'll have to take him to Curried Egg and Lettuce".

— @hugh@ausglam.space (@HughRundle) October 12, 2019
US Notorious 5:
Philadelphia Cheesesteak Children's Hospital
Memorial Sloppy Joe Kettering Hospital
Tennessee Tuna Salad Hospital
Baltimore BLT Central Hospital
Raleigh Reuben Regional Hospital

— Rose Freitag (@Rozierow128) October 12, 2019
And so on.
---