« previous post | next post »
My colleague Tom Bever felt he had really hit the big time today when he learned that one of his example sentences had made it into the funny pages. Admittedly, it was in the linguistically hypersophisticated Dinosaur Comics (as usual, click on the image to see it full-size):
For a brief introduction to the example, try the Wikipedia article on garden-path sentences1, or for a rather more thorough discussion, Chapter 1, section 4.2 of this on-line introductory neuropsychology coursebook, in which Tom is referred to as 'a famous psycholinguist'. [Aside to Tom: It's true! Big time! Quick, ask for a raise — my finder's fee is a mere 10%.]
Because I'd rather draw trees than grade papers, here's two trees (done in a kind of Simpler Syntax/Syntactic Structures style, just because it's, well, simpler) illustrating the correct and garden-pathed parses of the sentence.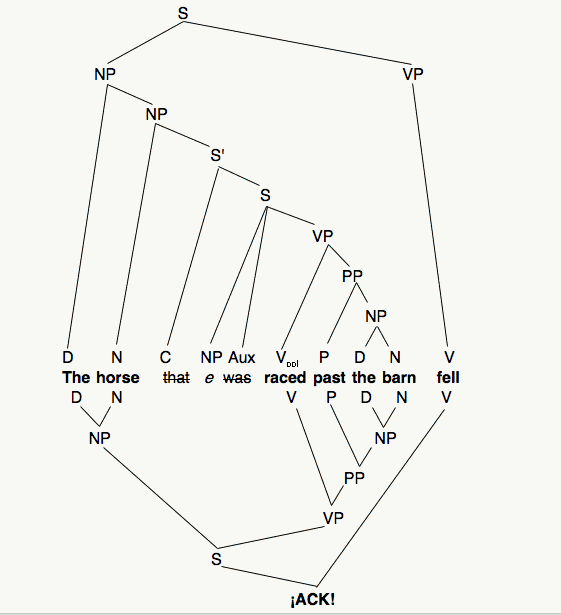 I actually prefer an analysis where raced past the barn is an adjective phrase headed by an adjectival participle, although I represented it as a reduced relative with elided that and was in honor of the usual term for the construction. English has a constraint against prenominal adjective phrases that would account for the postnominal order (compare the similar book/*the book similar vs. the book similar to Don Quixote/*the similar to Don Quixote book). Me, I'm not scared of bracketing paradoxes. But never mind.
I do really love drawing trees. Someday if you're good I'll show you the Buffalo buffalo tree.
1The Wikipedia article says that the idiom from which the name of the garden path phenomenon is drawn is "to be led down the garden path". I always thought you were led up the garden path. Google's on my side, 1070 to 1920, though just barely; combined the expression gets fewer hits than, e.g., "screw the pooch". This is why my undergraduates don't understand me.
---