« previous post | next post »
A few years ago, "KateMonkey" posted this query on Flickr: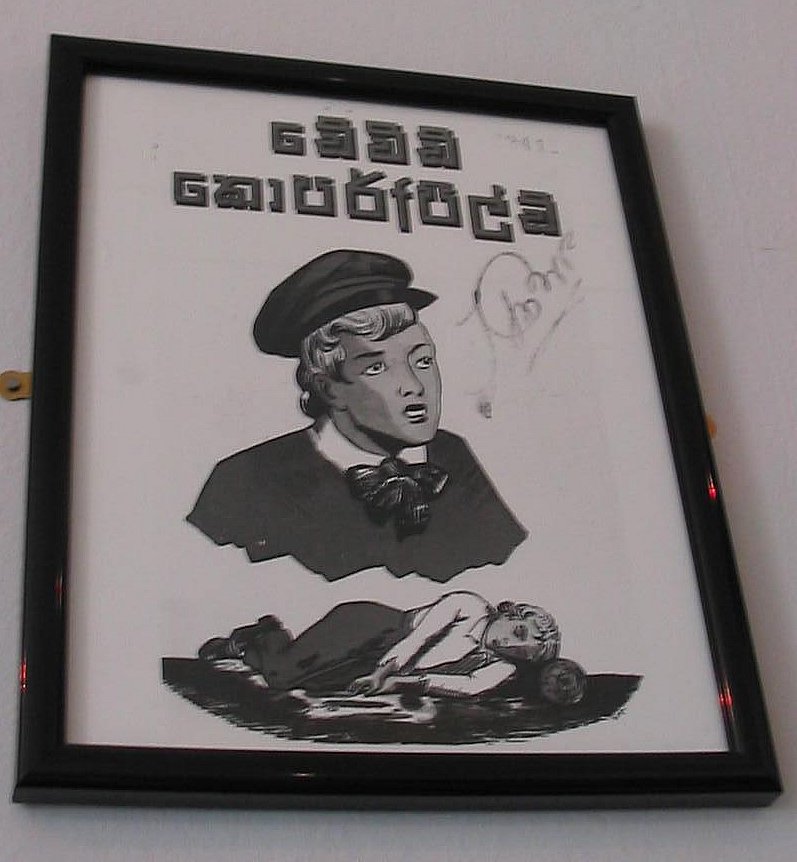 What is this language?
This was a poster of a book cover on the wall at the Dickens Museum, and all it said was "foreign language".
Really? You can't do better than that? "Foreign language"?
Charles Dickens Museum, Bloomsbury, London
I took one look at it and — because of the vowel markers and the overall shape of the letters — knew right away that it must be some sort of Brahmic script. Furthermore, because the Dickens Museum in London where this photograph was taken says that it is the poster of a cover of one of the novelist's books, plus the illustration being what it is and the title consisting of two words of certain shape and length, I guessed that the writing must say "David Copperfield". If I had a sufficient amount of time on my hands, I probably could have figured the rest of it out fairly easily. Instead, I asked Daud Ali, the Chair of our South Asia Studies Department, for help. Penn probably teaches more South Asian languages than any other university in the country, perhaps in the world, so I was pretty sure that somebody in the SAS Department would be familiar with this script.
Lo and behold, it only took a few minutes for Daud to contact one of our graduate students, Philip Friedrich, and he identified the script as Sinhala, transcribing it as 'ḍēviḍ koparfilḍ' = David Copperfield!
Here is a description of the Sinhala script. One thing that makes it slightly difficult to recognize the writing as Sinhala is that the font on the book cover is rectangularized. (I should note that the writing on this book cover is mistakenly claimed to be Japanese elsewhere on Flickr and flickriver [the seventeenth photo here]!)
[Thanks to Gianni Wan, Jim Unger, Michael Carr, Fred Smith, Axel Schuessler, Justin McDaniel, Tom Allsen, Jamal Elias, Peter Golden, Allan Bomhard, Eric Henry, Johan Elverskog, George van Driem, and Fangyi Cheng]
---