« previous post | next post »
On BoingBoing, Jason Weisberger posted this photograph under the title "Found Poem", but without any explanation: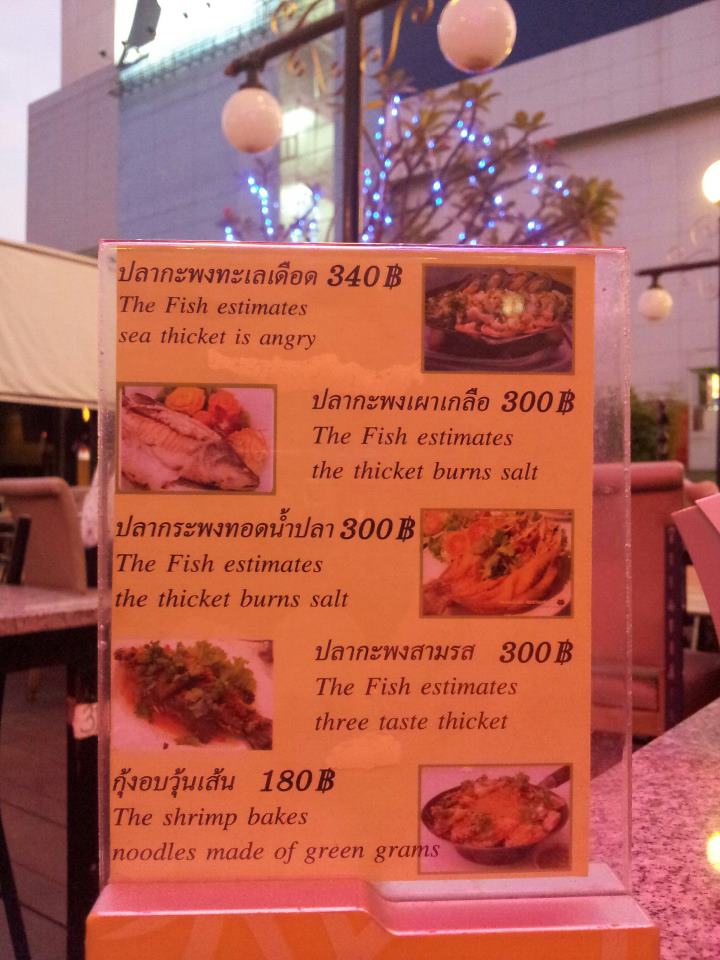 Justin McDaniel explains:
They just translated the names of the fish literally!
1. phla krapong duat (saltwater catfish jerky or sundried saltwater catfish)
2. phla krapong phao lleua (saltwater catfish baked with salt)
3. phla krapong tot nam phla (catfish fried with fish sauce)
4. phla krapong samrot (three flavored catfish)
5. koong op woon sen (shrimp steamed with glass noodles).
Nattha Chuenwattana renders these somewhat differently:
1. silver perch in boiled sea (or ocean) (boiled silver perch in brine)
2. silver perch burnt in salt ("baked in salt" for better translation)
3. silver perch fried (in) fish sauce
4. three flavors silver perch (maybe sour, salty, and spicy)
5. shrimp baked with mung bean noodle
Perhaps Language Log readers familiar with Thai can adjudicate between the two sets of translations and explain the "estimates" and "thicket" misreadings. Equally puzzling are the "noodles made of green grams".
[A tip of the hat to Amy de Buitléir and thanks to Joyce White]
---