« previous post | next post »
Keith Ablow, "We are raising a generation of deluded narcissists", Fox News 1/8/2013:
A new analysis of the American Freshman Survey, which has accumulated data for the past 47 years from 9 million young adults, reveals that college students are more likely than ever to call themselves gifted and driven to succeed, even though their test scores and time spent studying are decreasing.
Psychologist Jean Twenge, the lead author of the analysis, is also the author of a study showing that the tendency toward narcissism in students is up 30 percent in the last thirty-odd years. This data is not unexpected.  I have been writing a great deal over the past few years about the toxic psychological impact of media and technology on children, adolescents and young adults, particularly as it regards turning them into faux celebrities—the equivalent of lead actors in their own fictionalized life stories.
The "American Freshman Survey" under discussion is the CIRP Freshman Survey, and indeed, 46 years of detailed reports on its results are available, though as far as I can tell, the tabulation of student self-assessments has only been regularly published since 1985. Still, 26 years should allow us to see the trend — it includes, for instance, Jean Twenge's own college class, which matriculated in the fall of 1988.
Here's a plot showing the percentage of freshmen who self-assess as "above average" or "top 10%" in "Academic Ability", for each year since 1985: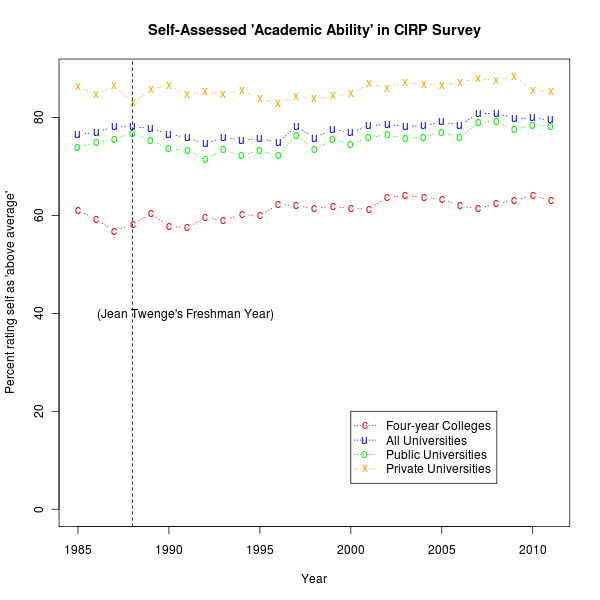 In my opinion, the alleged trend in this plot is even more underwhelming than the evidence from "individualistic" vs. "communal" words in published works was — for some discussion, see "Textual narcissism", 7/13/2012, "Textual narcissism, replication 2", 7/14/2012, and "What does this graph mean?", 7/15/2012.
Here's the plot for the "Drive to Achieve" question: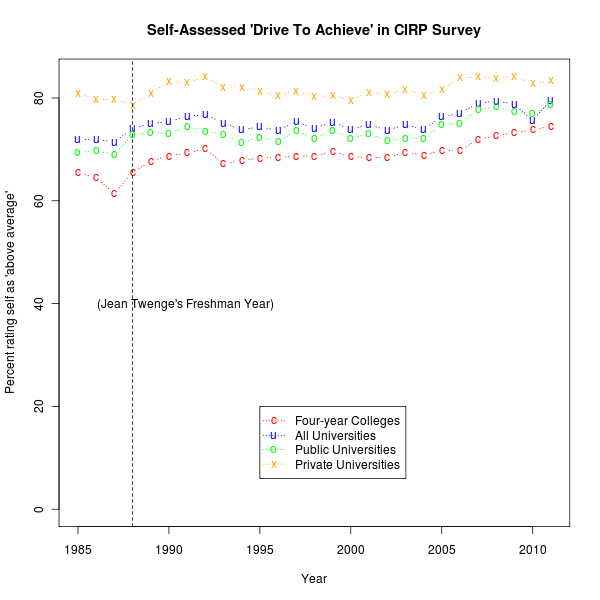 There seems to be a modest narrowing of the differences among types of institutions, but again, not that much of an overall trend. (And why would having a higher self-assessed "drive to achieve" be a sign of narcissism, anyhow?)
"Creativity" has only been included in the questionnaires since 1993, and self-assessments of creativity should be a good place to look for "deluded narcissists", since this is not a characteristic for which students get any quantitative feedback — but again, first-year students' self-assessments of creativity, over the past 18 years, hardly show an explosion of narcissism:
There does appear to be a generation of deluded narcissists here: that is, a cohort of people who are so wrapped up in their own belief systems that they're unable to see the facts of the world around them. But the evidence suggests that such people are less common in recent freshman classes than among 50-ish pundits.
---
Update: From 1985 on, CIRP has reported "Academic Achievement" and "Drive to Achieve" self-assessments every year. Before 1985, I could only find results for 1966, 1971, 1975, 1980, and 1983. Because the way that the CIRP reports described these results in the pre-1985 period, I falsely concluded that the questions had been asked differently then. Steve Kass (below) found scans of the questionnaires on the CIRP website, and shows that this is wrong.
So here are plots including all the CIRP dates I could find. The plot for "Academic Ability" doesn't really change the picture very much, although we see a narrowing of the gap between public and private universities: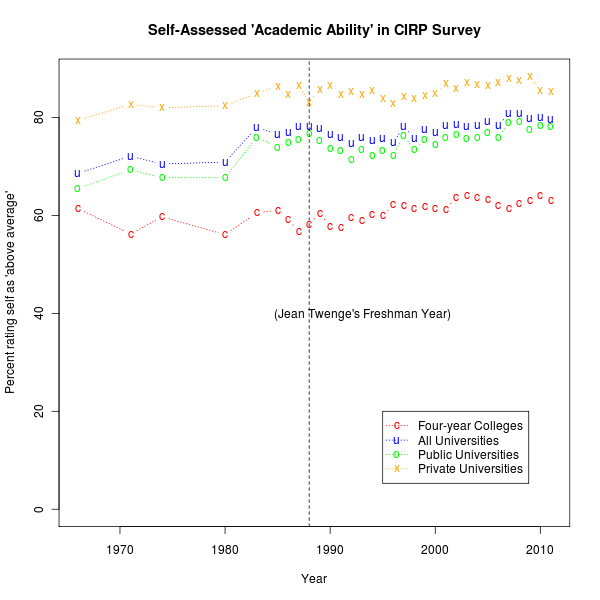 The "Drive to Achieve" numbers do seem to show a pre-1983 rise: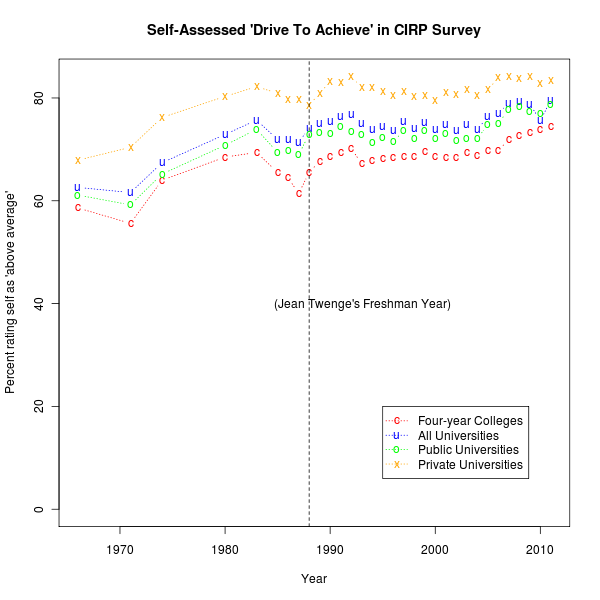 But whatever factors were changing this measure — a genuine underlying change in attitudes; changes in student demographics; changes in the way the results are normed — they seem to have affected a generation of students who are now roughly 45-65 years old. Hardly "Kids Today".
---