« previous post | next post »
It's strange that there are some simplified characters in the Hong Kong police newsletter, but stranger still that they are only sporadic: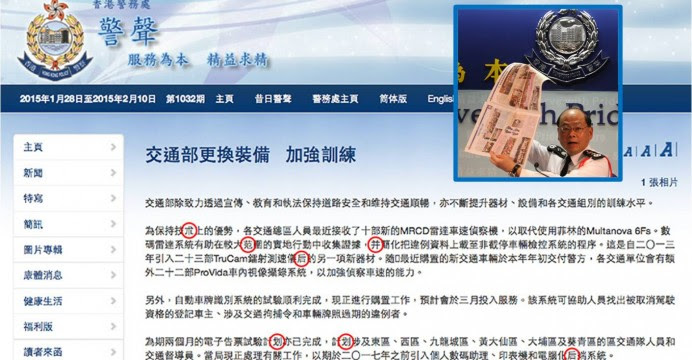 Simplified Chinese characters (in red circles) are found in the online
edition of OffBeat. Police Commissioner Andy Tsang (inset) holds a copy of
the newsletter at a press conference last month. Photos: Stand News, HKEJ
Source:  "Suspicious characters: Police newsletter draws concerns" eijinsight (2/5/15).
Since no Hong Kong educated individual would use simplified characters this way, their existence in the Hong Kong police newsletter indicates that already more than four years ago, mainland educated individuals had infiltrated the Hong Kong police department.
As for why there are only some simplified characters, this would seem to indicate that these articles were first written in simplified characters, leaving behind "glitches" after being converted into traditional characters using computer conversion software, which is usually pretty dumb.
This implies that these articles were drafted by mainland officials, or at least by Hong Kong officials who did not receive local elementary education there.
[Thanks to Anders Corr and Abraham Chan]
---