« previous post | next post »
Recently a friend sent me this example of a hard-to-parse sentence (source here):
What have you been surprised men you've been seeing expect without doing the work to show they deserve it?
This is not exactly a "garden path" sentence, which  Wikipedia tells us
[…] is a grammatically correct sentence that starts in such a way that a reader's most likely interpretation will be incorrect; the reader is lured into a parse that turns out to be a dead end or yields a clearly unintended meaning. "Garden path" refers to the saying "to be led down [or up] the garden path", meaning to be deceived, tricked, or seduced. In A Dictionary of Modern English Usage, Fowler describes such sentences as unwittingly laying a "false scent".
The parse we start out with is the correct one — it's just that it runs into a wall when it gets to the sequence "men you've been seeing". If we persist, that original parse eventually recovers.  We need to figure out that "men (that) you've been seeing expect _ without doing the work to show they deserve it" is the complement of be surprised (that); and what has been painfully extracted from the object position of expect in that clause.
But this analysis left me with several questions: Is there a metaphorical name for that kind of sentence, assuming that "garden path "is not appropriate? And what's the history of the "garden path" phrase, in general and as applied to sentence processing?
From the OED's entry for garden:
P5. colloquial. to lead (a person) up the garden (path): to lead (a person) on; to entice; to mislead, deceive.
with citations like
1925 E. Mannin Sounding Brass i. viii They're cheats, that's wot women are! Lead you up the garden and then go snivellin' around 'cos wot's natcheral 'as 'appened to 'em.
1957 I. Murdoch Sandcastle ii. 29 I'm going to lead her up the garden. I've got her thoroughly foxed so far.
1993 D. Coward tr. G. de Maupassant Grove of Olives in Mademoiselle Fifi & Other Stories 219 She left out the bit about how she led you up the garden path about who was the father.
I'm a bit surprised that this meaning hasn't been found earlier than 1925. And the OED has no entry for "down the garden path", although Google ngram counts for down are at least as frequent as up:

Of course, many of the instances of both directions are literal rather than metaphorical.
Anyhow, a quick Google Scholar search shows that "garden path" was routinely applied to sentence processing by the mid-1970s, e.g. Carol Conrad, "Context effects in sentence comprehension: A study of the subjective lexicon", Memory & Cognition 1974:
The research on the effects of context on ambiguity arose from the question of whether or not people process both meanings of an ambiguous sentence. This research has given rise to several theories of how ambiguities are processed , The first of these, the garden path theory, was initially suggested by Lashley (1951), who proposed that people process onJy one meaning or structure of a sentence at a time and that if the original interpretation later becomes inappropriate, we then process the other meaning.
This quote led me to hope that the phrase might have originated in Karl Lashley seminal 1951 chapter "The problem of serial order in behavior". But Lashley doesn't use the "garden path" metaphor, though he gives a lovely example of the problem:
[T]he understanding of speech involves essentially the same problems as the production of speech and definitely demands the postulation of an after-effect or after-discharge of the sensory components for a significant time following stimulation. Thus, in the spoken sentence, "Rapid righting with his uninjured hand saved from loss the contents of the capsized canoe," the associations which give meaning to righting are not activated for at least 3 to 5 seconds after hearing the word. I shall refer later to other evidence for such long after-discharge of sensory excitations. The fact of continued activation or after-discharge of receptive elements and their integration during this activation justifies the assumption of a similar process during motor organization. The processes of comprehension and production of speech have too much in common to depend on wholly different mechanisms.
The first use of the "garden path" metaphor with respect to sentence processing seems to come ten years later, in Charles Hockett's 1961 chapter "Grammar for the hearer" (In Proceedings of Symposia in Applied Mathematics, vol. 12):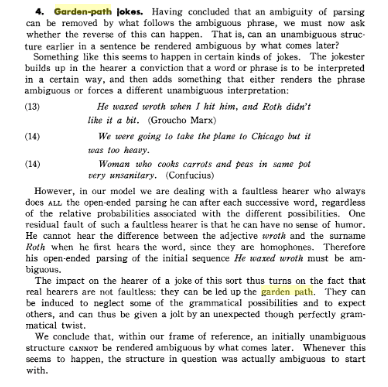 This then raises the same questions, recursively, about the history of "garden path" as applied to jokes — but I'll leave this for the commenters.
Update — Language Down the Garden Path, which publishes papers from a 2010 conference, reprint's Tom Bever's 1970 chapter "The cognitive basis for linguistic structures", which introduces the often-quoted sentence "The horse raced past the barn fell" — but as far as I can tell, Bever 1970 doesn't use the "garden path" metaphor.
---