« previous post | next post »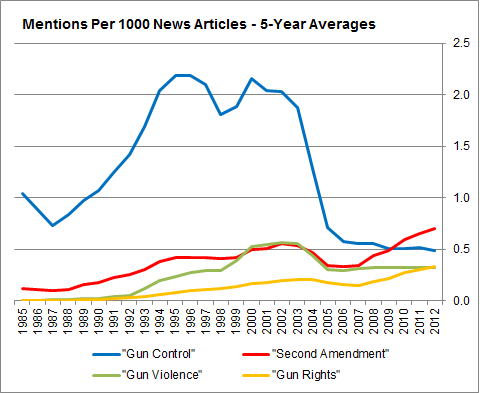 In response to yesterday's tragedy, Nate Silver takes an interesting look at changes over recent years in the frequency of certain gun-related phrases in the news ("In Public 'Conversation' on Guns, a Rhetorical Shift", NYT 12/14/2012):
Friday's mass shooting at an elementary school in Newtown, Conn., has already touched off a heated political debate. Opponents of stricter regulation on gun ownership have accused their adversaries of politicizing a tragedy. Advocates of more sweeping gun control measures have argued that the Connecticut shootings are a demonstration that laxer gun laws can have dire consequences. Let me sidestep the debate to pose a different question: How often are Americans talking about public policy toward guns? And what language are they using to frame their arguments?
He took the data from NewsLibrary.com's search facility, whose popularity will no doubt get a boost. But as far as I can tell, he had to run 33 date-limited searches for each of the four phrases in his graph, and then transcribe the count given in the results page, e.g. in order to learn that there were 9172 mentions of "gun control" between 1/1/1995 and 12/30/1995. I'm not sure how he got the total number of news articles that year, in order to calculate the number of mentions per 1000 articles. Maybe he did 33 more date-limited searches for a common word like "the", which NewsLibrary tells me occurred 4,902,412 times in 1995. That would yield 1000*9172/4902412 = 1.870916 mentions per thousand articles, which would fit with his un-averaged graph: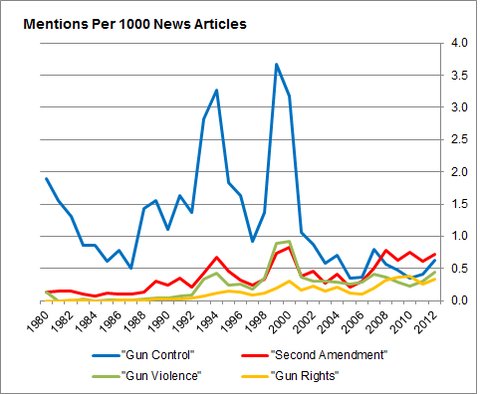 Of course, Mr. Silver might have had an intern do the searches… Or maybe he wrote a bot — an automated intern — to run the searches for him. Or again, maybe NewsLibrary has given him special access to an API.
In any case, NewsLibrary ought to consider offering a service like that of the Google Ngram Viewer, or Mark Davies' COHA interface, which would automate such culturomical researches. It would take some semi-clever hacking (and probably some additional server capacity) to give good performance on the needed scale, but it ought to be possible to derive added revenue to cover the costs. I'd certainly urge Penn's library to sign up for such a service, or pay for it myself if the charges were reasonable.
---