« previous post | next post »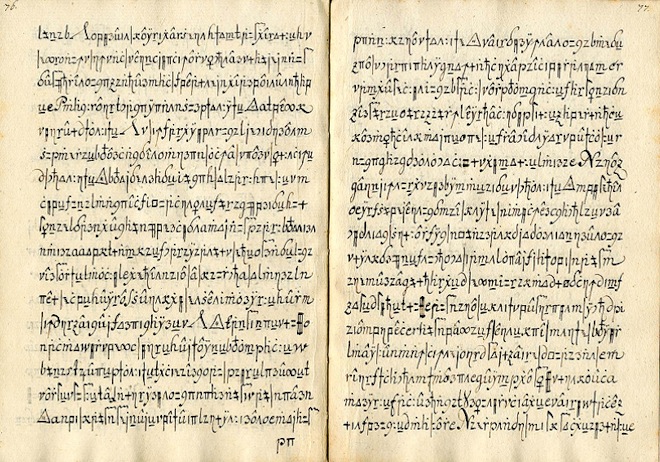 Warren Weaver, 1947 letter to Norbert Wiener, quoted in "Translation", 1949:
[K]nowing nothing official about, but having guessed and inferred considerable about, powerful new mechanized methods in cryptography – methods which I believe succeed even when one does not know what language has been coded – one naturally wonders if the problem of translation could conceivably be treated as a problem in cryptography.
Mark Brown, "Modern Algorithms Crack 18th Century Secret Code", Wired UK 10/26/2011:
Computer scientists from Sweden and the United States have applied modern-day, statistical translation techniques — the sort of which are used in Google Translate — to decode a 250-year-old secret message.
The original document, nicknamed the Copiale Cipher, was written in the late 18th century and found in the East Berlin Academy after the Cold War. It's since been kept in a private collection, and the 105-page, slightly yellowed tome has withheld its secrets ever since.
But this year, University of Southern California Viterbi School of Engineering computer scientist Kevin Knight — an expert in translation, not so much in cryptography — and colleagues Beáta Megyesi and Christiane Schaefer of Uppsala University in Sweden, tracked down the document, transcribed a machine-readable version and set to work cracking the centuries-old code.
On Kevin's home page, along with a lot of other neat stuff, you'll find a link to a page on The Copiale Cipher, where in turn you'll find links to various versions of the original document, to many discussions in the popular press, and to a couple of technical and scholarly papers, including Kevin Knight, Beáta Megyesi, and Christiane Schaefer, "The Secrets of the Copiale Cipher", Journal for Research into Freemasonry and Fraternalism 2012.
---