« previous post | next post »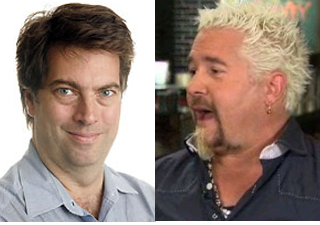 So Pete Wells (who is the NYT's restaurant critic) wrote an epically bad review of Guy Fieri's American Kitchen & Bar in Times Square (sample line: "Somewhere within the yawning, three-level interior of Guy's American Kitchen & Bar, is there a long refrigerated tunnel that servers have to pass through to make sure that the French fries, already limp and oil-sogged, are also served cold?").
And Guy Fieri, who has a regular show on the Food Network ("Guy's Big Bite"), struck back with an interview on the Today Show (""I just thought it was ridiculous," Fieri, 44, said Thursday. "I've read reviews. There's good and there's bad in the restaurant business. But that, to me, went so overboard. It really seemed like there was another agenda.")
So does Pete Wells indeed have another agenda?
Amos Barshad, "The Culture Wars: Guy Fieri vs. the New York Times",  Grantland 11/15/2012 (emphasis added):
Lowbrow vs. highbrow, authenticity vs. cultural appropriation, the virtues of coastal elitism: Surprisingly, this Guy Fieri kerfuffle became a bit more of a nuanced conversation than you'd first expect. Like, when the satisfied patron in the Today show clip (the big fan of the Awesome Pretzel Chicken Tenders) calls Wells "another pompous New Yorker," well, you could probably sit around parsing that one out for a while. And so it's worthwhile going back to Wells's original review and asking yourself: Does he have an agenda? I'd say it's hard to deny he doesn't — as many have pointed out, there's a reason Wells reviewed Guy Fieri's place and not, say, the Times Square outpost of Bubba Gump Shrimp Co. And that reason is that Fieri stands for something, and so reviewing his restaurant is a way at getting at Fieri as a symbol.
Another one for the misnegation files.
Phrases of the general form "it's hard to deny (that) he doesn't __", like phrases of the general form "this is not to say that I don't think that it isn't ___", are a sort of highbrow form of negative concord — more often than not, the negations reinforce rather than cancelling. Some web examples:
I've never actually been a hard and fast fan, but it's hard to deny he didn't play a big part in the sounds of my youth.
It's hard to deny he didn't suck all of the beauty and passion out of everything he touched.
Love her or hate her, it's hard to deny she doesn't look great here.
I can see how some people wouldn't like her voice so I don't discredit their opinions but I just think it's hard to deny she doesn't have supreme talent!
as much as I'd love to see him on the big screen, it's hard to deny he doesn't belong in music after hearing some of his works.
Filatov doesn't have the experience but it's hard to deny he won't be a top 6 forward at some point.
With a performance like this, it's hard to deny he isn't the MVP.
Even if you don't necessarily approve of Goddard's big twist, it's hard to deny he isn't perfectly suited for Buffy's quirky world of vampires and slayers.
We were fortunate to get into the changing rooms at half time with the score at 1-1, but it's hard to deny that we didn't deserve the spanking that West Brom eventually handed us.
There is just so much stuff that connects. It's kind of hard to deny that something isn't going on behind the scenes.
It is hard to deny that there isn't strong talent this year.
It's hard to deny that the film isn't well made, and it's overall pretty fun and exciting.
Even though the melodies still remain as a focal point for RAGE, it's hard to deny that this isn't their most aggressive album to date.
While many of us hate the look of TouchWiz, it's hard to deny that Samsung isn't trying to pack it full of industry leading features.
It would be hard to deny that he didn't score some superb goals at an amazing rate last season.
However, it's hard to deny that Baidu didn't have a strong quarter when pre-tax profits still rose by a sharp 56%.
There are also a few examples where the negations each play their individual semantic role:
it's hard to deny that the system isn't working.
Love her or hate her, it's hard to deny that Barbie isn't just a doll; she is a cultural icon.
We're 6 months down the line and all I hear this day is how swtor is dying and it's hard to deny that swtor isn't in good condition right now.
And in some cases, I pretty much just give up and go with the contextually plausible meaning:
It's really hard to deny the power of the drop-shot, but it's not hard to deny that rigging them isn't exactly as quick and easy as tying on a crankbait.
[Tip of the hat to JPS]
---