« previous post | next post »
The latest xkcd: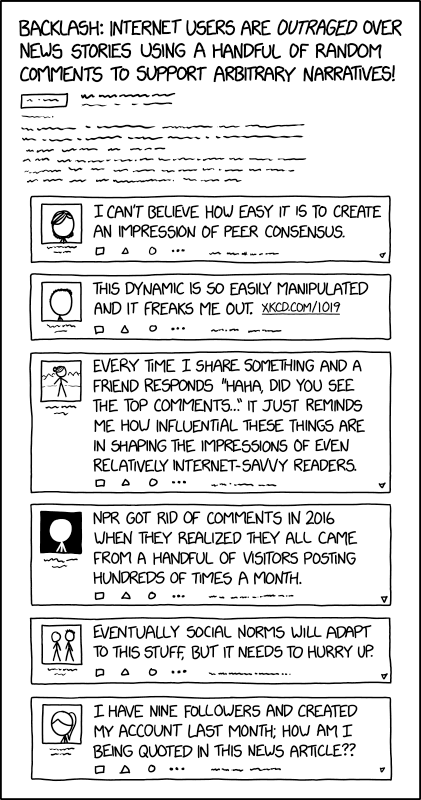 Mouseover title: "NPR encourages you to add comments to their stories using the page inspector in your browser's developer tools. Note: Your comments are visible only to you, and will be lost when you refresh the page."
There are comments that can be applied to any article content, as generations of lazy spambots have demonstrated. A couple of recent examples from our spam trap:
Thanks author for your awesome topic and helpful information.
I really like reading a post that will make people think. Also, many thanks for allowing for me to comment!
And then there are comments that can be applied to any comment thread, as some of the examples in this cartoon show.
Of course there are equivalents for conversation and writing IRL, as discussed in reference to the previous xkcd cartoon. These can also descend (ascend?) through several levels of meta-deflection, e.g. "I normally avoid discussing my rhetorical choices, but …").
I had a philosophy professor in college who nearly always began lectures with a layered disquisition on his current linguistic state. One example that I remember began with a discussion of the effects of dental novocaine on speech articulation ("If you notice that I seem to be speaking more slowly than usual, it's because I've just come from the dentist, and my mouth is still numb. Or perhaps it only seems to me that I'm speaking slowly, since the novocaine focuses my attention on the peripheral aspects of the process of talking.") And so on, for half an hour of intellectual rumination about consciousness, perception, attention, and dentistry, which frankly was more interesting than what he had to say about the official topic of the lecture, which was something like Frege's contributions to formal logic.
These preliminaries were more coherent and artful than "OK, so, listen, the thing is, well, like, I'm just saying, and maybe it's just me, but, I mean, here's the thing, I could be way off here, but, look, I gotta say, …" My impression was that the motivation was similar, however.
---