« previous post | next post »
Also, the sky turns out to have been blue much of the time, and early returns are strongly suggesting that water is often wet. John Sides, "2012 Was the Moneyball Election", The Monkey Cage 11/7/2012:
Barack Obama's victory tonight is also a victory for the Moneyball approach to politics.  It shows us that we can use systematic data—economic data, polling data—to separate momentum from no-mentum, to dispense with the gaseous emanations of pundits' "guts," and ultimately to forecast the winner.
Timothy Egan, "Revenge of the Polling Nerds", NYT 11/7/2012:
In the last days of the election, Peggy Noonan had a "feel" that things were moving Mitt Romney's way. George Will was more cerebral: his brain told him it would be Romney in a rout. And Michael Barone, who used to have a good divining rod to go along with an encyclopedic knowledge for all numbers political, also predicted a Romney landslide.
What they had in common, aside from putting up a brick Tuesday that completely missed the electoral net, was a last-hurrah push for the old-fashioned prediction by gut.
This was the year the meta-analyst shoved aside the old-school pundit. Simon Jackman of Stanford, Sam Wang at the Princeton Election Consortium and, of course, our colleague Nate Silver, all perfected math-based, non-subjective models that produced predictions that closely matched the outcomes.
Others who threw up a predictive brick, as Egan notes, are Karl Rove, Newt Gingrich, and Dick Morris.
Specifically, here's a map of Nate Silver's pre-election predictions: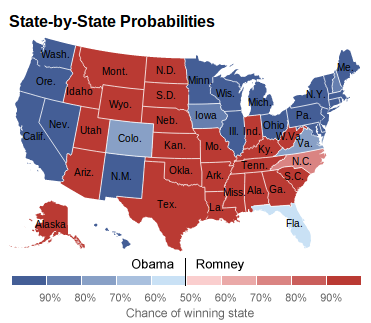 And this morning's results: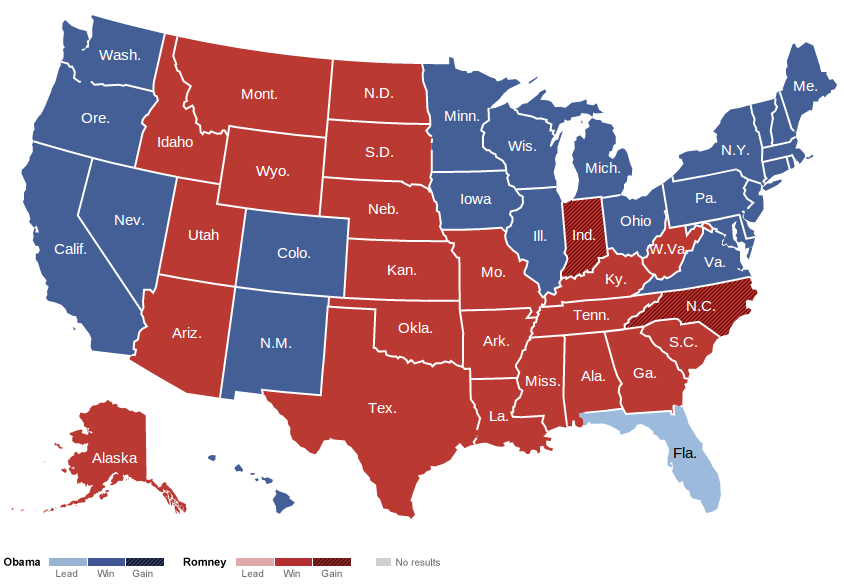 In fact, Silver did better than he really should have, in the sense that 50 unfair coins, calibrated as per the probabilities that he projected for the 50 states, would be rather unlikely to come up 50 times on the side assigned the (sometimes slim) advantage. This has naturally produced the "Is Nate Silver a Witch?" meme: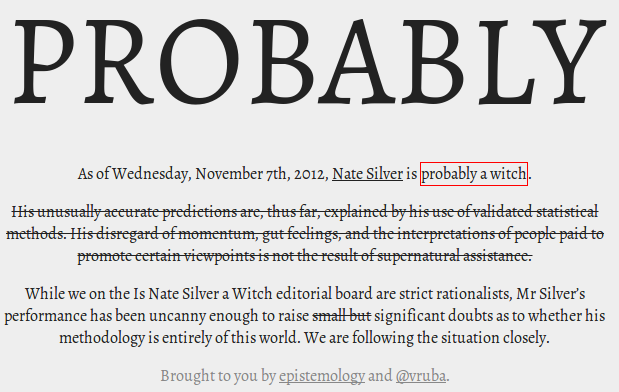 Still, these results allow us to hope that the idea of learning from successes and failures in predicting objective reality will gradually have an impact on the composition and behavior of the commentariat.
This idea is a surprisingly controversial one in many fields. For example, it didn't take over the engineering disciplines known as "Human Language Technology" (speech recognition, machine translation, etc.) until roughly the decade between 1985 and 1995, as described in some slides from a presentation that I gave last summer to a National Academy of Sciences committee on Responsible Science, as revised for a presentation to a recent NSF workshop on The Future of Survey Research. And similar issues in the scientific study of language emerged during the back-and-forth last year between Noam Chomsky and Peter Novig (see the discussion and links in "Straw men and bee science", 6/4/2011).
Mark Coddington's essay "Why political journalists can't stand Nate Silver: The limits of journalistic knowledge" — the serious perspective behind the "Is Nate Silver a Witch" joke — raises issues that will be familiar, mutatis mutandis, to observers of  the human sciences.
---