« previous post | next post »
John Wells, "with, regretful", 10/19/2012:
I found myself being just a tiny bit querulous when commenting on a posting in Language Log. […]
In reply Mark Liberman, the usually very knowledgeable writer of the post in question, said just
Short answer: I don't know. I've never heard a discussion of this point of pronunciation variation, except with respect to the varieties of English that have [wɪf] or [wɪv].
There followed a string of commentators reporting what they said or what this or that dictionary reported.
Finally I felt I must chip in:
Doesn't anyone ever consult my Longman Pronunciation Dictionary? There you will find both preference statistics and graphs for wɪθ and wɪðin both American and British English. Also a note mentioning that "in Britain, wɪθ is nevertheless frequent in Scotland" – again, with statistics.
Why do I bother, if no one reads what I write?
I suppose the problem is in the phrase "finding it online".People now no longer look for information in books, or in libraries: they expect to be able to locate it in in Wikipedia or via Google. They don't want the inconvenience and expense of buying a book or locating the book in a library.
So the only way I can reasonably expect to disseminate the research I carried out into whether people prefer wɪθ or wɪð is indeed to put it online, which I shall now proceed to do, Here's the entry for with from LPD.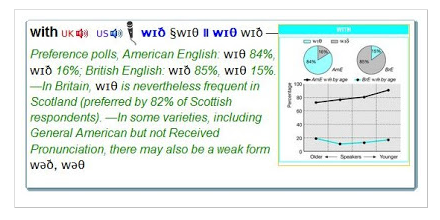 In my defense, I will note that my little "How to pronounce with" post was written in haste as I was about to head out to the airport to fly to Amsterdam (ironically, for a committee meeting to discuss plans for a conference on "Patterns of macro- and micro-diversity in the languages of Europe and the Middle East"). I do own a copy of LPD, but frankly I'm not sure which of 15-20 bookcases in which of several places it's in, and I didn't have time to look for it. So I worked from (as it turns out not very well informed) memory, and from those resources I could quickly find online.
And wouldn't it be nice if LPD were online? Pearson now owns Longman, I believe — they've got the expertise to do it easily, and the marketing muscle to monetize it. But maybe not richly enough, I don't know…
Anyhow, I had a spare hour today in Amsterdam, and I happen to have the TIMIT database on my laptop, so I thought I'd take a look at what it tells us about American pronunciations of with in various contexts, at least as of the time it was recorded (circa 1986).
Some results were not very surprising. Thus in 21 repetitions (7 each) of three sentences where with was followed by a or an,  there were 6 instances of voiced with, for 6/21 = 28.6% voiced with. (The sentences that I checked were "Seamstresses attach zippers with a thimble, needle, and thread", "The misquote was retracted with an apology", and "Remove the splinter with a pair of tweezers".)
In 28 repetitions (7 each) of four sentences where with was followed by a vowel-initial content word, there were 9 instances of voiced with, for 9/28 = 32.1% voiced with. (These sentences were "Cooperation along with understanding alleviate dispute" [sic], "Cory attacked the project with extra determination", "Etiquette mandates compliance with existing regulations", and "The local drugstore was charged with illegally dispensing tranquilizers".)
In these examples, the voiced intervals may look something like this:
Audio clip: Adobe Flash Player (version 9 or above) is required to play this audio clip. Download the latest version here. You also need to have JavaScript enabled in your browser.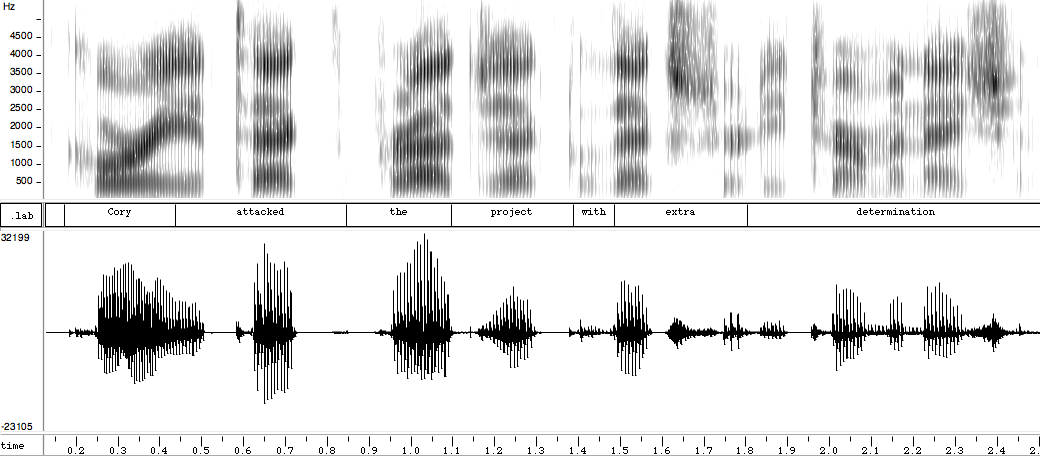 In the voiceless examples, the consonantal interval may be realized as a voiceless interdental fricative, or as a voiceless unaspirated dental stop (as in "attacked the" above), or as a combination of the two.
21 repetitions (7 each) of three sentences containing the word without showed 6 instances of voiced with, for the same 28.6% voiced. ("Alice's ability to work without supervision is noteworthy", "Did Shawn catch that big goose without help?", "It's healthier to cook without sugar".)
Something odd: Out of 12 sentences containing within (one set of 7, and 5 singletons), there were no instances of voiced with, though there was one example in which the medial consonant was simply a voiced tap, as though it were spelled "widdin".
Something odder: In 21 repetitions (7 each) of three sentences containing the sequence "with the", there was just one (extremely reduced) case where the consonant sequence was realized as voiced throughout. In all the other cases, not only was the final consonant of with voiceless, but also the initial consonant of the was phonetically voiceless as well. In some cases, the whole interval (more or less) was realized as a voiceless interdental fricative, as here:
Audio clip: Adobe Flash Player (version 9 or above) is required to play this audio clip. Download the latest version here. You also need to have JavaScript enabled in your browser.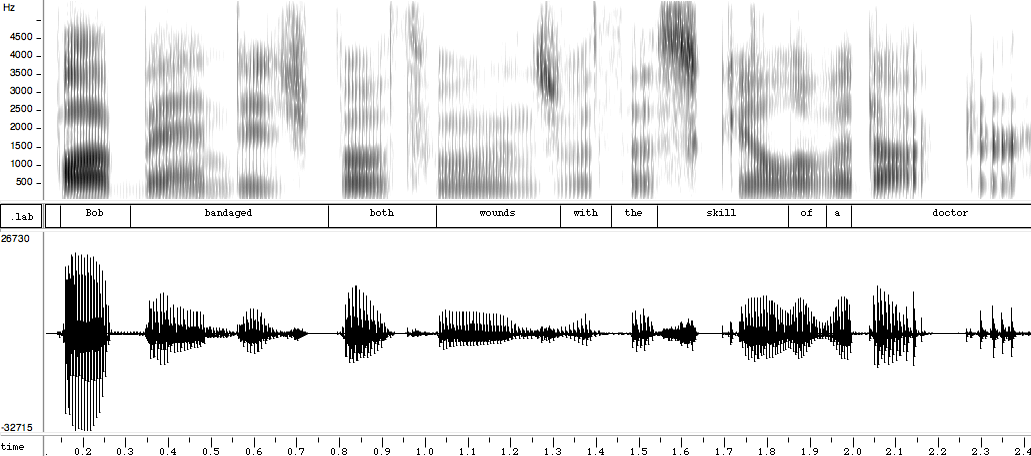 A close-up: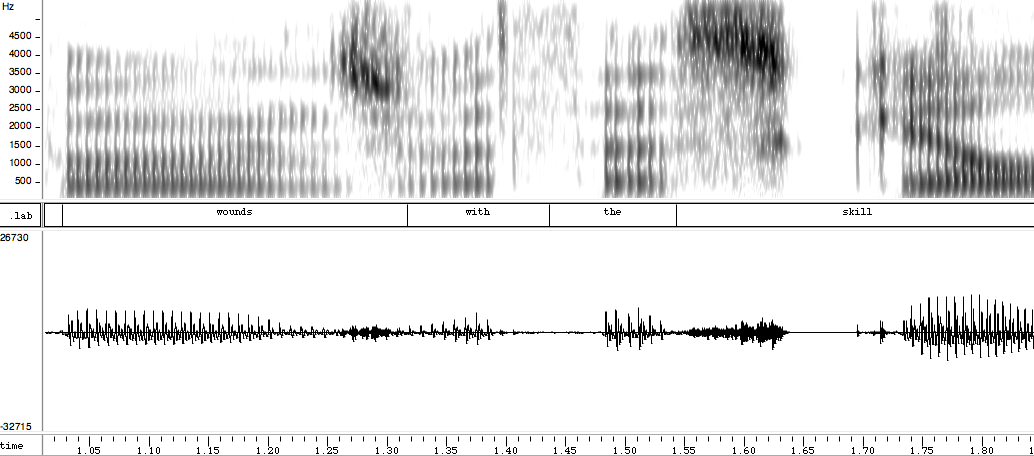 In other cases, the interval became a voiceless unaspirated dental stop:
Audio clip: Adobe Flash Player (version 9 or above) is required to play this audio clip. Download the latest version here. You also need to have JavaScript enabled in your browser.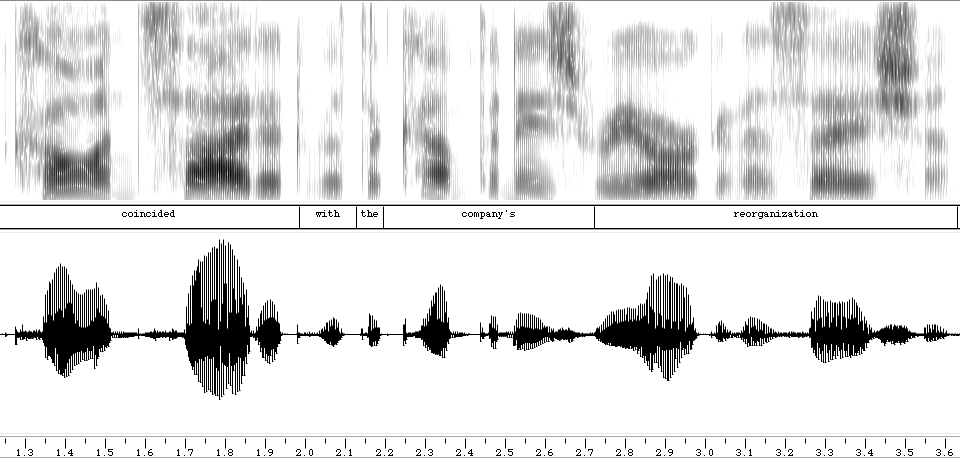 A close-up: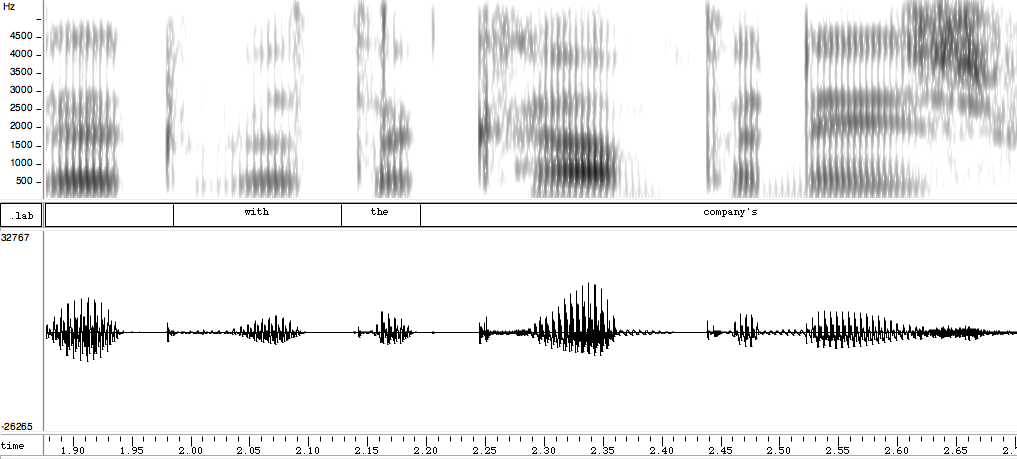 And there are mixed cases, with bits of frication before and/or after a stop-like region.
That one voiced "with the" case was reduced to the point where it becomes homophonous with "with a":
Audio clip: Adobe Flash Player (version 9 or above) is required to play this audio clip. Download the latest version here. You also need to have JavaScript enabled in your browser.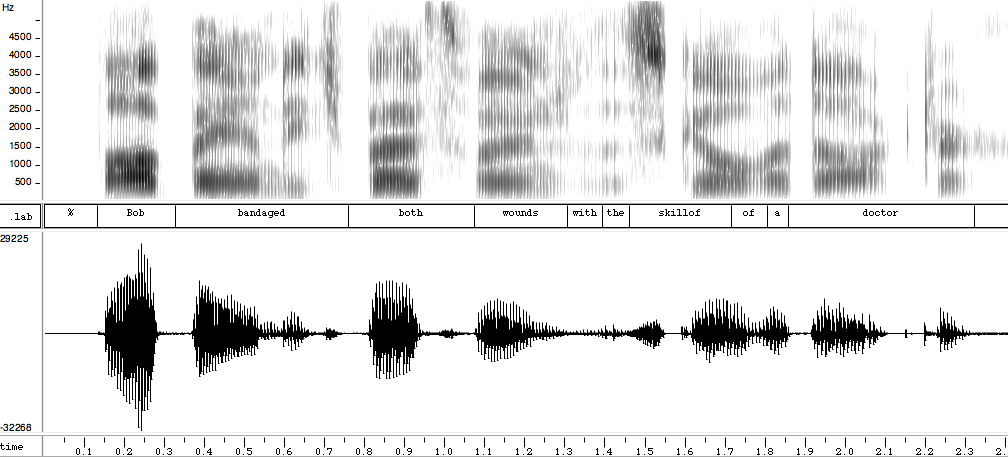 Everywhere else, the medial consonant sequence in "with the" becomes completely voiceless, either by some sort of progressive assimilation, or because initial /ð/ in American English is often realized as a voiceless unaspirated dental stop (which of course makes it similar to the other "voiced" stops…)
There's also the question of vowel duration in with — in American English monosyllables, timing is often the strongest cue to final-consonant voicing. But I've run out of time for today.
---