« previous post | next post »
Here is the name card of one of the officers at the Taipei Economic and Cultural Office in Boston.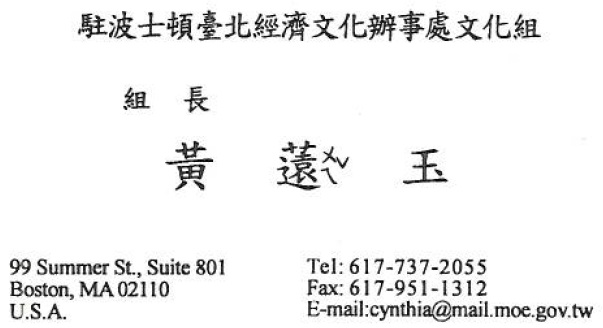 Nearly every literate person who receives this card would pronounce her name, 黃薳玉, as Huáng Yuǎnyù, but they would be wrong.

The correct pronunciation of the officer's name is Huáng Wěiyù. Since most people would not be familiar with the second character of her name, they would just guess at the pronunciation on the basis of its resemblance to the very common character yuǎn 遠 ("distant; far"), which appears to be functioning as the phonophore beneath the "grass" radical at the top. Because the poor officer undoubtedly has had countless people refer to her as Huáng Yuǎnyù rather than as Huáng Wěiyù (her real name), she has added the phonetic annotation "Wěi", which is indicated by the three symbols (two letters and a tonal diacritical mark), to the right of the character in question. Unfortunately, the symbols she has used (so-called bopomofo or Zhùyīn fúhào 注音符號) are familiar only to a very small number of people outside of Taiwan.
I have long been a strong advocate of using Hanyu Pinyin (the official romanization of the People's Republic of China) for the phonetic annotation of Mandarin texts (the same way that Japanese use furigana). See, for example, this post: "How to learn to read Chinese".
I am pleased to report that, since I wrote that post in 2008, we now have more and more pinyin annotated pedagogical materials, such as the wonderful series of Chinese biographies edited by my colleague, Grace Wu, and published by Cheng & Tsui, based in Boston. I wish to take this opportunity to pay tribute to Jill Cheng, founder and publisher of Cheng & Tsui, whose original bookstore I visited in the garage of her house on a bitterly cold winter's day 40 years ago. What we need now are publishers of similar vision in mainland China.
[A tip of the hat to Neil Kubler]
---