« previous post | next post »
Another science card given out to first grade students in Shenzhen, China (see "Readings" below for the first one):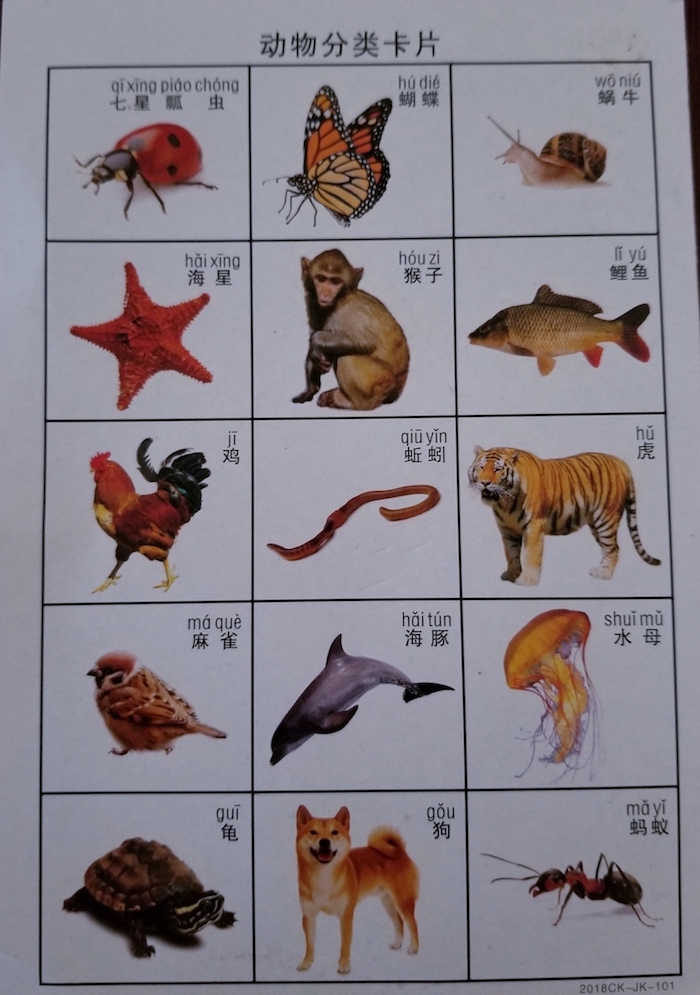 The title reads:
Dòngwù fēnlèi kǎpiàn
动物分类卡片
("Animal classification card")
Although this card superficially is not as forbidding as the first card in this series, it actually poses an equal number of pedagogical and linguistic problems.
In the first place, although the labels given for each picture are for single items, the syllables are not linked together to show that they are words.  This is especially misleading in cases like húdié 蝴蝶 ("butterfly"), where neither of the syllables means anything by itself ("húdié" is a disyllabic morpheme — of which there are quite a few in Sinitic from ancient times).
Some of the words, although they designate simple things, are challenging for first graders.  Take the word for "ladybug", which nearly any first grader, or even kindergartner can master easily in English.  I remember this from before I went to first grade:
"Ladybug, ladybug, fly away home;
Your house is on fire and your children are gone."
I used to love to recite this to these little creatures as I launched them from my hand.
In Mandarin, this little beetle is called "qīxīngpiáochóng 七星瓢虫", which is quite a mouthful for a little tyke, not to mention that the third character is a bit of a nightmare for a child to write (it means "ladle; dipper", so the whole name may be translated as "seven star ladle bug", even though taxonomically they are not considered true bugs, hence they are also called "lady bird" and "lady beetle" in English).
The next creature, the wōniú / guāniú 蜗牛 (lit., "cochlea cow"), has special meaning for me, since I kept a pet snail named Arnold for more than five years (see here, here, and here).
In all three of these instances and for most of the other animals on this card, it would make better pedagogical and linguistic sense to join the syllables of these terms to show that they are words, not separate syllables.
Of the remaining three items on the card, hǔ 虎 and guī 龟 are not referred to that way in the vernacular, but as lǎohǔ 老虎 ("tiger") and wūguī 乌龟 ("tortoise; cuckold").  As for jī 鸡, it would probably be less confusing to refer to the animal pictured as a gōngjī 公鸡 ("rooster") than just as a generic chicken.
Overall, this card evinces a lack of distinction between literary and vernacular registers, an earmark of overemphasis on the mostly monosyllabic script at the expense of the mostly polysyllabic language.
Readings
[h.t. Alex Wang]
---