« previous post | next post »
According to a recent survey of more than 2,000 people, 66.5 percent of Japanese think they are losing the ability to correctly handwrite kanji. Moreover, the level is above 50% for every age group except for the youngest (16-19), who are of course still actively studying characters and thus must be prepared for tests; and even there the figure is still very close to the 50% mark. (See graph at the end of this post.)
This phenomenon is no surprise to anyone who regularly reads Language Log — see, for example, "Character Amnesia". Still, it is interesting to have the numbers. Also, the shift from the previous survey 10 years ago is dramatic. Read the article below for more details.
"Computer users say their kanji writing skills are getting rusty"
The Yomiuri Shimbun (Sep. 22, 2012)
A government survey found about 66.5 percent of people think they are losing the ability to correctly handwrite kanji or Chinese characters because they write e-mails with computers and cell phones on a daily basis.
The figure is 25.2 percentage points up from the previous survey 10 years ago, according to results of the Cultural Affairs Agency's survey on Japanese, which were released Thursday.
The survey also showed that 42 percent of respondents feel "writing by hand is a bother," up 10.1 percentage points from the last survey. The agency said, "This trend will certainly become stronger and be a serious problem for children in learning Japanese."
The agency in February and March conducted personal interviews with 3,474 subjects aged 16 or older across the nation. About 60 percent of them, or 2,069 people, gave valid answers.
Asked how they were affected by the diversification of information exchange media, such as e-mail, the number of respondents who replied that their ability to correctly write kanji is falling showed a sharp increase.
Looking at the percentages by age groups, those in their 40s who gave this answer had the highest figure at 79.5 percent, and those in their 20s, 30s and 50s were also over 70 percent. Though the percentages of teenagers and people aged 60 or older were lower than 30 percent in the last survey, the figures rose to around 50 percent this time.
The percentage of those who feel handwriting is a bother increased, while the number of people who find it troublesome to meet people and directly talk to them increased to 18.6 percent, up 7.3 percentage points from 10 years ago.
About 29.5 percent of the respondents said they would write e-mails even about simple things they could communicate orally, which showed 12.3 percentage points up from the last survey.
The agency said, "We must seriously consider how children, who have not yet mastered Japanese to a sufficient level, should be taught to use computers."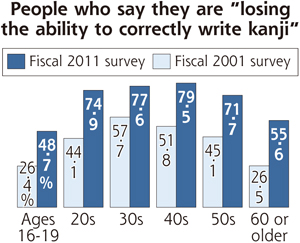 [Thanks to Mark Swofford]
---