« previous post | next post »
Headline from the Bangor Daily News (Feb. 13, 2019): "Maine now holds the world record for most people calling a moose at the same time."
Screenshot for posterity: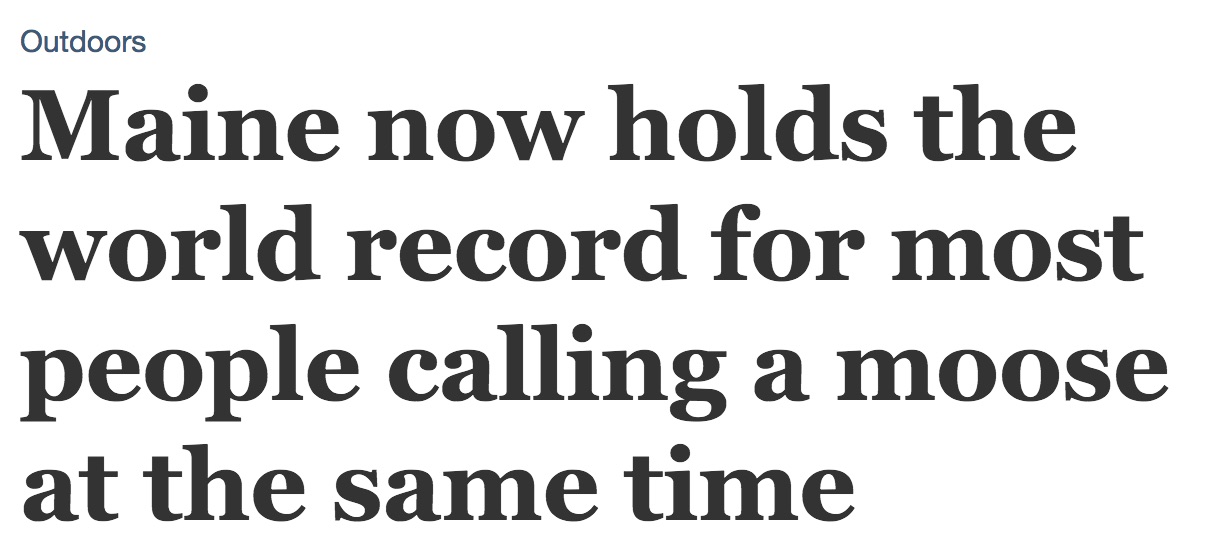 Update: The headline has been changed to read, "Maine now holds the world record for simultaneous moose-calling."

The body of the article reveals that the moose-calling record did not involve people calling one particular moose:
Last June, when thousands of people flocked to the Skowhegan Fairgrounds for the Maine Moose Festival, many took part in an offbeat attempt to set a world record.
More on that in a minute. First, a question: Did you know there was a world record for the most people calling moose at the same time? The answer: Until now, there wasn't.
Now, there is.
On Wednesday, organizers of that festival announced that during that record-setting attempt, a total of 1,054 people grunted, wailed and otherwise channeled their inner moose, and that effort has been confirmed by Guinness World Records, according to a press release.
The article refers to the "world record for the most people calling moose at the same time," but for the headline, "calling moose" got changed to "calling a moose." What happened? I think the difficulty lies in the fact that the plural of moose is moose — in other words, moose is a zero plural. "Calling moose" would then be appropriate for the act of calling (plural) moose in general.
But because it's not overtly marked as plural, moose in this context is easily misconstrued as singular. "Calling (singular) moose" isn't quite grammatical, instead bringing to mind Boris and Natasha's endless vendetta against "moose and squirrel" on Rocky and Bullwinkle. In a modern take, New Yorker cartoonist Pat Byrnes imagines Boris and Natasha hovering over a tweeting Donald Trump, with Boris whispering "Tell them is fake news, work of moose and squirrel."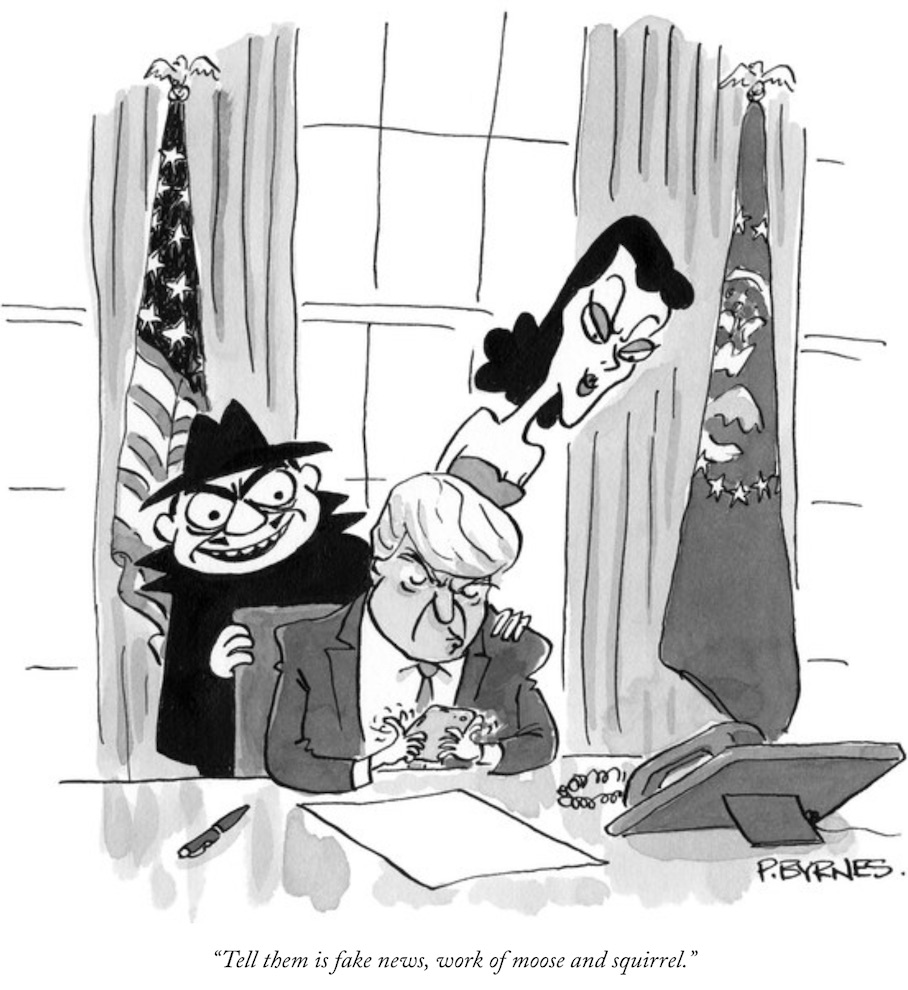 In the Russian-inflected English of Boris Badenov, articles get lost, leading to the anarthrous construction, "moose and squirrel." I'm reminded of a topic that I wrote about for The Atlantic in December, on how Trump's plans for a border wall often get discussed by the president and his administration using wall as a mass noun. So when Homeland Security Secretary Kirstjen Nielsen told Congress "We need wall," it led many on Twitter to compare her to stereotypically anarthrous speakers like the Incredible Hulk. And of course there were lots of jokes about how Nielsen's plea was taken straight from Russian, since (as we know from Boris and Natasha) native Russian speakers often leave out articles in L2 English.
So my guess is an editor thought "calling moose" ran the risk of sounding too much like Boris (or the Hulk), and the article "a" was inserted in the headline — making it sound like there was a specific moose being called. Of course, all of this could have been avoided by referring to "moose-calling" instead, since that doesn't rely on a plural form. Indeed, as noted above, the Bangor Daily News  headline was eventually changed to read, "Maine now holds the world record for simultaneous moose-calling," which is a better way to phrase it. And the announcement of the record from the Skowhegan Moose Festival read, "We did it! Guinness World Records has confirmed that Main Street Skowhegan and the Town of Skowhegan set the new world record for the most people moose calling simultaneously!"
Here's what the record-setting moose call sounded like, in case you were wondering. No singular or plural moose attended.
(Hat tip to Jack Lynch, who assiduously monitors all moose-related news.)
Related readings:
---