« previous post | next post »
Theresa May's 2/10/2019 letter to Jeremy Corbyn includes a sentence ending in a question mark that caught Graeme Orr's attention:
As I explained when we met, the Political Declaration explicitly provides for the benefits of a customs union – no tariffs, fees, charges or quantitative restrictions across all sectors and no checks on rules of origin (paragraph 23). However, it also recognises the development of the UK's independent trade policy beyond our economic partnership with the EU (paragraph 17). I am not clear why you believe it would be preferable to seek a say in future EU trade deals rather than the ability to strike our own deals? I can reassure you that securing frictionless trade in goods and agri-food products is one of our key negotiating objectives (for precisely the reasons you give – protecting jobs that depend on integrated supply chains and avoiding a hard border between Ireland and Northern Ireland). The fundamental negotiating challenge here is the EU's position that completely frictionless trade is only possible if the UK stays in the single market. This would mean accepting free movement, which Labour's 2017 General Election manifesto made clear you do not support.
In formal writing in general, the standard policy seems to be not to use question marks after indirect questions, such as the why-clause in this case. (Not that I'm any sort of authority on orthographic standards.)
Graeme's commentary brings in "question marks … in speech", by which he presumably means rising intonation, and usage in informal writing, as well as the possibility of a compositional or editing error:
Many people seem to use question marks after declarations, especially in speech, to invite further conversation.   I and others lapse into using them, especially in informal writing, to soften a claim.   But there is nothing soft about the rest of her paragraph, which is highly argumentative.     Is her use a slip, caused by the 'why'?   Or does it somehow stress that his position if questionable?   Or simply that it was a late night and her staff were stretched?
An image of the letter is here — and here's a screenshot of the paragraph in question: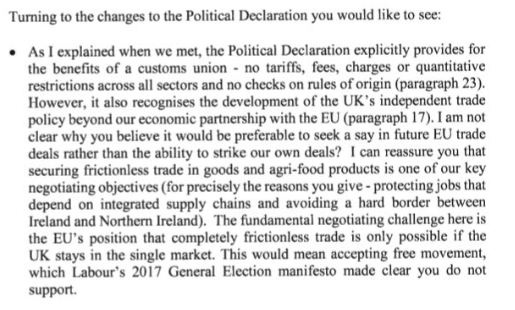 ---