« previous post | next post »
From "How to Complain at a Restaurant? Just Ask Our Critic", NYT 2/5/2019:
In general, the more specific your complaint, the more likely it is to be understood. The worst, most useless and potentially dangerous complaints are broad, sweeping condemnations.
"There is complaining that makes you think about what you're doing, and there is complaining where everybody thinks they're entitled to say anything," said Rita Sodi, the chef and owner of the Tuscan restaurant I Sodi in Manhattan. "Saying, 'This is terrible' is not complaining. That is being rude. It's like, 'You're ugly.' It's telling me that I'm ugly. It's personal. It's my food."
Even when the person you're grousing to did not cook your pasta personally, you should proceed gently, in nonconfrontational terms. It may be helpful to imagine that you are speaking with an air traffic controller trying to land 20 jets during a snowstorm; you would try very hard not to add to the overall stress level in the tower, even if your child was on one of those jets.
If it's not obvious to you what's gone wrong in the highlighted sentence, consider the alternatives
…even if the passengers on those jets were all strangers to you.
…especially if your child was on one of those jets.
This is the OED's sense 8.a. for even:
Used to convey that what is being referred to is an extreme case in comparison with a weaker or more general one which is stated or implied in the adjacent context. Now the prevailing use of the word in English.
As the cited gloss indicates, there's a directionality involved in the notion of X as an extreme case in "even X", so that "…even if your child was on one of those jets" assumes a gradation of passengers for whom you'd have different degrees of concern, with your child at an extreme of the concern scale.
But which extreme, and from what direction are we approaching it?
Normally "X (happens), even if Y", where Y is a point on some scale S, implies that X would also happen in some circumstance whose value on the scale S is less extreme than Y. But "less extreme" has to be interpreted in terms of the contextually implied direction of the scale.
For example, the 2016 NYT headline "Automakers Go Electric, Even if Gas Is Cheap" implies that the automakers would also go electric if gas were more expensive — and in fact would be naturally more likely to do so.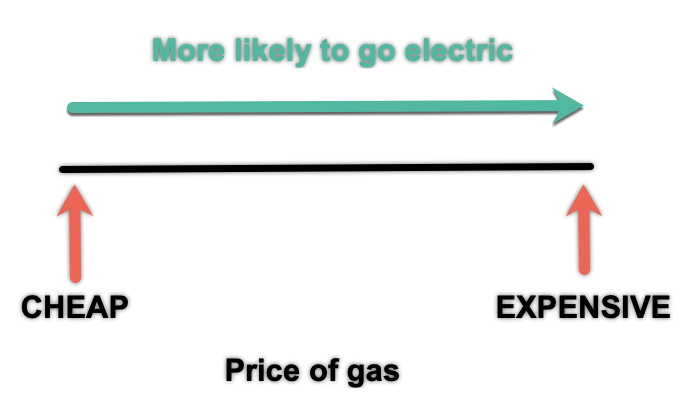 But if we predict that "Customers will buy more trucks, even if gas is expensive", the implied scale (price of gas) is the same, but the implied direction is reversed.
Returning to the cited sentence about restaurant complaints, and the hypothetical conversation with a harried air traffic controller: The contextual interpretation of the "even if" clause is that you would also be polite if the passengers on the jets were people that you care less about than your child — and that in fact you'd naturally be more likely to be polite in that case.
This set of issues was first (?) explicitly discussed in Larry Horn's 1969 CLS paper "A presuppositional analysis of only and even". See "What does even even mean?", 2/8/2011, for some further discussion.
You've probably noticed that it's really hard to explain the contextually implied meanings in this case — presumably that's why the writer and editors didn't notice the problem. In fact, as in the related problems of misnegation, it's kind of amazing that any of us ever gets this right.
[h/t John O'Meara ]
---