« previous post | next post »
Kevin Cirilli, "TV pundits split on Obama's convention speech", Politico 9/6/2012, quotes James Carville discussing Obama's speech:
"This was probably not the best speech of the convention," he said on CNN. "But what I'm struck by is the muscular tone and attitude in both the vice president and president tonight. This is not the mommy party on show here. This is the daddy party."
Carville's "daddy party" seems to evoke the concept of patriarchal interpersonal dominance, as in the common slang expression "Who's your daddy?". This is one version of the "mommy party" vs. "daddy party" opposition that has become a cliché in political discourse.  I've assumed without thinking about it that this started with the best-known of George Lakoff's political "frames", as originally expressed in his 1996 book Moral Politics: How Liberals and Conservatives Think. He put it this way in  "Framing the Dems", The American Prospect 8/20/2003:
[T]here are distinct conservative and progressive worldviews. The two groups simply see the world in different ways. […] [T]hese political worldviews can be understood as opposing models of an ideal family — a strict father family and a nurturant parent family. These family models come with moral systems, which in turn provide the deep framing of all political issues.
But looking into the history a bit, I discovered that Mommy party vs. Daddy party labels were already a cliché in political discourse by the time Lakoff first published his take on the concept.  Here's Maureen Dowd on Dole/Kemp vs. Clinton/Gore — "Plowshares Into Pacifiers", NYT 8/15/1996:
I am put in mind of a Dorothy Parker phrase, as I watch the Republicans nurture, cuddle, swaddle and practically lactate on prime time. It makes me want to fwow up.
This encounter session called a convention is so gauzy and feminized, with treacly videos and speeches featuring women, kids and a rainbow of ethnic groups, it makes the Olympics look like Al Bundy territory.
Historically, the Republicans have always been the Daddy party, thundering about national defense and Communists and making money. And the Democrats have been the Mommy party, domestic caregivers clucking over women and children and health and the less fortunate.
But in this campaign, the parties are gender-swapping or cross-dressing or maybe just lying.
And the back cover of J. Neil Schulman, Self Control Not Gun Control, 1995: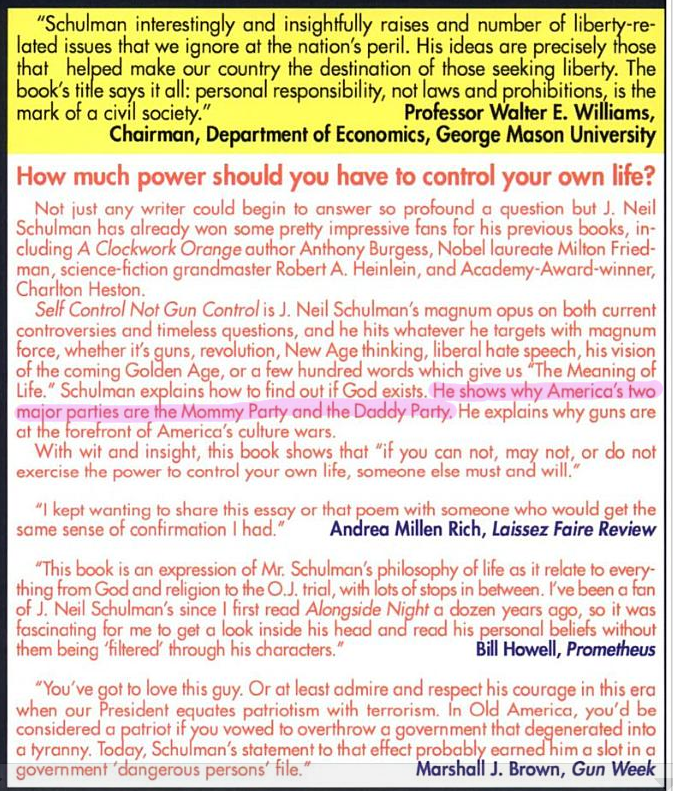 …though Schulman's take on Political Mommy is more Nanny-state Nag than Nurturant Parent:
We do, after all, live in a country where the two major parties are the Mommy Party (Eat your spinach!) and the Daddy Party (Sit Up Straight and Respect Your Mother!).
Thanks to Andy Averill in the comments, we can find Jude Winninski in 1992 quoting Chris Matthews in 1991 (MediaGuide: A Critical Review of the Media's Recent Coverage of the World Political Economy):

Gerard Alexander echoes this attribution ("The Other American Exceptionalism", The Claremont Review, Fall 2005):
In sum, American conservatives of nearly every stripe agree that the world is a complex and competitive place in which human nature and its limitations play pervasive roles. In such a world, good people are wise to cultivate individual skills and character traits, to limit centralizing power (especially government), to confront rather than duck serious challenges, and to get incentives right, especially for predators, with an eye toward encouraging virtue, and at least restraint.
Different terms have been invoked to distinguish these conservative operating assumptions from their main alternatives. Television personality Chris Matthews is sometimes credited with the notion that Republicans and Democrats are, respectively, the "daddy" and "mommy" parties. Daddy tries to toughen citizens to cope with life's ordeals, while mommy tries to shield them from its harshness. U.C. Berkeley linguistics professor (and Democratic consultant) George Lakoff tweaks this to say that conservatives advocate the "strict father" model for America while progressives are "nurturant parents." The discerning journalist Michael Barone distinguishes between "hard" and "soft" America, representing, respectively, contemporary conservatism and liberalism.
Anyhow, the Mommy/Daddy opposition has certainly become a punditricious commonplace. Thus Robin Toner, "Women Wage Key Campaigns for Democrats", NYT 3/24/2006:
If the Democrats have their way, the 2006 Congressional elections will be the revenge of the mommy party.
Maureen Dowd, "Drapes of Wrath", 11/11/2006:
The new Democratic sweep conjures up an ancient image: Furies swooping down to punish bullies.
Angry winged goddesses with dog heads, serpent hair and blood eyes, unmoved by tears, prayer, sacrifice or nasty campaign ads, avenging offenses by insolent transgressors.
This will be known as the year macho politics failed — mainly because it was macho politics by marshmallow men. Voters were sick of phony swaggering, blustering and bellicosity, absent competency and accountability. They were ready to trade in the deadbeat Daddy party for the sheltering Mommy party.
Patrick Healey, "A Mom Running to Lead the Mommy Party", NYT 5/14/2007:
Mrs. Clinton is, in essence, a mom running to lead the Mommy Party for all the other mommies (and daddies, too, to be fair), proposing policies that flow from her own insights on how the government does and does not help families.
A more extensive gendered-parent discussion of the Republican side of the current election can be found in James Bennett, "Is Paul Ryan your Mommy AND your Daddy?", The Atlantic 8/29/2012:
Political players and journalists have long described the Democrats as the Mommy party and the Republicans as the Daddy party. The Democrats were the party of the hearth — the warm and fuzzy ones who cared about kids and schools and health care — and the Republicans were the party of the workplace — the stern and sinewy ones who brought home the bacon and kept everyone safe.  […]
The clearest presentation of the two-track convention came Tuesday night, when Ann Romney sweetly declared, "I want to talk to you about love" right before Chris Christie thundered that love was overrated: "I believe we have become paralyzed, paralyzed by our desire to be loved." Then the governor shouted a bunch of stuff about how we need to grow up and make tough choices.
The effect was a little disorienting, like being hugged by mom and told everything was going to be OK, right before you get spanked by dad and told to pull yourself together. […]
But apparently the Republicans really ARE both my mommy and my daddy. "She did the mommy part about the dad, and he did the daddy part about the mom," Frank Luntz, the Republican pollster, explained to me. While Ann Romney talked about her husband, Christie talked about his mother. "The irony was so rich — just dripping," Luntz said. "One used a man to illustrate traits to appeal to women, the other used a woman to illustrate traits that appeal to men."
At some point, it would be nice to see some evidence about what in fact appeals how much to whom…
Other LLOG posts on political framing: "It's about ideas, not words", 7/23/2004; "Frames and messages", 9/4/2004; "More on Lakoff on framing", 9/6/2004; "The NYT updates the framing wars", 7/17/2005;  "Forget framing — It's hypnosis!", 10/28/2008;  "Framing a poll", 12/20/2009.
---