« previous post | next post »
According to Laura Shack, "Cirencester teenager breaks jaw in alleged attack by kebab van", Wilts and Gloustershire Standard, 9/4/2012:
The 19-year-old man told police officers he was attacked by the van in Tetbury Road, Cirencester, at around 4am on Sunday, August 26.
The teenager, who suffered a broken jaw, was found to be in an intoxicated state by police officers and he was taken by ambulance to Great Western Hospital in Swindon.
The first sentence of the article explains things a bit differently:
A CIRENCESTER teenager suffered a broken jaw after he was reportedly assaulted by an unknown attacker near to a kebab van.
Obligatory screenshot: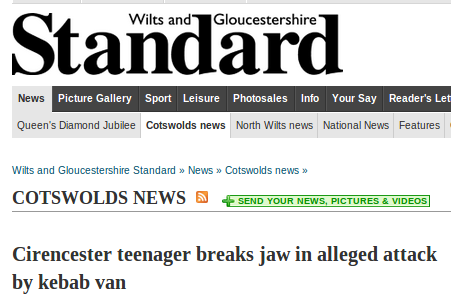 I myself was once attacked by the back door of a bar.
[Tip of the hat to electrichalibut.co.uk]
---