« previous post | next post »
From June Teufel Dreyer: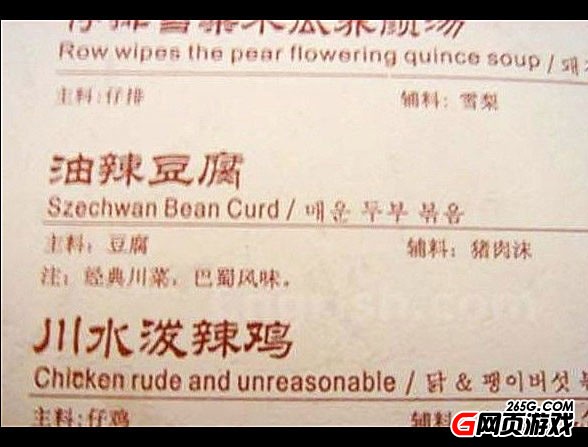 This one has been circulating for several years, but I don't think I've ever gotten around to writing about it yet.
Chuānshuǐ pōlà jī 川水泼辣鸡 ("Sichuanese spicy chicken")
Google Translate offers the following renderings of "pōlà 泼辣":  "pungent; forceful; bold and vigorous; shrewish; rude and unreasonable; daring and resolute".
Baidu Fanyi gives:  "forceful; shrewish; rude and unreasonable; vixenish; fierce and unreasonable".
Bing Translator has only "provocative".
Perhaps a translation like "fiery" would suffice both for the Sichuanese chicken dish and for the temperament it designates.
Here's a rather lame attempt to justify applying the adjective to this particular dish:
"The pitfalls of translation", Cultural Intelligence (11/27/13).
[Thanks to Tao Tang and Qing Liao]
---