« previous post | next post »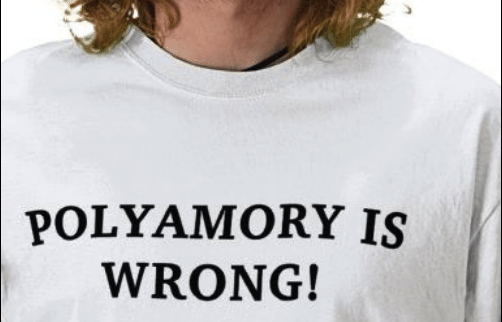 Wrong ethically? Practically? Legally?

No — according to this t-shirt, polyamory is wrong morphologically: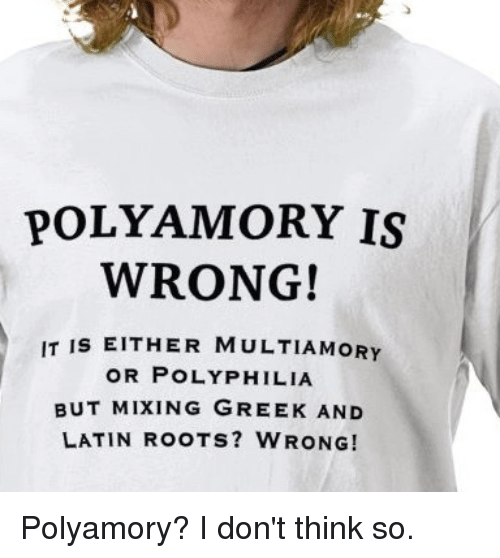 The morphological picture is actually more complex — the OED gives
Etymology: < poly- comb. form + classical Latin amor (see amour n.) + -y suffix, after polyamorous adj.
In form polyamoury probably after French amour amour n.
And poly- is originally from Greek, but was enthusiastically borrowed into Latin, French, and German. English poly- words have been borrowed from those languages — "combining chiefly with second elements ultimately of Latin or Greek origin". As the OED explains:
Etymology: < ancient Greek πολυ-, combining form (in e.g. πολύγωνος polygon adj.) of πολύς , πολύ much (in plural, πολλοί , πολλαί , πολλά many) < an ablaut variant (o -grade) of the Indo-European base of fele adj. Compare classical Latin, post-classical Latin, and scientific Latin poly-, French poly- (formations in which are found from at least the late 17th cent.), German poly- (formations in which are found from at least the early 19th cent.).
Attested earliest in the Old English period in the classical Latin loan polytrichon n., and subsequently in the late 14th and early 15th centuries in loans from Latin and French (polyp n., polypus n., polymite adj.), and in the 16th and 17th centuries in adaptations of Latin, Greek, and French words (e.g. polygamy n., polysyllabe n.), which become very frequent from the late 18th cent. onwards, chiefly in scientific vocabulary. Occasional formations within English are found from the beginning of the 17th cent. (e.g. polytragic adj., polytopian n. at sense 1), but the bulk of English formations date from the 19th and 20th centuries.
Compare multi- comb. form, which shows considerable semantic overlap with poly- comb. form, although it does not show the specialized use in chemistry (see sense 2). Compare also mono- comb. form.
Combining chiefly with second elements ultimately of Greek or Latin origin.
Restrictions of that kind ("Combining chiefly with…") are one of the many quasi-regular aspects of morphology, which might stand as a metaphor for the quasi-regularity of morality.
[h/t Fritz Newmeyer — I'm not sure who gets credit for the t-shirt.]
Update — Ben Zimmer points us to Stan Carey's terrific 2011 blog post, "The monstrous indecency of hybrid etymology", as well as the source of the t-shirt.
---