« previous post | next post »
The words and phrases that annoy people are typically criticized as over-used, illogical, fashionable among a disliked group, or shifted in a confusing way from an earlier meaning.  It's often true that such irksome usages have indeed increased in frequency — thus "at the end of the day", which was the Plain English Campaign's choice for "most irritating phrase" in 2004, was then towards the end of a rapid rise in relative frequency ("Memetic dynamics of summative clichés", 9/26/2009):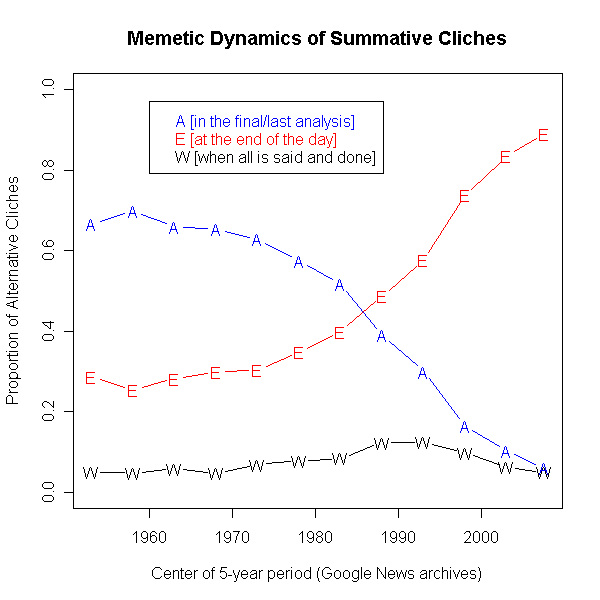 Like other stereotypes, the association of despised usage with despised groups ("The social psychology of linguistic naming and shaming", 2/27/2007) is not very accurate at all ("Moving low-hanging fruit forward at the end of the day", 9/26/2009; "'At the end of the day' not management-speak", 9/26/2009). But the perceived increase in frequency, though sometimes an illusion, is often accurate.
Still, the birth of these socially-recognized crotchets and irks ("peevogenesis"?) seems to involve a considerable amount of randomness. Some usages that are new (or at least have rapidly grown in relative frequency), that are illogical (or at least are not transparently compositional), and that displace a useful older meaning, nevertheless do not seem to annoy anyone. I happened on an interesting example recently while replicating in COHA the little study of summative idioms that I'd previously done using Google News archives.
The replication confirmed that "at the end of the day" increased rapidly in relative frequency after about 1970: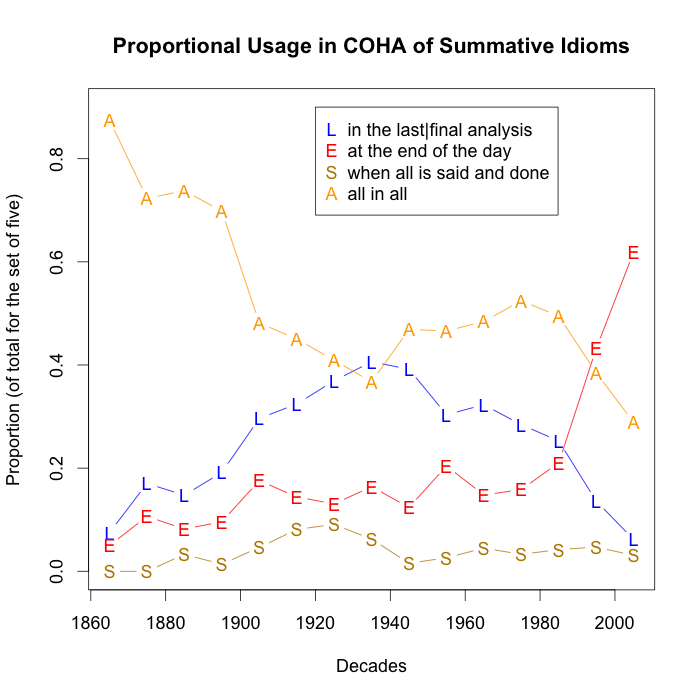 But this time I added the phrase "all in all", which led me to wonder where "all in all" comes from. It's not syntactically or semantically transparent — we don't say "some in all" or "some in some" or anything else remotely close. The fact that "in all" also exists helps a bit, but it's still pretty opaque. And when I looked it up in the OED, I discovered that the only meaning offered there for all in all is "All things in all respects, all things altogether in one", with the following citations:
1539 Bible (Great) 1 Cor. xv. 28   That God maye be all in all. [So 1611; Wyclif, alle thingis in alle thingis, Tindale, all in all thinges.]
1614 R. Carew Excellencie Eng. Tongue in W. Camden Remaines (rev. ed.) 44   Will you haue all in all for Prose and verse?
1767 J. Fordyce Serm. Young Women I. i. 27   Mirth and diversion are all in all.
a1824 Campbell On receiv. Seal xii,   The all-in-all of life—Content!
1824 Byron Don Juan ii. clxxxix,   They were All in all to each other.
1832 Tennyson New Year's Eve vi, in Poems (new ed.) 97   Their Flemish go-between And all-in-all.
1859 Tennyson Vivien 248   And trust me not at all or all in all.
Similarly, Webster's 1913 gives all in all only the gloss "a phrase which signifies all things to a person, or everything desired".
So as this morning's Breakfast Experiment™, I decided to track the change. I decided to classify instances of the string "all in all" (monocase) into three sets, exemplified by the following examples:
(1) Is God my all in all?
His heart panted for the day when they could be all in all to each other.
The consequence was natural; the boys, being left so much to themselves, became all in all to each other.
We Mardians talk as though the future was all in all; but act as though the present was every thing.
(2) Take it all in all, " Horseshoe Robinson " is a work which should be found on every book-shelf, not only because it is a most entertaining story, but because of the wealth of valuable information concerning the colonists which it contains.
That is a very just criticism, take it for all in all, which first appeared in the North American
He was a man, take him for all in all, We shall not look upon his like again.
The street that runs west next to us leads directly to the chief gate of the city; and taking all in all, I consider that we shall make money yet out of our detention here.
But, taken for all in all, by far the finest, though in some details not the most correct, presentations of whales and whaling scenes to be anywhere found, are two large French engravings, well executed, and taken from paintings by one Garnery.
(3) Perhaps many of Tim's confidences were given half in jest, and perhaps Chieftain sometimes thought that Tim was a bit slow in perception, but, all in all, each understood the other, even better than either realized.
It was, all in all, the most ubiquitous feature of the landscape.
All in all, a typical cross-section of "smart" New York.
But all in all, Solti found the tour the most exciting time of his Musical life.
Here's the result, expressed in proportional terms: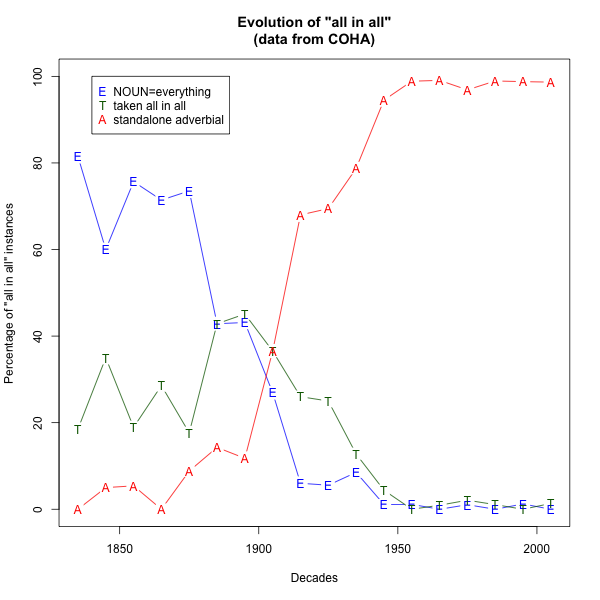 And as counts: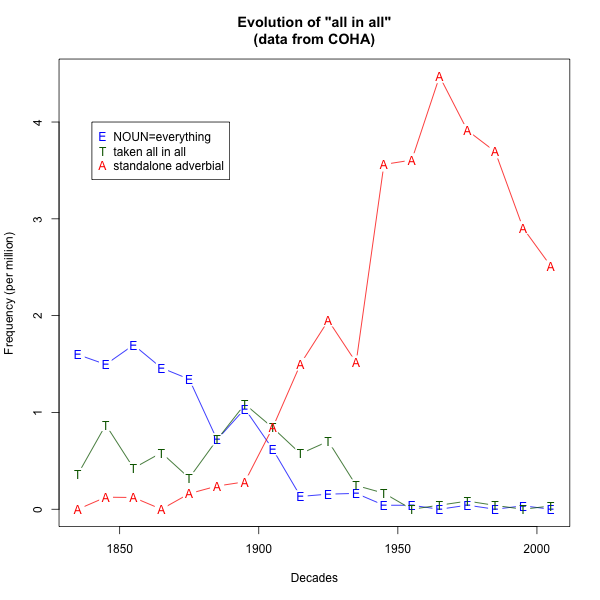 So "all in all", in the meaning "Generally, all things considered", increased just about as rapidly as "at the end of the day" did, a century later. The result is arguably ungrammatical and illogical except as an idiom. It displaced an older, arguably useful version of the same phrase meaning "all things to a person, or all things desired". But as far as I can tell, no one ever complained. Go figure.
---
Here's summative data from COHA, and the R code that made the figures.
Here's the all-in-all classification data from COHA, and the associated R code
---