« previous post | next post »
At first, the email seemed like the only literate and competently designed phishing lure that I've ever received.  Most of them are obviously written by people who could never pass a TOEFL exam, and have no idea how a bank or an airline or a shipping company addresses its customers. But this message, which arrived under the Subject line "Beat Obama at NO COST to YOU" seemed pretty professional, and even had some competent graphics:

Still, I saw two clues that persuaded me it was a scam, designed to get me to click through to a site that would harvest my personal information for criminal purposes and turn my computer into a zombie tool of international racketeers.
First, the letter was signed by someone calling himself Robert M. "Mike" Duncan. Ha, I thought to myself, it's some Russian mafioso-hireling who thinks that "Mike" is the nickname for "Robert", or doesn't know that an American who uses a form of his middle name "Michael" would call himself "R. Michael Duncan".
And second, the body of the letter used "shall" in a slightly weird way:
We are facing one of the most important elections in history, and it shall be our unity that brings us to victory. [..] The RNC Toolbar will help you raise money through normal online activities such as searching and shopping! Just a click away, you also will have access to breaking news, updates, and messages from the RNC! [boldface original, color highlighting added]
Now, I've never understood the whole shall secret-handshake business. William Cobbett, the prodigious Federalist wingnut and grammarian, wrote in his 1823 Grammar of the English Language ("… in a Series of Letters; Intended for the Use of Schools and of Young Persons in General, but More Especially for the use of Soldiers, Sailors, Apprentices, and Plough-Boys; To Which Are Added Six Lessons, Intended to Prevent Statesmen from Using False Grammar, and From Writing in an Awkward Manner") that
I need not dwell here on the uses of will, shall, may, might, should, would, can, could, and must; which uses, various as they are, are as well known to us all as the uses of our teeth and our noses; and to misapply which words argues not only a deficiency in the reasoning faculties, but also a deficiency in instinctive discrimination.
In A plea for the Queen's English (1866) Henry Alford observed that
The next point which I notice shall be the use of the auxiliaries "shall" and "will." Now here we are at once struck by a curious phenomenon. I never knew an Englishman who misplaced "shall" and "will:" I hardly ever have known an Irishman or Scotchman who did not misplace them sometimes. And it is strange to observe how incurable the propensity is. […] In attempting to give an explanation of our English usage, I may premise that it is exceedingly difficult to do so. We seem to proceed rather on instinct, than by any fixed rule. Yet instinct, in rational beings, must be founded on some inherent fitness of things; and examination ought to be able to detect that fitness.

And H.W. Fowler began his section on Shall and Will with this warning:
It is unfortunate that the idiomatic use, while it comes by nature to southern Englishmen (who will find most of this section superfluous), is so complicated that those who are not to the manner born can hardly acquire it; and for them the section is in danger of being useless.
MWCDEU points out, with copious examples, that Fowler's lengthy attempt to characterize the shall/will distinction is is still descriptively inadequate, in that it fails to account for the usage of writers like Samuel Johnson, Lord Byron, Charles Dickens, Lewis Carroll, and so on.
My take on all this is the same as that of most Americans: I never use shall, except in a few fixed phrases; and I generally perceive other Americans who use it as pretentious, affected or precious.
But I do know the simplified form of the principle that is supposed to govern modern British usage:
[T]o express a simple future tense, use shall with I or we, will with you, he, they, etc.; to express permission, obligation, compulsion, etc. use will with I and we, shall elsewhere. [Chambers 1985, quoted in MWCDEU]
Now, it didn't seem to me to be in character for the Republican National Committee's copywriters to use shall at all; but if they did, I figured, they'd do it by the numbers. And "it shall be our unity that brings us to victory" doesn't involve permission, obligation, or compulsion.
So, feeling clever, I concluded that this email must be a fake.
But when I looked into it more deeply, I learned that I was wrong. The links in the email all point to genuine RNC URIs;  the idea is treated seriously elsewhere on the web; Robert M. "Mike" Duncan really is the RNC chair.
So now that I know it's not some slavic hacker getting English wrong, I'm back to reacting to shall as pretentious, affected and precious. (I'm not endorsing such prejudices, it's just an honest assessement of how I react.) But I guess there are some other possibilities: a regional dialect effect (maybe there are parts of the U.S. where people deploy shall differently?); conceptual leakage of first-person status from "our unity"; a sense that shall is appropriate for things that are somehow fated to come true.
FYI, here's what the body of the letter looks like: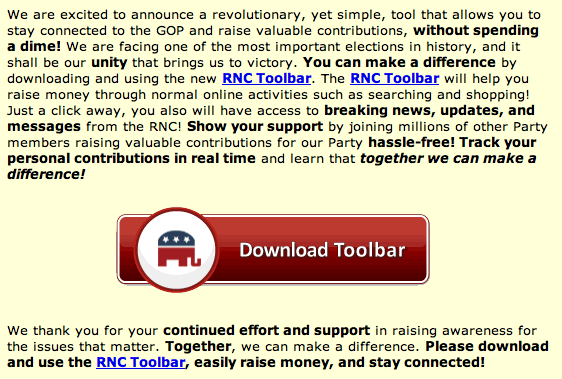 ---