« previous post | next post »
Today's topic is a simple solution to a complicated problem. The complicated problem is how to estimate "pitch range" in recordings of human speakers. As for the simple solution — wait and see.
You might think that the many differences between the perceptual variable of pitch and the physical variable of fundamental frequency ("f0") arise because perception is complicated and physics is simple. But if so, you'd be mostly wrong. The biggest problem is that physical f0 is a complex and often fundamentally incoherent concept. And even in the areas where f0 is well defined, f0 estimation (usually called "pitch tracking") is prone to errors.

The incoherence has several causes. To start with, any non-linear oscillating system is prone to period-doubling and transition to chaos, and the oscillation of human vocal folds is no exception. Human voices sometimes wobble on the boundary between two oscillatory regimes an octave apart, or fall into the chaotic oscillation known as "vocal fry". Add the fact that the larynx is a complex physical structure, so that in any given stretch of time, different regions of the vocal folds may be oscillating at different (mixtures of) frequencies. And then there are ("voiceless") regions of speech where the vocal folds are not oscillating at all, and regions where voicing is mixed with noise from turbulent airflow in the vocal tract.
Still, human voiced speech is generally intended to express a contour of pitches, rather than the mostly chaotic oscillation of flatulence or throat-clearing or a "bronx cheer". And we generally do a pretty good job of hearing the intended contour — transforming the octave uncertainties and the flirtations with chaos into perceptions of  changing voice quality. For an illustrative example, take a look (and listen) at "Pitch contour perception", 8/28/2017.
Computer pitch-tracking algorithms try to use things like continuity constraints to prevent their estimates from jumping all over the place — but these techniques have their limits. And even when the vocal folds are oscillating in a well-behaved way that we could characterize in terms of a single fundamental period, pitch-tracking algorithms can make mistakes, due to noise, or vocal-tract resonances and anti-resonances, or just bad luck.
And unfortunately, because of the nature of the problem, the distribution of errors and uncertainties in pitch-tracking output is not a nice gaussian spread around a hypothetical truth, but rather a scatter of values that are 1/4, 1/2, 2, or 4 times what we might like them to be. (Because the main problem is period-doubling, pitch estimates are most often off by factors of 1/4 or 1/2.)
Phoneticians' traditional solution to this problem is to estimate a speaker's modal pitch range in the (portion of the) recording under study, and then restrict the pitch tracker to producing estimates in that range. This works well — but if the goal is to produce estimates of pitch range as a input variable for other research, it might seem to suffer from circularity. (I think this concern is largely misplaced, but it's an understandable one.)
I've tried to get past this problem using various complicated attempts at improved pitch tracking algorithms, mixture models of the resulting values, and so forth and so on. So far, none of these methods has worked reliably. Finally, it occurred to me to try something much simpler.
The idea is that the bottom of a speaker's modal pitch range is generally within a (musical) fifth or so of their modal f0 value. The top of the modal range is more variable, but also less crucial — something around 10 or 12 semitones is generally safe, because most of the higher values are "real".  So if we run a pitch tracker, determine the modal f0 value in the output, estimate the boundaries of permitted values as between the mode minus a fifth and the mode plus a seventh, and then re-track using those limits, we should be good. I've tried this method out on data from TIMIT and various clinical datasets, and it seem to be reliable. I'll publish some code after I've had a chance to clean it up.
As a teaser, here's an example of the method applied to audio from the case where I found the biggest "creakometer" reading of anything I've looked at so far, namely Noam Chomsky interviewed by Ali G in 2006 ("And we have a winner…", 7/27/2015).
Here's Noam Chomsky's basic f0 distribution in that interview: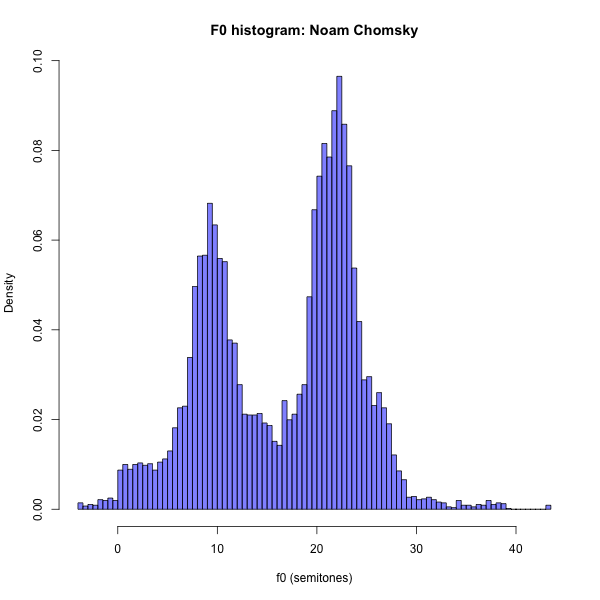 If we take the distance between the 95th percentile and the 5th percentile as a "safe" estimate of f0 range, we get a range of 20.2 semitones for Chomsky's contributions to that interview: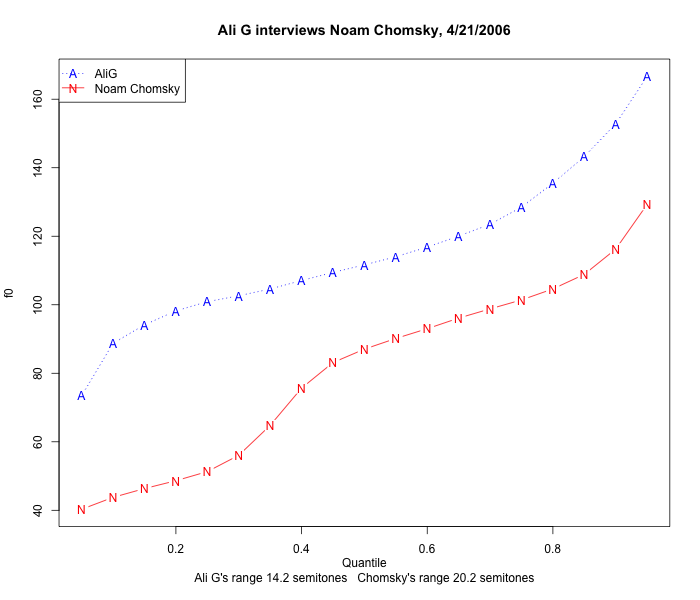 This is substantially larger than Ali G's range of 14.2 semitones as estimated by the same method, and if it really characterized the width of Chomsky's modal f0 range in this interview, it would represent a high level of vocal effort or physiological arousal. But of course what it really represents is the fact that more than 44% of his f0 estimates are an octave lower than his modal range — which listening to the interview will tell you is actually fairly narrow, as appropriate for his calm and relaxed demeanor.
So I used the proposed method on both participants in that interview — estimating each speaker's modal distribution as running from their modal f0 value minus 7 semitones to their modal value plus 10 semitones, and running the pitch-tracking algorithm again with those limits. Now the quantitative estimate of Ali G's range (by the 95th percentile to 5th percentile method) contracts by 30% to 10 semitones — he also has a fair amount of vocal "creak" in his lower-pitch regions — while Chomsky's estimated range contracts by 54% to 9.1 semitones.
These estimates are much more consistent with perceptual impressions. And the resulting plot of quantiles lacks the low-end distortion representing the boundary between the two main pieces of each speaker's f0 distribution: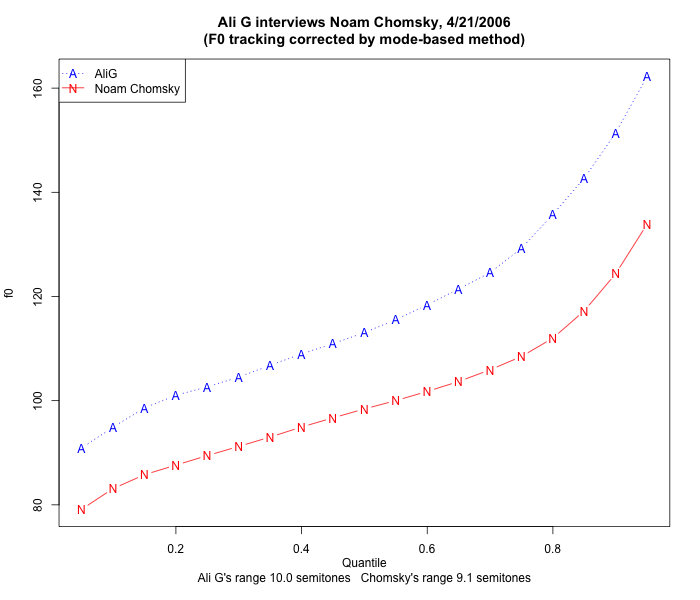 No doubt there are more sophisticated and effective ways to create and analyze f0 distributions. And of course there's information in creakometry. But this method seems to be a pretty good start at eliminating at least one of the sources of artifact in automated pitch-range estimation.
---