« previous post | next post »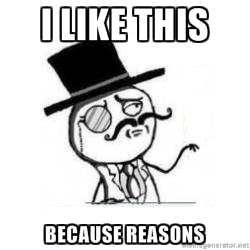 Lindy West "Are Men Going Extinct?", Jezebel 7/11/2012:
Did you hear the big news? Men are going extinct. Really really slowly, and probably only in theory, but extinct nonetheless! […]
Lame! RIP, dudes! Now, I'm sure kneejerk anti-feminist dickwads think that the eradication of men is exactly what we women mean by "plz can we have equal rights now thx." Because logic.
This use of because as a preposition (without a helping "of") appears here and there these days. It seems usually to be associated with an implication that the referenced line of reasoning is weak, as in the example above; or in the headline "Louisiana GOP Bigot Changes Mind on School Vouchers Because Muslims", LGF 7/6/2012; or in this episode of Quiltbag:

"Because NOUN" may come from some TV show or other meme-source that I've missed — whatever the story is, some commenter will probably be able to tell us what happened.
Update — "because (of) reasons" is an echo of this (though not, I think, a causal one).
Update #2 — another sighting here: "But Iowa still wants to sell eggs to California, because money."
Update #3 — and another one…
Update #4 — a slightly different pattern:
Well here is a nice young man, Fred E. Ray Smith, running for Oklahoma state Senate, from jail, where he was taken for warrants and drunk driving and driving without a license or registration, and also he owes so much child support and his ex has a protective order out against him. We assume he is going to win, because "R-Oklahoma."
---