« previous post | next post »
Kate Baldanza took this photo in Nanjing: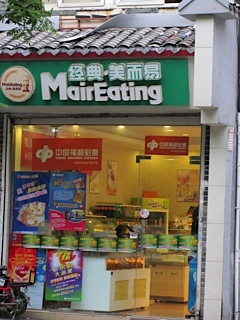 At first glance, I thought that perhaps I had become a delicacy and had better be careful when out and about in China. However, upon closer examination of the Chinese name of the store, I realized that "Mair" is a transcription of měi ér yì 美而易, more a style of eating than something to be eaten.
Jīngdiǎn • měi ér yì
经典 • 美而易
("Classic — Beautiful and Easy")
What a relief!
---