« previous post | next post »
In "Lexico-Cultural Decay", 10/9/2018, I examined Jonathan Merritt's Google-ngram-based argument that "traditional sacred speech is dying in the English-speaking world" ("The Death of Sacred Speech", The Week 9/10/2018). Today, as promised in that post, I'm returning to his neo-Whorfian conclusion:
Now, words have fallen out of usage at every point in history. Language is always changing, and humans keep marching on. Does this trend matter?
Actually, yes. An emerging body of research now reveals that the languages we hear and speak also influence our worldviews, memories, perceptions, and behaviors more than scientists once realized. Children who grow up speaking the same words tend to think in similar ways. Our minds don't just shape our words. Our words shape our minds, too.
A linguist named Lera Boroditsky once asked an audience of celebrated scholars at Harvard University to close their eyes and point north. Hands shot up around the auditorium like roman candles, aimed in all possible directions. She repeated the experiment at Princeton and Stanford, as well as in Moscow, London, and Beijing. The result was the same — an array of hands aimed at each of the four major directions and every point in between.
But when Boroditsky traveled to a community on the western shores of Australia's Cape York, she discovered that children as young as 5 can point north at all times with absolute precision.
Why the difference? The answer, as it turns out, is words.
Or maybe the answer is walls.
The part of Philadelphia that I live in has a grid of nominally east-west and north-south streets — and there are large regions known as "West Philly", "North Philly", and "South Philly":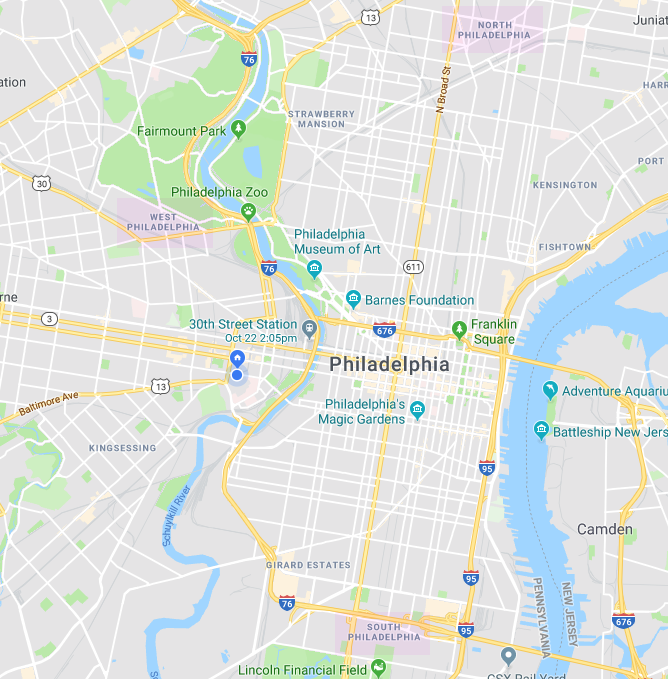 So when I'm outside, I almost always know where each compass direction points. And talk about navigation and directions often involves compass terms — the LDC is on the southwest corner of 36th and Market; the Upper Quad entrance is on the south side of 37th and Spruce; the Schuylkill River is just east of 30th St. Station; and so on. And I think that most other people who have lived in this part of Philadelphia for a while have the same understanding of outdoor compass talk.
But if I'm indoors, in a windowless classroom like the one where I teach this semester every Monday and Wednesday, I know which way is out, but I don't have a clue which way is north. I might be able to figure it out by thinking about the path I follow to the classroom from the building entrance on the north side of Locust St., but it's not easy — I tend to lose the compass-direction thread when imagining myself turning around in the stairwell.
In support of his claim that our words shape our minds, Merritt links to Lera Boroditsky, "Lost in Translation", WSJ 7/23/2010. Another popular article by Boroditsky ("How Language Shapes Thought", Scientific American 2/2011) gives the details this way:
I am standing next to a five-year old girl in Pormpuraaw, a small Aboriginal community on the western edge of Cape York in northern Australia. When I ask her to point north, she points precisely and without hesitation. My compass says she is right. Later, back in a lecture hall at Stanford University, I make the same request of an audience of distinguished scholars—winners of science medals and genius prizes. Some of them have come to this very room to hear lectures for more than 40 years. I ask them to close their eyes (so they don't cheat) and point north. Many refuse; they do not know the answer. Those who do point take a while to think about it and then aim in all possible directions. I have repeated this exercise at Harvard and Princeton and in Moscow, London and Beijing, always with the same results.
Those articles don't specify whether the Pormpuraawan interactions take place indoors or outdoors (or perhaps in an open-sided building where outdoor cues are salient). Lera Boroditsky and Alice Gaby, "Absolute Spatial Representations of Time in an Australian Aboriginal Community" Psychological Science 10/19/2010, says of their experiment in Australia that
Each participant was tested in two sittings, each including half of the card sets. The two sittings were conducted with the participant facing in different cardinal directions, generally 180° or 90° apart (whatever was possible in the field context).
Lila Gleitman and Anna Papafragou, discussing another similar case of endocentric vs. exocentric orientation ("Language and Thought", ch. 26 in Holyoak and Morrison, Eds., The Cambridge Handbook of Thinking and Reasoning, 2005), write that
… it is quite hard to disentangle cause and effect. For instance, it is possible that the Tenejapan and Dutch groups think about space differently because their languages pattern differently; but it is just as possible that the two linguistic–cultural groups developed different spatial-orientational vocabulary to reflect (rather than cause) differences in their spatial reasoning strategies. Li and Gleitman (2002) investigated this second position. They noted that absolute spatial terminology is widely used in many English-speaking communities whose environment is geographically constrained and includes large stable landmarks such as oceans and looming mountains. The absolute terms uptown, downtown, and crosstown (referring to North, South, and East–West) are widely used to describe and navigate in the space of Manhattan Island, Chicagoans regularly make absolute reference to the lake, etc. It is quite possible, then, that the presence or absence of stable landmark information rather than language spoken influences the choice of absolute versus spatial coordinate frameworks. After all, the influence of such landmark information on spatial reasoning has been demonstrated with nonlinguistic (rats; Restle, 1957) and prelinguistic (infants; Acredolo & Evans, 1980) animals. To examine this possibility, Li and Gleitman replicated Brown and Levinson's rotation task with English speakers, but they manipulated the presence or absence of landmark cues in the testing area. The result, just as for the rats and the infants, was that English-speaking adults respond absolutely in the presence of landmark information (after rotation, they set up the animals going in the same cardinal direction) and relatively when it is withheld (they set up the animals going in the same relative – left or right – direction).
You can read about it here: Peggy Li and Lila Gleitman, "Turning the tables: language and spatial reasoning", Cognition 4/2002 — as I recall, all it took to make Americans act like Mayans (who did the experiment in an open-walled building on the side of a mountain) was to do the experiment in a room with one wall painted red.
There's a come-back by Levinson et al. ("Returning the tables: language affects spatial reasoning", Cognition 2002), and the discussion has continued — you can make up your own mind. I'm convinced (as Lane Greene put it) that "language nudges thought"; but just as I was skeptical about Merritt's evidence for "the death of sacred speech", I'm also skeptical that it would significantly promote immorality through Whorfian connections to cognition, even if his assertions about word frequency were valid.
[And if you're curious about the business in Boroditsky's WSJ piece about Spanish speakers having "a different sense of blame", which Merritt also cites to support his view that more publications full of words like grace and righteousness would improve our general level of morality, see "Never mind the conclusions, what's the evidence?", 8/30/2010, for much more detail than you probably want.]
Update — for some discussion of cases where compass orientation is especially confusing (but it's not clear what terminology would be better), see "A westward loop", 10/6/2004; "Un système où tout se tient, and east is west", 10/6/2004; "Loopy defenses of the shuttle bus sign", 10/7/2004; "The gopher's eye view", 10/10/2004; "Westward on the eastbound shuttle; or, what a long strange trip that would be", 10/11/2004; "Down the gopher poll", 1012/2004.
---