« previous post | next post »
I found this by chance while surfing on Pinterest: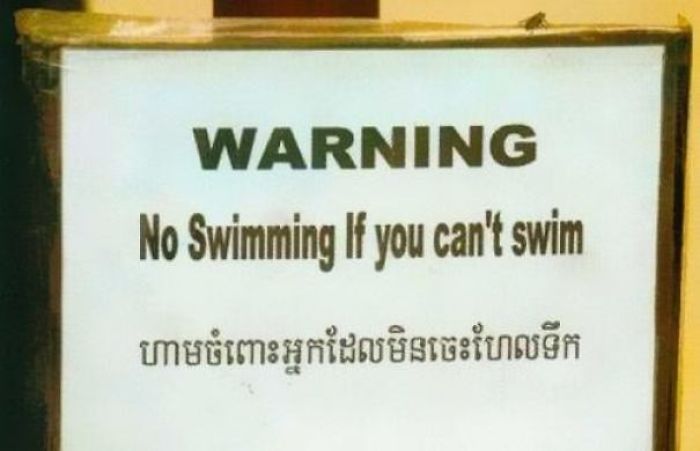 The Khmer warning reads:
1) Forbidden toward people who can't swim.
Forbidden for those who can't swim.
2) ហាមចំពោះអ្នកដែលមិនចេះហែលទឹក
3) /haam cɑmpʊəh neak mɨn ceh hael tɨk/
hām jompuah neak ("nek") dail men jeh hail teuk ("tuk")
Detailed deciphering word-by-word:
ហាម /haam/ = to forbid, prohibit; block, prevent
ចំពោះ /cɑmpʊəh/ =  toward, to; about; as for
អ្នក /neak/ = you, person, one, someone, one who
មិន /mɨn/ = not
ចេះ /ceh/ = to know; to know how (to)
ហែល /hael/ = to swim
ទឹក/tɨk/ = water
If only the translator had followed the Khmer more closely!
I'm always amazed at how many different languages Google Translate can deal with (the last time I counted it was over one hundred), and actually handle quite competently in most cases. 
[Thanks to Justin McDaniel, Steve O'Harrow, and Chhany Sak-Humphry]
---